Donald Trump is pulling the Washington Post's credentials to cover his campaign events, the presumptive GOP nominee declared Monday in a social media posting.
"Based on the incredibly inaccurate coverage and reporting of the record setting Trump campaign," he wrote on Facebook, "we are hereby revoking the press credentials of the phony and dishonest Washington Post."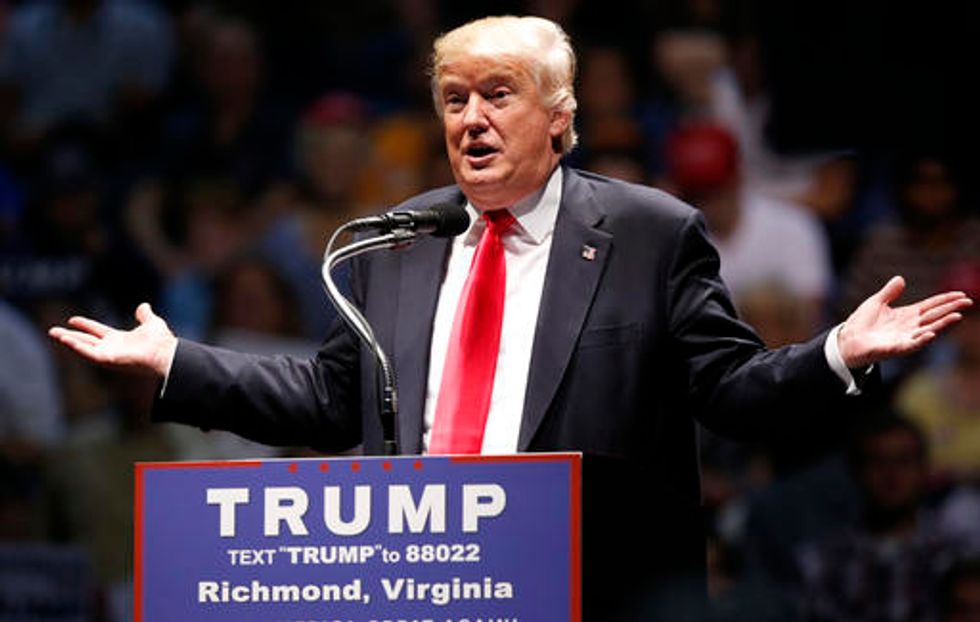 Republican Presidential candidate Donald Trump gestures during a rally in Richmond, Va., Friday, June 10, 2016. (AP Photo/Steve Helber)
Minutes before announcing the decision, Trump took to Facebook in another post to reveal how "dishonest the phony Washington Post is," a comment that was seemingly inspired by a story that claimed Trump suggested President Barack Obama was involved in the deadly Orlando terrorist attack over the weekend.
"I am no fan of President Obama, but to show you how dishonest the phony Washington Post is, they wrote, 'Donald Trump suggests President Obama was involved with Orlando shooting' as their headline," Trump wrote, adding his signature "Sad!" at the end.
Below is the Washington Post headline before and after it was altered.
Looks like @washingtonpost tinkered with this headline..... (before Trump announced his ban on WaPo reporters) pic.twitter.com/nuAO9rvMHb

— Marshall Cohen (@Marshall_Cohen) June 13, 2016
In a statement on Trump's banning, Washington Post editor Marty Baron asserted the decision would cause great harm to a free and independent press.
"Donald Trump's decision to revoke The Washington Post's press credentials is nothing less than a repudiation of the role of a free and independent press," he wrote. "When coverage doesn't correspond to what the candidate wants it to be, then a news organization is banished."
He added the Washington Post will continue to cover Trump "honorably, honestly, accurately, energetically and unflinchingly."
"We're proud of our coverage," Baron continued, "and we're going to keep at it."
The article Trump seemed to take issue with focused on a string of comments the billionaire businessman made on morning news shows following Sunday's attack in the Orlando Pulse gay night club that left 49 people dead and at least 53 injured.
"Trump seemed to repeatedly accuse President Obama on Monday of identifying with radicalized Muslims who have carried out terrorist attacks in the United States and being complicit in the mass shooting at a gay nightclub in Orlando over the weekend, the worst the country has ever seen," the article begins.
"Look, we're led by a man that either is not tough, not smart, or he's got something else in mind. And the something else in mind — you know, people can't believe it," Trump said in an appearance on Fox News Monday morning. "People cannot, they cannot believe that President Obama is acting the way he acts and can't even mention the words 'radical Islamic terrorism.' There's something going on. It's inconceivable. There's something going on."
Trump also added: "[Obama] doesn't get it or he gets it better than anybody understands — it's one or the other, and either one is unacceptable."
Trump has also reportedly banned the Huffington Post, Politico, BuzzFeed, the Daily Beast and the Des Moines Register from attending his events.
—
Follow the author of this story on Twitter: