NORTH PORT, Fla. (TheBlaze/AP) -- Police in Florida went above and beyond by surprising a boy at his eighth birthday party after no one responded to his invites.
News outlets report Daniel Nicastro's parents say this wasn't the first time no one has called to say they were coming to their son's party in North Port. The Nicastros say making friends is difficult for Daniel, who has autism.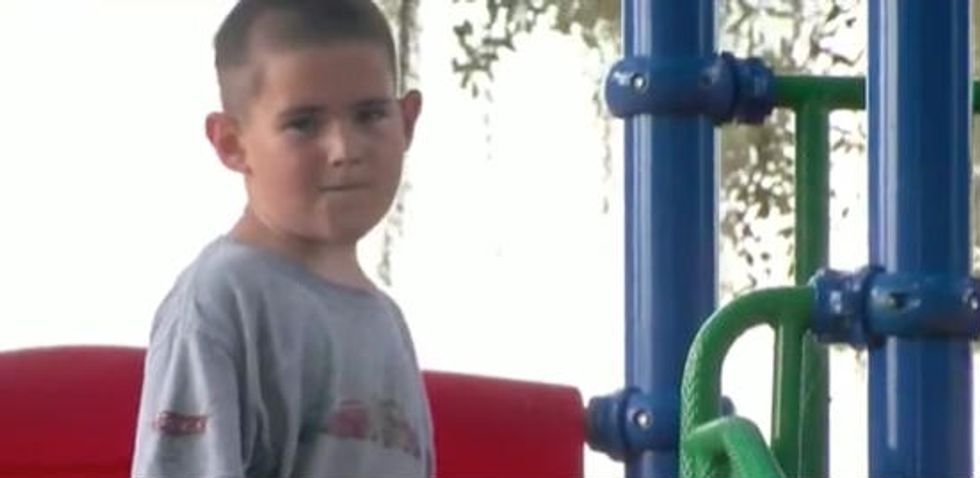 Image source: WFLA-TV
So his parents decided to invite the police officers, who Daniel considers "superheroes," to the party.
They were hoping a few officers would show up, but instead, an assembly of officers arrived, even bringing gifts.
Police Sgt. Paul Neugebauer says they wanted to attend and let Daniel know that he's appreciated.
"We could all use a happy story right about now. Got this nice photo and note today. Glad we could assist," the North Port Police Department wrote in its Facebook Post.
The department then posted this note it says it got from the boy's mom, Carolyn Nicastro.
"It was my son Daniel's 8th birthday. No one called to say they were coming to his birthday party. Both myself and his father were heartbroken (it's happened before). He absolutely adores the police and calls all of you his Super Heroes. He is autistic so making friends is extremely difficult for him. His father (Dan) and I remembered the past 2 years of no one showing up for his birthday parties, he would spend the day crying that he had no friends. We could not let that happen again. So when it came closer to the day of his party and nobody called, we decided to be proactive and bring invitations to the police department. We were not given any promises. We just hoped. Daniel had no idea.

While playing with his cousin Adam Sunday at McKibben Park he saw a large line of police cars coming down the road. He was so excited! His favorite friends came to his party. He is still talking about it being the best birthday ever! Thank you North Port Police Department. You made my son's birthday extra special with his favorite super heroes!"
The photo of Daniel with the officers shared online has drawn attention from around the world.
—