An individual was perusing the men-seeking-men section of the Craigslist San Diego personal ads Tuesday evening and caught a glimpse of an entry titled "We need more Orlando's [sic]."
The ad came with an image of a hand gripping a gun with a bullet exiting the barrel, and the accompanying text was not subtle: "Orlando was long overdue. Cleanse your community of the filth that gives decent gay men and women a bad name. Those people were walking diseases, bug chasers, and thank god for AIDS and 9-11 and now Orlando. San Diego you are next …"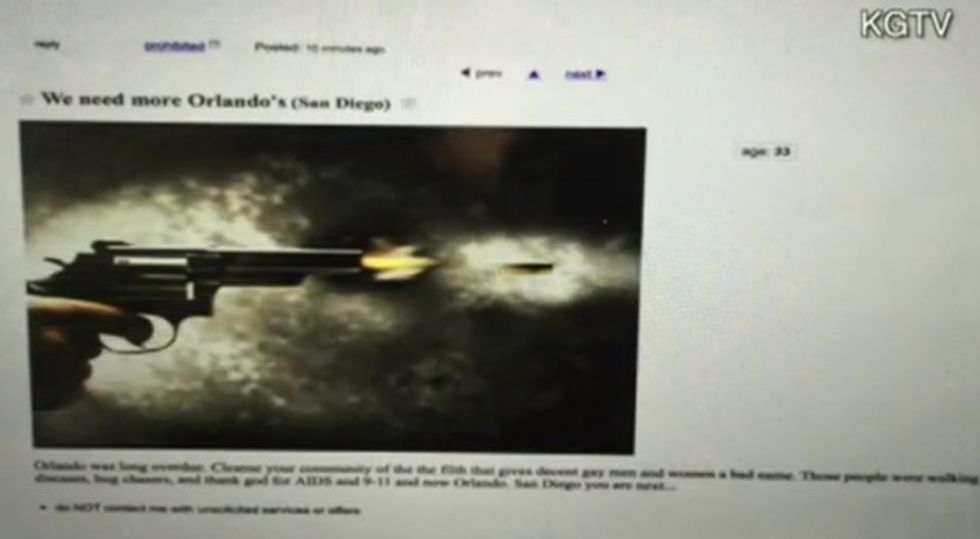 Image source: KGTV-TV
The individual took a screenshot of the ad and sent it to San Diego's KGTV-TV, which in turn sent it to the San Diego Police Department and the FBI.
San Diego Police Lt. Scott Wahl told KGTV that the department will investigate the post and added that extra officers have been on patrol in popular gathering places since the deadly Orlando terror attack Sunday.
FBI Special Agent Darrell Foxworth revealed to the outlet that the bureau's Joint Terrorism Task Force also is looking into the ad and who may have posted it to Craigslist.
"This is something that's very serious, very concerning to all of us, especially given what's happened recently in Orlando," Foxworth told the station, adding that there aren't any known, credible threats to San Diego at the moment.
Here's a statement from San Diego Police Chief Shelley Zimmerman regarding the threatening ad, KGTV said:
The San Diego Police Department is aware of a recent post on Craigslist that has since been removed. We are investigating it collaboratively with our law enforcement partners. The latest information remains, there are no known credible threats to the San Diego region. As always, we encourage our community if they see something, hear something, or know something, to say something.
(H/T: The Gateway Pundit)