He was shot three times and his leg was trampled. Angel Colon laid motionless on the blood-covered floor of the Pulse nightclub in Orlando until one officer helped him get out.
Colon, originally from Boston, owed a debt of gratitude to that officer, but he had no idea who he was. Earlier this week, the victim recounted his survival story and even mentioned the unknown officer who dragged him out.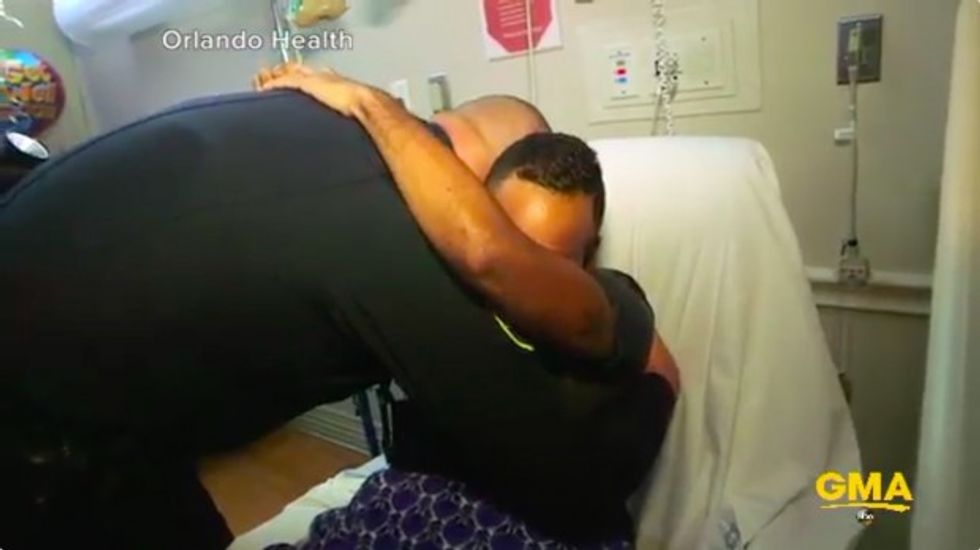 Image source: Twitter @GMA
"I wish I could remember his face or his name because, to this day, I am grateful for him," Colon said Tuesday.
He finally met that officer Thursday in a touching reunion.
"Hello, I am Officer Omar Delgado," the officer said as he rounded the corner into Colon's hospital room. "I'm one of the ones that helped you get out of harm's way. I need a big hug from you man."
With a big smile on his face, Colon extended his arms — speechlessly — to embrace the officer.
"I'm so glad you're doin' good. I'm so glad you're alive, man," Delgado said quietly as the two hugged. "I'm glad I was there to help you out, man."
During their discussion, Delgado and Colon talked about how they were coping with the heinous massacre that left 49 dead and 53 others injured. "Everyone's got their own way of trying to get through it," the officer said, according to WCVB-TV.
"Seeing him again in a different environment — in a happy place — it is awesome," Colon said of the emotional reunion.
"It is very, very emotional just knowing that I helped and assisted in saving this man's life and him thanking me," Delgado added. "You just can't put it into words. You only get one life and I'm glad now he can be with his family and continue with his life."
WATCH: Emotional reunion between Orlando shooting victim and the officer who bravely pulled him out of the nightclub pic.twitter.com/zDrlRvz4c9

— Good Morning America (@GMA) June 16, 2016
—
Follow the author of this story on Twitter: