Americans are more likely now to believe a terrorist attack is coming soon than they were in 2003, according to a new CNN/ORC poll conducted after the Orlando massacre that left 49 dead and dozens more injured.
The new research shows 71 percent feel a terror attack is "very" or "somewhat" likely to occur on U.S. soil over the next several weeks. Concerns about an imminent attack have not been that high since March 2003, days after the country began its war with Iraq.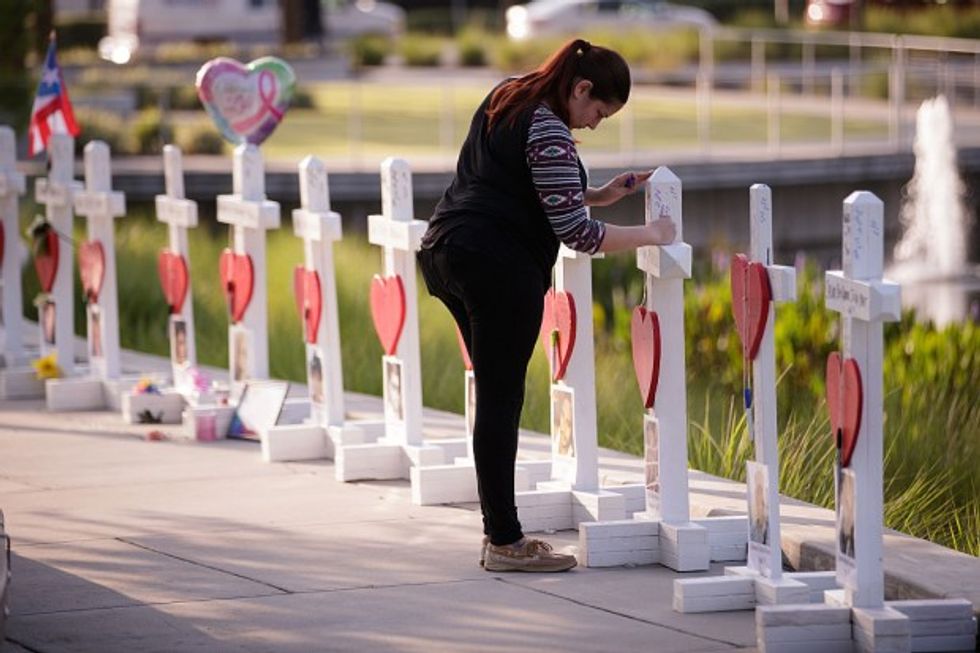 A woman writes a note on a cross at a memorial with wooden crosses for each of the 49 victims of the Pulse Nightclub, next to the Orlando Regional Medical Center, June 17, 2016 in Orlando, Florida. The shooting at Pulse Nightclub, which killed 49 people and injured 53, is the worst mass-shooting event in American history. (Photo by Drew Angerer/Getty Images)
Additionally, 24 percent believe an attack is "very likely." Barring a survey conducted just after the May 2011 killing of Osama bin Laden, that percentage is at its highest point since November 2001.
Americans concerned about an attack are much more fearful of a so-called "lone wolf" events carried out by individuals who say they've been inspired by radicalized terror groups, such as the Islamic State, rather than attacks carried out by terror groups themselves.
Nearly thee-quarters of Americans feel individual attacks are a greater threat than attacks organized by terror groups. Only 23 percent believe believe organized attacks are a greater threat. However, Democrats and Republicans are somewhat divided on this issue.
According to the data, conducted by telephone between June 16-19, 68 percent of Republicans see "lone wolf" attacks as a bigger threat, while 75 percent of Democrats and independents believe such attacks are more imminent.
Overall, those saying a terror attack is likely has risen by 10 points since late last year. The last polling was done between the Paris terror attacks in November and the San Bernardino, California, attack in December. The increase is sharpest among Democrats, 47 percent of whom felt an attack was likely in a late 2015 poll. Now, 60 percent of Democrats fear an attack.
The equivalent percentage has risen 9 points among independents to 72 percent and 8 points for Republicans to 84 percent.
However, those fearing they or someone they love could become a terror attack victim has decreased from 45 percent in December. According to the new poll, 41 percent said they are "somewhat worried" they or a family member could become a victim.
This new data comes as President Barack Obama's rating for dealing with terrorism and the Islamic State has minimally increased since December, though the outlook remains mostly negative. The commander in chief has a 42 percent approval rating for dealing with terrorism, a 38 percent approval rating for addressing the Islamic State.
But the negative numbers are much higher: 60 percent disapprove of Obama's handling of the Islamic State and 56 percent disapprove of his handling of terrorism.
The poll was conducted with a national sample of 1,001 adults and has a margin of error of plus or minus 3 percentage points.
—
Follow the author of this story on Twitter: