"I so appreciate it so much that I can't appreciate it no more," he said with a smile on his face.
Chauncy Black, a 16 year old who works hard in school, does odd jobs to support himself and his mother and sleeps without a bed, was in search of food two weeks ago, but the man he ran into helped him get so much more. That man was Matthew White.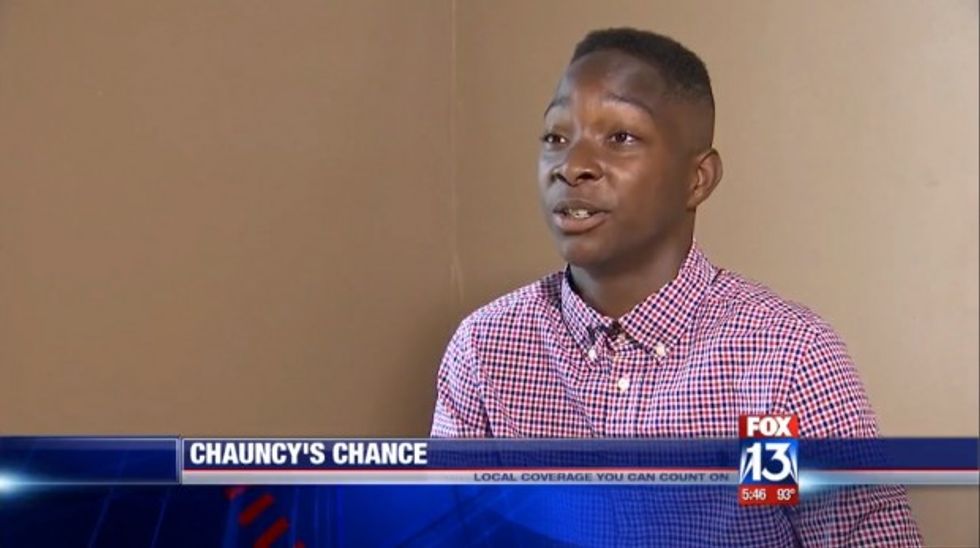 Chauncy Black (Image source: Fox 13 screen grab)
Black walked up to White — a complete stranger — at his local Kroger and asked if he could help him take his groceries to his car in exchange for a box of doughnuts for dinner.
"Something told me to go there and ask this guy if I can take his groceries to the car," the teen told Fox 13.
White, a Memphis musician, was so moved by Black's request, he decided to take the young man on a shopping spree. During their time together, White learned more about the hungry teenager, and he was impressed.
"It's God's heart. When God speaks to you, that's all the 'why' you have to have," White said.
But that wasn't the only way the local musician would help Black. When White gave Black a ride back to his house in South Memphis, he saw the dilapidated property and it brought him to tears.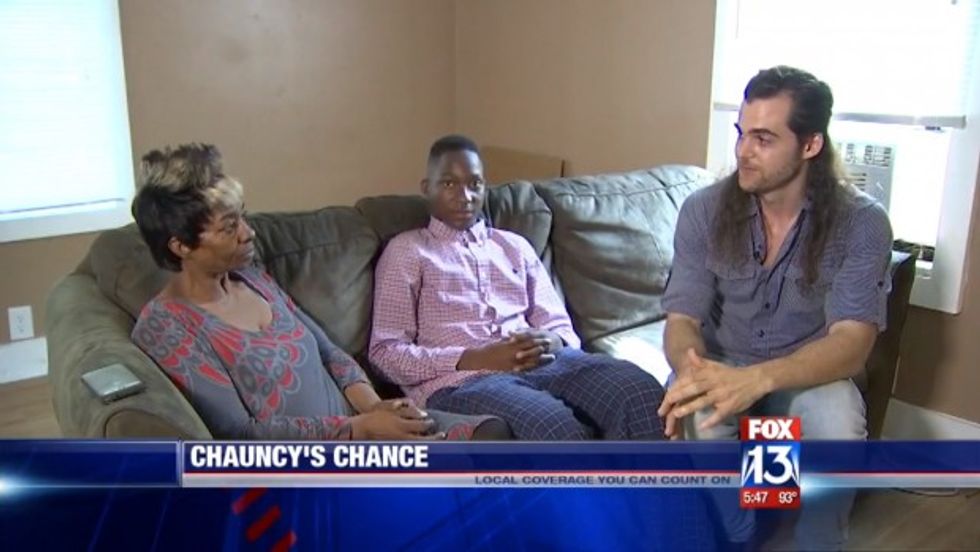 Martin, Black and White (Image source: Fox 13 screen grab)
When White went home that evening, he wrote about the encounter in a lengthy Facebook post and launched a GoFundMe page and the money started pouring in. In only two weeks, the crowdfunding page raised more than $136,000, climbing at a speed White said he "can't keep up with."
Seeing the success of the campaign, White made a trip to Black's house to tell the teen and his mother, Barbara Martin, "You're gonna get a nice house."
"I don't know what to say, what to do," Martin told White. "Chauncy told me not to cry, but I might break down in tears."
White said there are many people like Black in Memphis and he hopes this story inspires others to lend a hand to those in need. According to Fox 13, nearly 47 percent of all children in Memphis live in poverty.
–
Follow the author of this story on Twitter: