The so-called "Leave" campaign won out in the United Kingdom Thursday, but the campaign apparently made some "mistaken" promises and claims to get there.
"The 350 million pounds a week we send to the EU, which we will no longer send to the EU, can you guarantee that's going to go to the [National Health Service]," ITV's Susanna Reid asked one of the major proponents of the Leave campaign Friday morning.
But that leader, Nigel Farage, couldn't make that promise.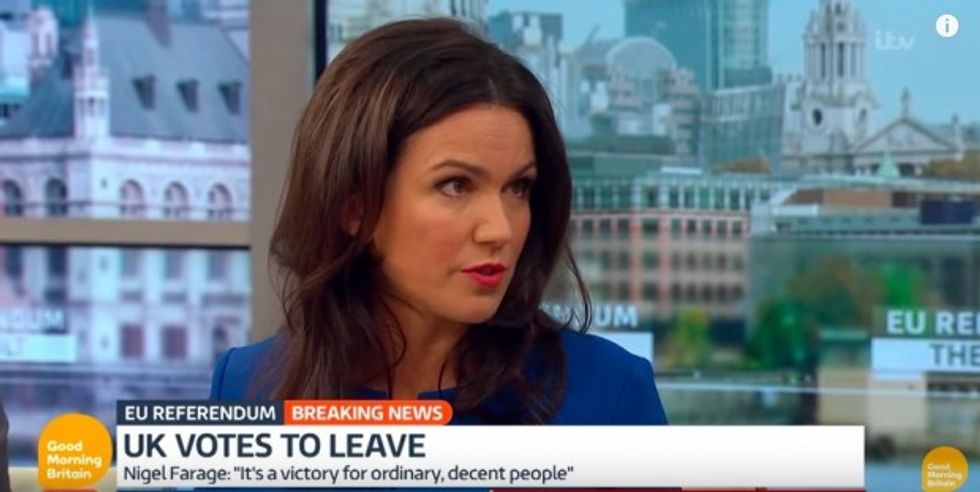 Image source: YouTube
"No, I can't. And I never would have made that claim. One of the mistakes that the Leave campaign made—" Farage began to answer before Reid interrupted.
As Reid continued to incredulously question him, Farage attempted to distance himself from the claims that the extra money would go to the health care agency. He argued that he was at times even ostracized from the Leave campaign.
"That was one of the Leave campaign adverts. That money was going to the NHS. That's why people, many people, voted," Reid said.
"You're saying that after 17 million people have voted for leave based — I don't know how many people voted on the basis of that advert, but that was a huge part of the propaganda — you're now saying that's a mistake?" she asked.
Farage ignored Reid's question if there would be anything else those who voted for the Leave campaign would find out was erroneously promised to them but instead argued that the U.K. was now a more free country.
"I'll tell you what they will find out. We're back to being a normal country, in charge of our own laws and able to start making our own relationships with the rest of the world, maybe even reengaging with the Commonwealth," Farage said.
Watch the exchange:
(H/T: Mediaite)