More than 24 hours after the Supreme Court announced its decision in Whole Woman's Health v. Hellerstedt, presumptive Republican nominee Donald Trump has yet to comment on the ruling.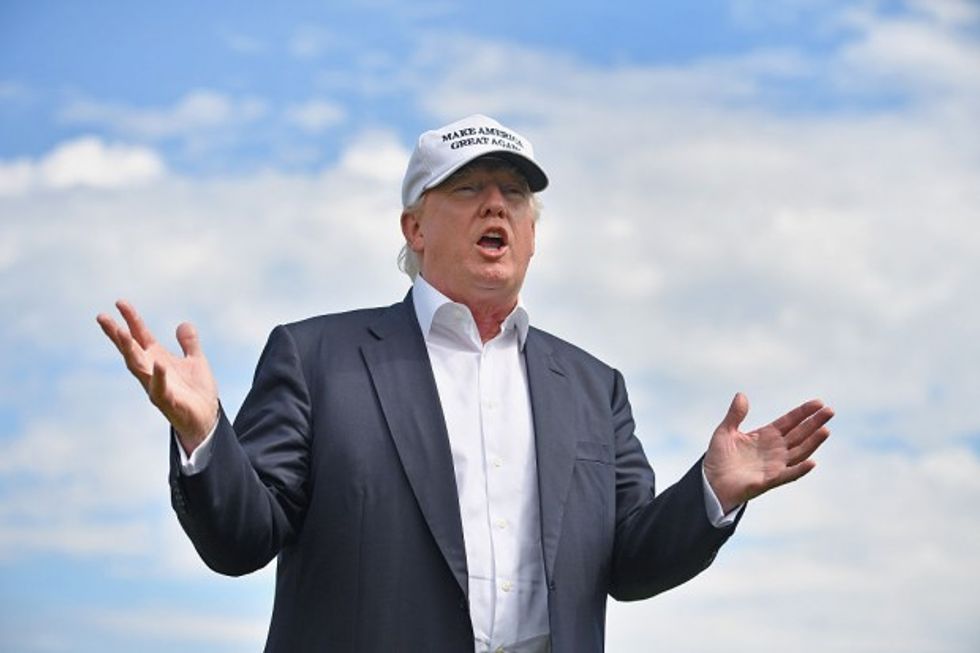 Jeff J Mitchell/Getty Images
On Monday, the high court invalidated a provision of a Texas law requiring doctors performing abortions to have admitting privileges at a hospital within 30 miles of the facility.
Trump's silence on the ruling follows his recent meeting with evangelical leaders in which he promised to appoint pro-life justices to the Supreme Court if elected.
A Trump campaign spokeswoman did not immediately return TheBlaze's multiple requests for comment on the ruling.
Kristan Hawkins, the president of Students for Life of America, told TheBlaze that she is frustrated by Trump's silence on the ruling: "I met with Donald Trump last week in hopes of opening up a conversation about what matters to the pro-life movement."
"He seemed to understand that appointing pro-life justices to the U.S. Supreme Court was of tantamount importance," she said. "However, when an opportunity comes to show off his pro-life credentials, we are still waiting for him to comment on the awful decision yesterday at the Supreme Court by five liberal Justices."
"He is wasting an opportunity to connect with the very leaders that were all in that room last week and their constituents," Hawkins continued. "Either Donald Trump doesn't have the right personnel around him to make sure this is important or he just doesn't care."
Other politicians were quick to comment on the ruling.
In a statement Monday, Trump's likely rival Hillary Clinton praised the ruling as "a victory for women across America," adding:
Today's decision is a reminder of how much is at stake in this election. We need a President who will defend women's health and rights and appoint Supreme Court justices who recognize Roe v. Wade as settled law. We must continue to protect access to safe and legal abortion – not just on paper, but in reality.
SCOTUS's decision is a victory for women in Texas and across America. Safe abortion should be a right—not just on paper, but in reality. -H

— Hillary Clinton (@HillaryClinton) June 27, 2016
This fight isn't over: The next president has to protect women's health. Women won't be "punished" for exercising their basic rights. -H

— Hillary Clinton (@HillaryClinton) June 27, 2016
House Speaker Paul Ryan tweeted that he was "disappointed" in the decision.
I'm disappointed in the Court's decision. But our fight to protect women's health & promote life will not stop here. pic.twitter.com/sG0TyuT521

— Paul Ryan (@SpeakerRyan) June 27, 2016
In a statement, Rep. Marsha Blackburn (R-Tenn.), chairman of the House Select Panel on Infant Lives, called the ruling "an unfortunate decision" and said:
Despite the Constitution's silence on abortion, the Court has fueled controversy by taking so much of the issue away from the people. The Court's rulings have, without justification, set a double standard—one that allows elected representatives to set standards for medical facilities in every other context, as has been the case in our country for generations, and one that makes the Court a de facto medical board when the procedure involved is abortion.
Trump has faced scrutiny from pro-life activists for his claim that he is pro-life. In a 1999 interview with NBC's "Meet The Press," Trump said he is "pro-choice in every respect." During the 2016 campaign, he defended taxpayer funding for Planned Parenthood, the nation's largest abortion provider.
—
Follow the author of this story on Twitter and Facebook: