UPDATE 4:21 a.m. ET:
The Latest on the attack on a restaurant popular with foreigners in a diplomatic zone in the Bangladeshi capital, Dhaka (all times local):
1:15 p.m.
A top Bangladesh military official says 20 hostages were killed in the attack on a Dhaka restaurant where heavily armed militants held dozens of people hostage in a 10-hour standoff.
Nayeem Ashfaq Chowdhury said six of the attackers were killed in the rescue operations early Saturday. Thirteen captives, including some foreigners, were rescued.
Two police officers were killed when the attackers stormed the popular restaurant and opened fire Friday night.
Chowdhury did not disclose the identities of the hostages.
The paramilitary troops who mounted the rescue operations recovered explosive devices and sharp weapons from the scene, he said.
The Islamic State group claimed responsibility for the attack on the Holey Artisan Bakery, according to the SITE Intelligence Group.
___
12:45 p.m.
Prime Minister Sheikh Hasina has condemned the Dhaka restaurant attack by militants who took dozens hostage and vows to fight what she calls terrorist attacks that have rattled Bangladesh.
Hasina also said that security officials arrested one of the militants. Six others were killed, 13 hostage rescued while seven Japanese are unaccounted for.
Hasina says: "Because of the effort of the joint force, the terrorists could not flee."
She vowed to fight terrorist attacks in the country and urged people to come forward.
She says: "Anyone who believes in religion cannot do such act. They do not have any religion, their only religion is terrorism."
—
UPDATE 11:00 p.m. ET:
Commandos, backed by armored vehicles, stormed the Bangladeshi restaurant early Saturday and successfully freed eight to 10 hostages from the upscale Dhaka eatery.
BREAKING: Bangladesh police say between 8 and 10 hostages rescued from Dhaka restaurant, Reuters reports

— Fox News (@FoxNews) July 2, 2016
According to Mizanur Rahman Bhuiyan, deputy director of Bangladesh's Rapid Action Battalion Force, there was "intense gunfighting" going on, Reuters reported.
Shortly after, two more explosions were heard, according to local reports, and five bodies were subsequently discovered.
Local TV stations said the operation began around 7:40 a.m. local time, which was 9:40 p.m. ET, and was carried out with the assistance of Army personnel with automatic weapons.
—
DHAKA, Bangladesh (TheBlaze/AP) -- As many as nine gunmen attacked a restaurant popular with foreigners in a diplomatic zone of the Bangladeshi capital on Friday night, taking dozens of hostages and exchanging gunfire with security forces, authorities and a witness said.
Police said two officers died in the attack.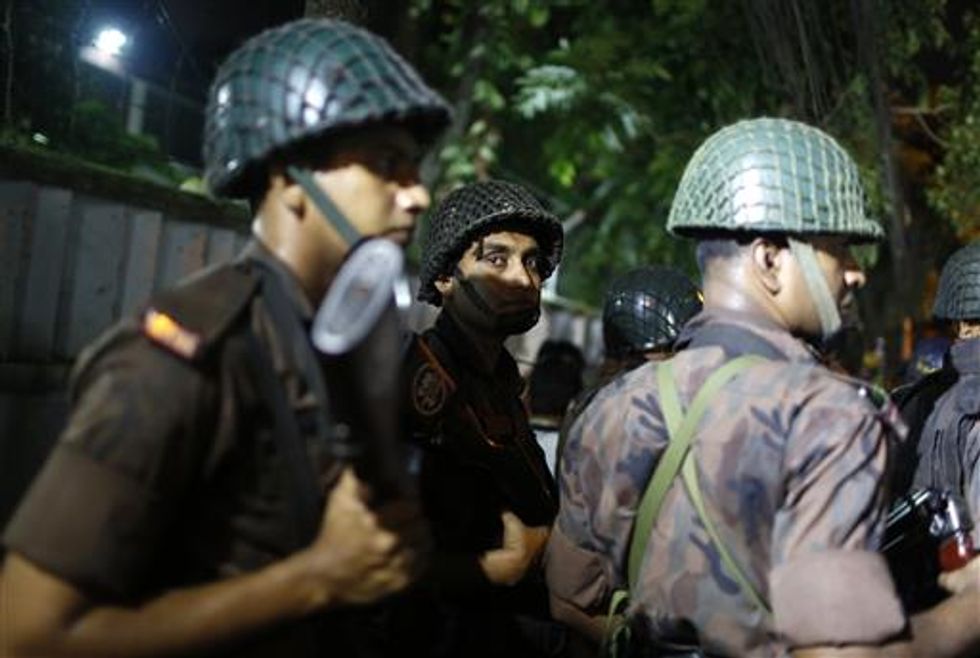 Bangladeshi security personnel stand guard near a restaurant that has reportedly been attacked by unidentified gunmen in Dhaka, Bangladesh, Friday, July 1, 2016. Local media reported that a group of attackers took hostages inside a restaurant frequented by both locals and foreigners in a diplomatic zone in Bangladesh's capital. (AP)
At least 35 people, including about 20 foreigners, were still trapped inside the restaurant, according to kitchen staffer, Sumon Reza, who was among more than 10 people who managed to run to the rooftop and escape.
He said the attackers chanted "Allahu Akbar" (God is Great) as they launched the attack around 9:20 p.m. Friday, initially opening fire with blanks.
At least 40 people were initially reported injured.
Police: At least 40 people injured after gunmen attack café in Bangladesh https://t.co/5M873L5vSZhttps://t.co/e5gx5EKela

— The Lead CNN (@TheLeadCNN) July 1, 2016
A huge contingent of security forces cordoned off the area around the Holey Artisan Bakery in Dhaka's Gulshan area. Several other wounded police officers were hospitalized after security forces exchanged fire with the attackers inside the restaurant who also hurled bombs. A local resident Lutful Amin told the AP he heard several explosions, the last of which went off around 10:45 p.m.
The head of the elite anti-crime force, Rapid Action Battalion, told reporters Friday night that they were working to save the lives of the people trapped inside the restaurant. Authorities The hostages included an unknown number of foreigners.
"Some derailed youths have entered the restaurant and launched the attack," Benazir Ahmed said. "We have talked to some of the people who fled the restaurant after the attack. We want to resolve this peacefully. We are trying to talk to the attackers, we want to listen to them about what they want."
"Some of our people have been injured. Our first priority is to save the lives of the people trapped inside," Ahmed said. He would not say how many people were trapped inside.
Footage emerges from Bangladesh's capital, where gunmen have taken hostages at a restaurant popular with foreigners https://t.co/u2X6BymNhl

— Sky News (@SkyNews) July 1, 2016
In Washington, State Department spokesman John Kirby told reporters: "We are aware of reports of what appears to a hostage situation in the Gulshan neighborhood of Dhaka."
Kirby said that all American citizens that are under the authority of the diplomatic chief of mission in Dhaka were accounted for and were not involved in the incident, but the department is still checking on private American citizens who may have been in the area
He said it was too early to say who was involved in the assault and their motivation.
Bangladesh, a traditionally moderate Muslim-majority nation, has recently seen an upsurge in militant violence. Nearly two dozen atheist writers, publishers, members of religious minorities, social activists and foreign aid workers have been slain since 2013 by attackers wielding machetes. The frequency of attacks has increased in recent months. On Friday, a Hindu temple worker was hacked to death by at least three assailants in southwest Bangladesh.
The attacks have raised fears that religious extremists are gaining a foothold in the country, despite its traditions of secularism and tolerance.
Prime Minister Sheikh Hasina's government has cracked down on domestic radical Islamists. It has accused local terrorists and opposition political parties - especially the main opposition Bangladesh Nationalist Party and its Islamist ally Jamaat-e-Islami - of orchestrating the violence in order to destabilize the nation, which both parties deny.
The Islamic State group and al-Qaida affiliates have claimed responsibility for many of the attacks but the government denies that either group has a presence in the country.
---