Like many fellow Americans, Mohimanul Alam Bhuiya aimed for the stars.
In a 2008 essay for his Brooklyn high school newspaper, Bhuiya wrote, "I believe that I have greatness in me. I want to be a superhero," the Washington Post reported. He added kudos to President Franklin D. Roosevelt and Winston Churchill who "fought a worldwide battle against the evil supervillain Adolf Hitler."
Soon he was enrolled at Columbia University — and the brand-new Ivy Leaguer seemingly had the world at his feet.
Then something shifted.
Bhuiya, a Muslim, became deeply interested in the Islamic State. His internet activity on that topic came to the FBI's attention in June 2014 — particularly that he might try to travel to Syria — so the Joint Terrorism Task Force in New York paid him a visit, the Post said, citing court documents.
But he told investigators that while he was intrigued by what was happening in Syria and supported "rebel groups," the Post reported, Bhuiya said he didn't have the cash for the trip and "did not know what he would do if he got there."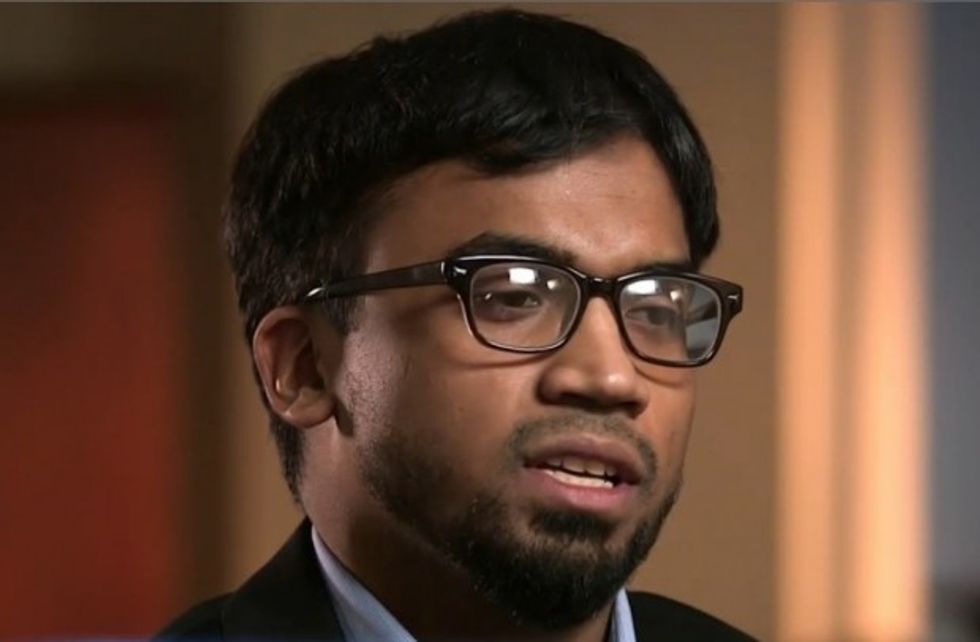 Mohimanul Alam Bhuiya (Image source: NBC News)
Then a few days later, the Post said, Bhuiya hopped on a flight to Istanbul, got into Syria and soon joined the Islamic State.
It was a decision he'd regret.
Sure enough, that October the FBI got a desperate email from Bhuiya, then 25, who wanted the agency to rescue him. More from the Post:
"I am an American who's trying to get back home from Syria," he wrote in his email, according to federal court documents unsealed last month. "I just want to get back home. All I want is this extraction, complete exoneration thereafter, and have everything back to normal with me and my family."

He added: "I am fed up with this evil."

The FBI was still verifying his identity when Bhuiya managed to escape about a week later. He returned to the United States, where he was promptly arrested and charged with providing material support and receiving military training from the Islamic State.

In a closed courtroom in Brooklyn, he pleaded guilty to both counts on Nov. 26, 2014, according to the court filings. He faces up to 25 years in prison.
The Post added that while Bhuiya's name is redacted in the documents, U.S. law enforcement officials confirmed his identity. The paper also reported that "NBC News in May ran an interview with Bhuiya, with cooperation from the Justice Department, in which he appeared under the name 'Mo' with his face completely unobscured."
In his interview with NBC News, Bhuiya said he begged Islamic State commanders not to "send me off to the front lines because I can be useful in other ways. It seemed to me that it would, you know, save my skin."
Soon Bhuiya realized he couldn't stomach the bloodthirsty extremists: "It was just not the Islam I grew up with," he told NBC News, adding that he could "see madness in their eyes. People who just had a readiness for violence"
He reported witnessing random beatings and arrests, along with "severed heads placed on spiked poles" in Raqqa.
"You could see madness in their eyes," he recalled. Bhuiya decided to flee. In the email to the FBI, he said he did not have a passport because the Islamic State had taken it. He asked if someone could pick him up at the border.
After he managed to escape back into Turkey, Bhuiya turned himself in at the U.S. consulate.
More from NBC News:
After being escorted back to the U.S. and arrested by the FBI, Mo signed a cooperation agreement, pleading guilty to providing material support to a terrorist organization and receiving military training from a terrorist organization, FBI officials said.

The two charges carry between 10 and 25 years in prison, but Mo will not be sentenced until "his cooperation is complete," the officials said. The court may consider "any substantial assistance" he provided in deciding whether to give him a lighter sentence, they said.

FBI officials said they could not talk in detail about the work Mo has done because "they relate to ongoing investigations." However, they did say that he "has provided reliable information about the identities and activities of other ISIS members."
"I've let my family down," he told NBC News. "I've let my nation down, and I've let God down, and I have a lot to make up for."
(H/T: Daily Mail)