© 2023 Blaze Media LLC. All rights reserved.
Owner of Famed Brooklyn Pizzeria With Dubious History Fatally Shot Outside of Home
"There's a sea of lore and legend about the place."
The co-owner of a famous Brooklyn pizzeria was shot and killed outside of his home Thursday evening, WNBC-TV reported. L&B Spumoni Gardens restaurant owner Louis Barbati, 61, was discovered at around 7 p.m. in his backyard.
Police told WNBC that Barbati was carrying a bag containing a large amount of cash when he was shot multiple times, but the assailant didn't take any of the money.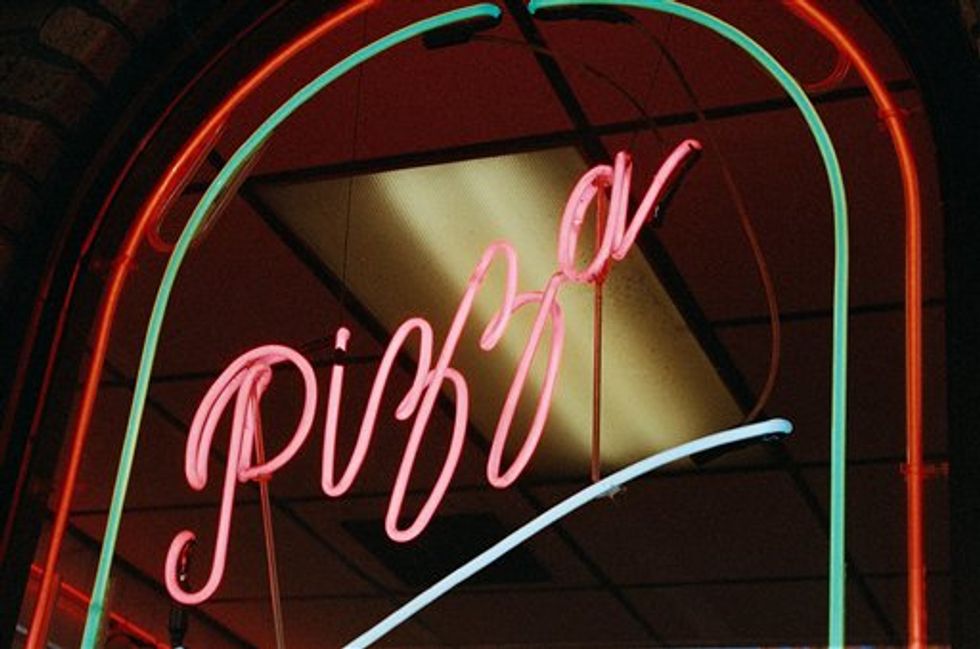 AP Photo/Lisa Tolin
Neighbors recalled hearing gunfire and screaming. Barbati's family was in the house at the time of the shooting.
"His wife was screaming that he got shot and was looking for help, so we called 911," neighbor Imran Arshad told WNBC.
"We believe there was a person waiting for him, at which time he approached him at the rear of the home," NYPD Chief of Detectives Bob Boyce told the station Friday. "Shots were fired — five shots — all striking him. The perp ran off."
Though gunman did not take Barbati's money, detectives said they are investigating a possible failed robbery. According to WNBC, investigators are searching for a gunman believed to be in his 30s, wearing a black hooded sweatshirt.
But other speculations regarding a potential motive are far more alarming.
"There's a sea of lore and legend about the place," Boyce told the station, addressing rumors about whether the business was involved in an Italian Mob extortion case several years back.
In 2012, Frank Guerra, an alleged Columbo crime family associate whose ex-wife was a part owner of the pizzeria, was acquitted of a double murder of former underboss Joseph Scopo and Staten Island club owner Michael Devine, according to the New York Daily News. Guerra was also acquitted of extortion of a former Spumoni employee, whom he accused of stealing the family's secret "gravy" recipe. Guerra is currently in jail for dealing Oxycontin.
But police say Barbati was not on their radar as a suspected mobster.
"We've found that [Barbati] has always been a regular citizen with no issues; he's never been arrested. No issues at all," Boyce stressed. "There were recipe things going on a couple years ago, but we don't believe that has nothing to do with this right now."
L&B Spumoni Gardens, a popular pizza and ice cream business, was founded in 1938 by Barbati's grandfather, Italian immigrant Ludovico Barbati. The restaurant has remained in the family for four generations, according to its website.
Barbati owned the restaurant with his two sisters.
Brooklyn Borough President Eric Adams tweeted Thursday night: "Brooklyn mourns the fatal shooting of Spumoni Gardens co-owner Louis Barbati in Dyker Heights, another senseless victim of gun violence."
#Brooklyn mourns the fatal shooting of @Spumoni_Gardens co-owner Louis Barbati in #DykerHeights, another senseless victim of #gunviolence.

— Eric Adams (@BPEricAdams) July 1, 2016
Barbati's family posted a statement on the restaurant's Facebook page Friday, thanking the community for their support in the wake of the shooting:
To our friends, fans and loyal patrons,

As we mourn the abrupt and heartbreaking loss of our beloved Louis, we appreciate the outpouring of overwhelming support and goodwill during these hardest of times. The family respectfully wishes for privacy to grieve.

- The Barbati Family
Want to leave a tip?
We answer to you. Help keep our content free of advertisers and big tech censorship by leaving a tip today.
more stories
Sign up for the Blaze newsletter
By signing up, you agree to our
Privacy Policy
and
Terms of Use
, and agree to receive content that may sometimes include advertisements. You may opt out at any time.