The horror-thriller film franchise, "The Purge" released its third installment Friday. "The Purge: Election Year" comes amid what director James DeMonaco called "the strangest campaign or presidential election I've ever seen," according to the Hollywood Reporter.
In the film, a U.S. senator named Charlie Roan (Elizabeth Mitchell) campaigns for the presidency with the promise to bring an end to the Purge, an annual event during which all crime is legal for a 12-hour period.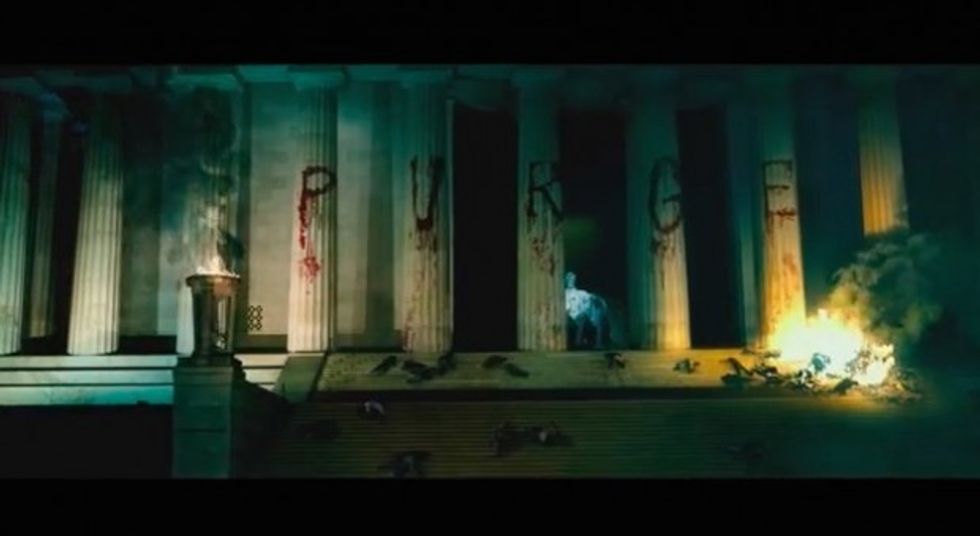 Image source: YouTube
When asked if the violence in the film was meant to depict the chaos that characterized several Donald Trump rallies during the primary season, DeMonaco, who reportedly began the script in 2014, assured that any correlation was unintentional.
"When I was looking back on candidates, I wasn't even able to draw upon anything that even resembled this crazy reality," he told the Hollywood Reporter.
But Demonaco said he isn't opposed to moviegoers drawing their own conclusions.
"Even if the intention is not there, they can sit there and go, 'Oh, maybe that's Donald or that's Hillary,'" he said. "I have to be quite honest, I never intended it to be those two people. [But] I think the audience will sit there unaware of the timeline and think, 'Maybe they did draw these parallels.' I think they'll have fun with it."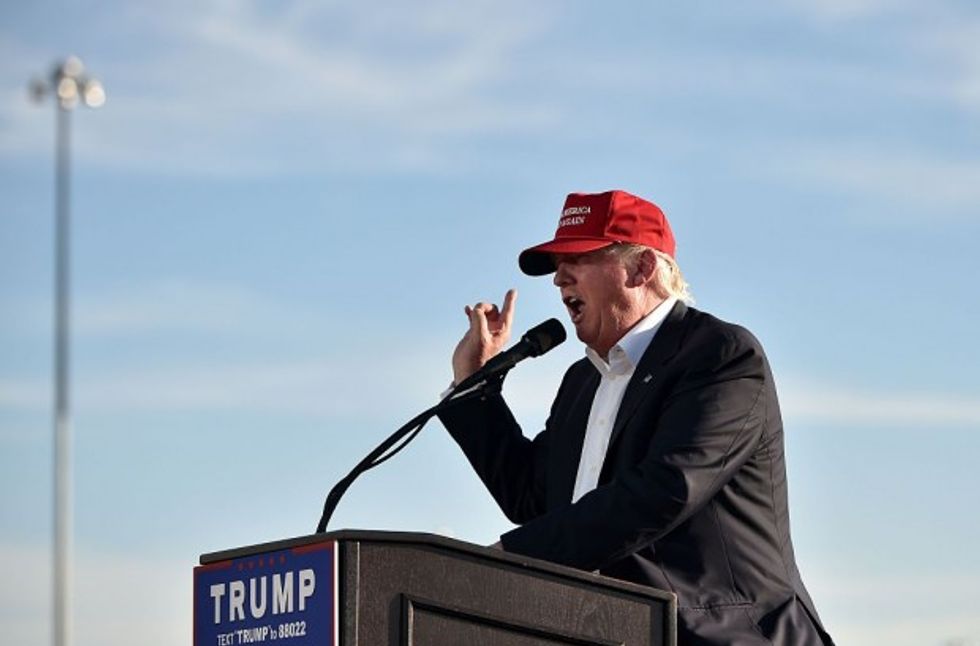 Republican presidential candidate Donald Trump wears a "Make America Great Again" hat while speaking during a rally in Sacramento, California. (Josh Edelson/AFP/Getty Images)

Senator Roan's rival in the film, Minister Edwidge Owen (Kyle Secor), heads up the New Founding Fathers of America (NFFA), an insidious cohort of wealthy white men working with the NRA and major insurance companies. Supporters include racist mercenaries who don "white power," Confederate flag and swastika-style uniform patches.
In the film, pro-Purge Americans run ad campaigns urging citizens to participate in the violence and "keep America great." Though the phrase echoes Trump's "Make America great again" campaign slogan, DeMonaco assured that the political climate depicted in "Election Year" was not inspired.
"There's no way around it," he added. "We got very lucky with that."
The director noted, however, that he finds the "bullying tactics" employed by the 2016 presidential candidates "terrifying."
"I don't like bullies, and there's a lot of bullying happening."
Watch the official trailer for "The Purge: Election Year" here (Warning: Violence):