© 2023 Blaze Media LLC. All rights reserved.
"I like to smell."
Slovak tennis star Dominika Cibulkova's skills with a racket have earned her a place among the sport's elites. Currently ranked among the top 20 players in the world, Cibulkova is playing in Wimbledon this week, advancing to the fourth round of the major championship.
However, it is the 27-year-old's expertise in identifying a tennis ball and the grand slam tournament in which it was meant to be used that is garnering media attention. Cibulkova claims she can tell where a tennis ball comes from — based only on its smell.
Image source: YouTube
Several outlets have reported on Cibulkova's proclivity to sniff a tennis ball before she serves it to an opponent. When asked about it recently, she replied, "I smell things...I like to smell," she said.
"If you give me balls from the US Open and from Roland Garros (the French Open site) ...I tell you, this is this one...this is this one," Cibulkova told a reporter.
Armed with a blindfold and four cans of tennis balls from each of the four major tournaments, the BBC confronted the pro about her unique skill and asked Cibulkova to give them a live demonstration. She accepted the challenge.
Image source: YouTube
With the blindfold covering her eyes, one by one, Cibulkova sniffed each tennis ball handed to her.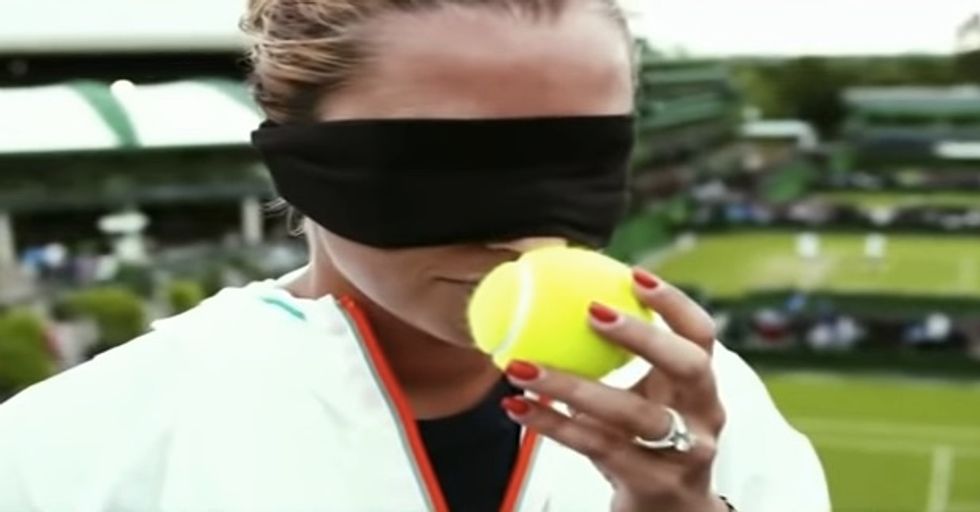 Image source: YouTube
Did Cibulkova get it right? Watch the unique demonstration.
--
Follow the author of this story on Twitter and Facebook:
Want to leave a tip?
We answer to you. Help keep our content free of advertisers and big tech censorship by leaving a tip today.
more stories
Sign up for the Blaze newsletter
By signing up, you agree to our
Privacy Policy
and
Terms of Use
, and agree to receive content that may sometimes include advertisements. You may opt out at any time.