Minnesota Gov. Mark Dayton (D) officially called for a federal investigation into the death of Philando Castile, a Minnesota man killed by police during a traffic stop Wednesday, as "Black Lives Matter" protests erupted outside the governor's mansion.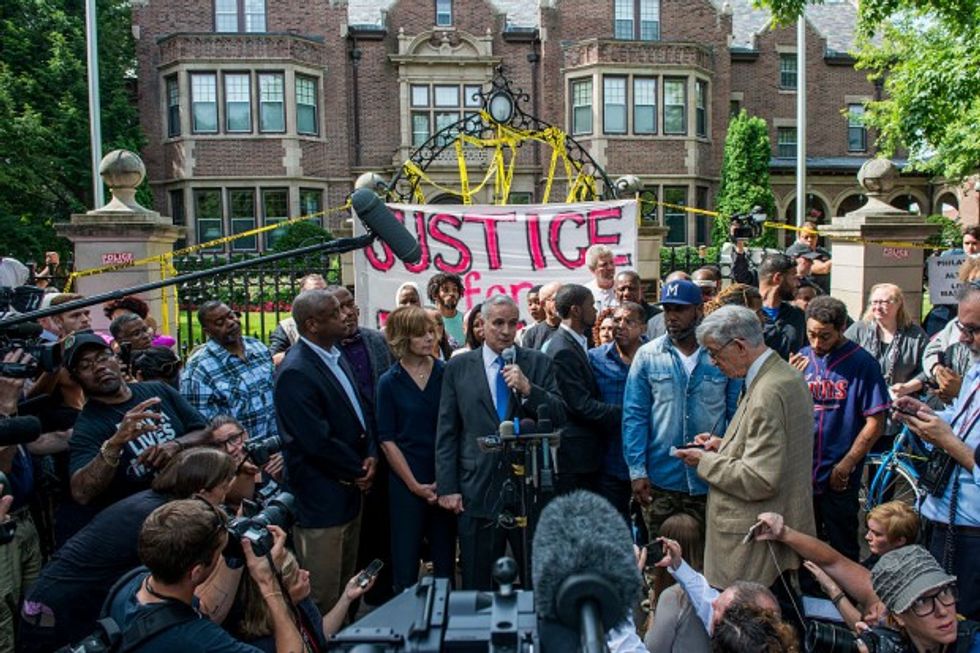 Minnesota Gov. Mark Dayton (D) speaks outside the governor's mansion in St. Paul Thursday following the police shooting death of a black man. Philando Castile was shot and killed Wednesday night by a police officer in Falcon Heights, Minnesota. (Stephen Maturen/Getty Images)

"I extend my deepest condolences to the family, friends, and community of Philando Castile. Our state today grieves with them," Dayton said in a statement Thursday:
This morning, I spoke by phone with White House Chief of Staff Denis McDonough to request that the U.S. Department of Justice begin an immediate independent federal investigation into this matter. Overnight, the Bureau of Criminal Apprehension began an independent investigation at the state level. They are currently collecting all necessary evidence, and interviewing witnesses, to determine what happened, and to assure that justice in this case is served. I will do everything in my power to help protect the integrity of that investigation, to ensure a proper and just outcome for all involved.
According to the Minneapolis Star-Tribune, Dayton, "flanked by black activists," also "briefly addressed" those in attendance, telling them, he would "do everything in [his] power to protect the integrity of" the state-level investigation.
Castlie's fiancee, Diamond Reynolds, filmed the aftermath of the shooting and posted it on Facebook Live. Their child was in the car at the time of the incident.
In a video captured by Leila Navidi, a visual journalist for the Star-Tribune, Reynolds told protesters she posted the video "so that the world knows these police are not here to protect and serve us."
"They are here to assassinate us ... because we are black," Reynolds said.
Girlfriend of #PhilandoCastile speaking tearfully outside govs residence. pic.twitter.com/d0v2bgPZWz

— R. Stassen-Berger (@RachelSB) July 7, 2016
Reynolds said hours went by without answers to her questions, including whether #PhilandoCastile was dead.

— Abby Simons (@AJillSimons) July 7, 2016
#PhilandoCastile's girlfriend said it took at least 15 minutes for paramedics to arrive

— Mara Klecker (@MaraKlecker) July 7, 2016
#PhilandoCastille's girlfriend: officers didn't even check him for a pulse but comforted crying officer who fired the five shots

— Mara Klecker (@MaraKlecker) July 7, 2016
The scene outside the Governor's mansion in St. Paul https://t.co/jfncjzH6et #PhilandoCastile @StarTribune pic.twitter.com/Q9dLHqC9jq

— Leila Navidi (@LeilaNavidi) July 7, 2016
Emotional moments with family of #PhilandoCastille + @GovMarkDayton in St. Paul https://t.co/uwnExEMrIY @StarTribune pic.twitter.com/JegVPAIebL

— Leila Navidi (@LeilaNavidi) July 7, 2016
—
Follow the author of this story on Twitter and Facebook: