© 2023 Blaze Media LLC. All rights reserved.
"Seems natural to me."
A Texas jailer is alive after an unlikely group of good Samaritans acted quickly, risking their own security in order to help him.
The June 23 incident was captured by surveillance cameras at District Courts Building in Weatherford, Texas, WFAA-TV reported.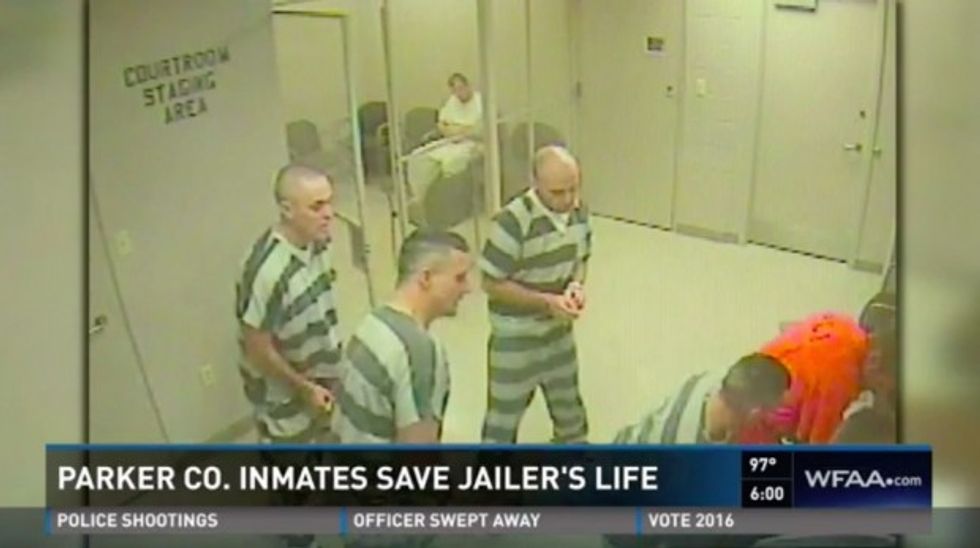 Image source: WFAA-TV
According to the station, at least eight prisoners were behind a locked door in a holding cell located in the building's basement. The lone guard assigned to monitor the group had been joking and conversing with the inmates when all of a sudden, he slumped over.
"He just fell over," inmate Nick Kelton told WFAA Thursday. "Looked like an act. Could have died right there."
Realizing that the man had an apparent heart attack, Kelton and the other inmates cried out for help. They eventually made the risky decision to break out of the holding cell, fully aware of the potential danger.
"We were worried they're going to come with guns drawn on us," Kelton said.
When they realized the jailer had no pulse, the inmates screamed and banged on doors in an effort to get the attention of someone in the building.
It worked, and deputies who were in a courtroom upstairs came running.
"They thought it was a fight," inmate Floyd Smith told WFAA. "They thought we were taking over."
Parker County Sheriff's Sgt. Ryan Speegle told the station he didn't know what to expect when he reached the basement.
"He had keys," Speegle said, referring to the unconscious jailer. "Had a gun. It could have been an extremely bad situation."
Speegle first arrived to see inmates, still handcuffed and shackled, standing over the unresponsive guard. He noted that one prisoner reached for the jailer's radio, which was near his gun.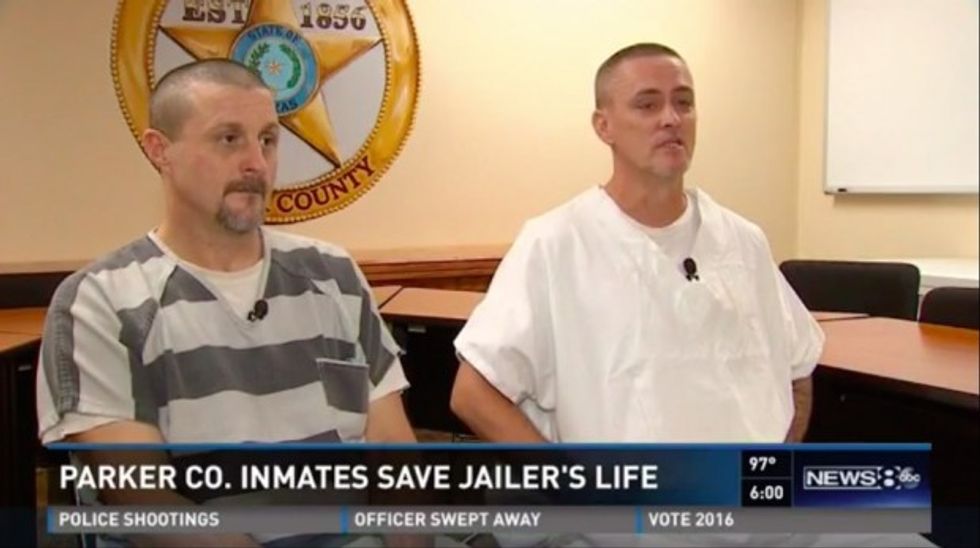 Inmates Floyd Smith (L) and Nick Kelton (R). (Image source: WFAA-TV)
"We were going to call '"Mayday' or something,'" Kelton told WFAA.
Sgt. Speegle, still not fully aware of what had happened, led the inmates back into their cell. Shortly afterwards, deputies performed CPR and paramedics arrived to shock the guard, who gradually regained a pulse.
"He's a good man," Kelton said plainly.
Kelton told the station he is a meth addict and that this is his fourth trip to prison.
Capt. Mark Arnett told WFAA that the prisoners' actions that day certainly helped the guard, and likely saved his life.
"He could have been there 15 minutes before any other staff walked in and found him," Arnett said.
Officials would not identify the guard, who they said works for a private contractor. He didn't want to discuss the incident, but officials told WFAA he's expected to return to work next week.
The inmates said there was never a question of whether they would help the officer or not.
"I watched him die twice," Kelton said. "It never crossed my mind not to help whether he's got a gun or a badge. If he falls down, I'm gonna help him."
"Seems natural to me," Smith added. Ironically, deputies told WFAA, Smith is serving time for assault on a public servant.
Heroic as their efforts were, the incident last month revealed a weak spot in the building's security. The room that inmates broke out of has since been reinforced.
Watch:
Want to leave a tip?
We answer to you. Help keep our content free of advertisers and big tech censorship by leaving a tip today.
more stories
Sign up for the Blaze newsletter
By signing up, you agree to our
Privacy Policy
and
Terms of Use
, and agree to receive content that may sometimes include advertisements. You may opt out at any time.