The gunman who killed five police officers in Dallas, identified as Micah Xavier Johnson, displayed a noticeable change in behavior after being discharged from the U.S. Army in 2015, the shooter's parents told TheBlaze in an exclusive interview set to air later this week. After refusing to speak to the media, the family reached out personally to TheBlaze's Lawrence Jones after seeing him on television. On Sunday, Jones sat down with Johnson's parents and stepmother at the mother's Mesquite, Texas, home where investigators said they found rifles, ammunition, "bomb-making materials" and a journal of combat tactics.
Delphine Johnson, the gunman's mother, said she watched her son transform from a fun-loving extrovert into a "hermit" after his military service, which spanned roughly six years and included a seven-month deployment to Afghanistan. While the parents couldn't recall their son mentioning any particular incident that may have been traumatic during his time as a U.S. Army reservist, they agreed something had changed.
Growing up as a kid, Johnson actually wanted to be a police officer and later became "gung-ho" about enlisting the military, the mother recalled.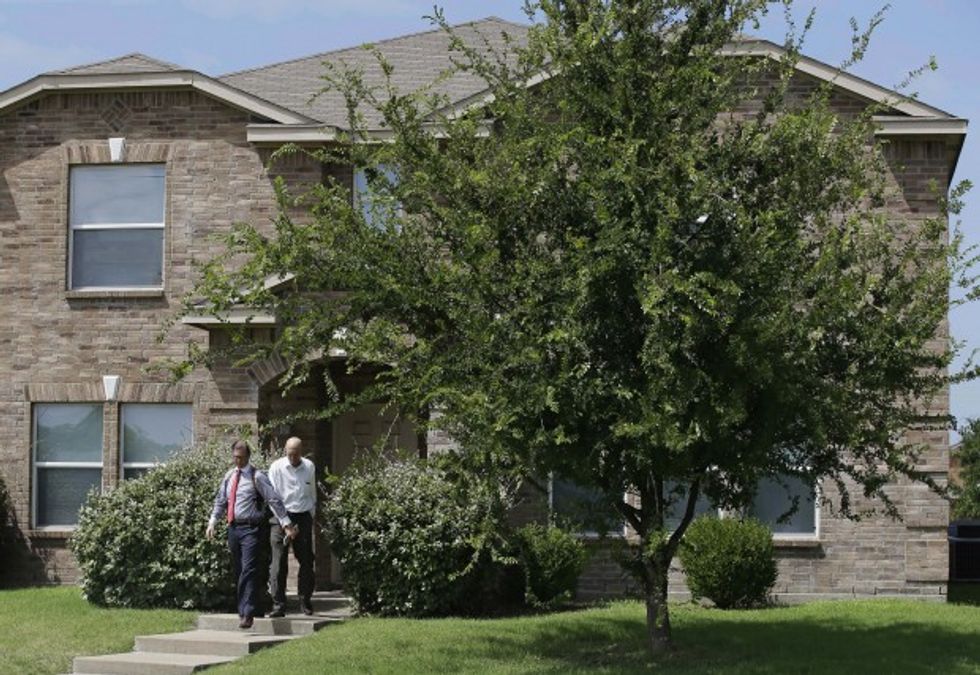 Investigators leave the home of Micah Johnson in the Dallas suburb of Mesquite, Texas, Friday, July 8, 2016. A Texas law enforcement official identified Micah Johnson, 25, as the shooter that opened fire on police officers in the heart of Dallas during protests over two recent fatal police shootings of black men. (AP Photo/LM Otero)
"He loved his country," she said. "He wanted to protect his country."
But Johnson's idealism seemed to fade away over time, and was replaced by disappointment and resentment toward the government.
"The military was not what Micah thought it would be," Delphine said. "He was very disappointed, very disappointed. But it may be that the ideal that he thought of our government, what he thought the military represented, it just didn't live up to his expectations."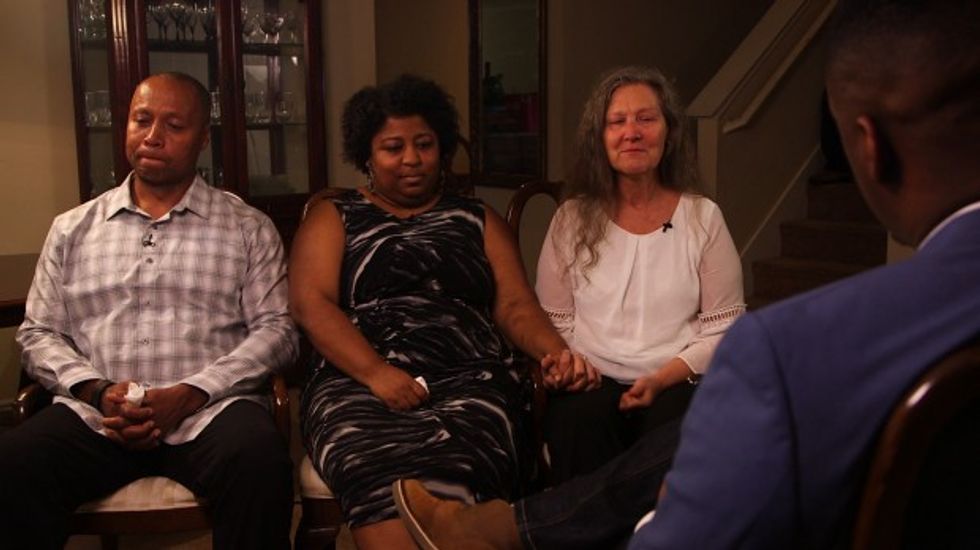 The family of Dallas shooter Micah Xavier Johnson speak to TheBlaze in an exclusive interview. Pictured from left to right: James Johnson, Delphine Johnson, Donna Johnson.
(Photo credit: TheBlaze)
Johnson's father, James Johnson, 55, said it was then that his son began thoroughly studying black history and started expressing interest in his heritage. His Facebook page, now deleted, featured photos of a "black power" fist and a red, black and green Pan-African flag, both symbols of black empowerment. He also "liked" two groups known for race-based extremism: The New Black Panther Party and the African American Defense League.
The family members said Johnson never showed any outward signs of hatred for white people or any other racial groups. Johnson's stepmother, Donna, is white. What he did hate was "injustice," Delphine Johnson said.
But Johnson's festering anger seemed to boil over after the recent police-involved shootings of black men in Minnesota and Louisiana.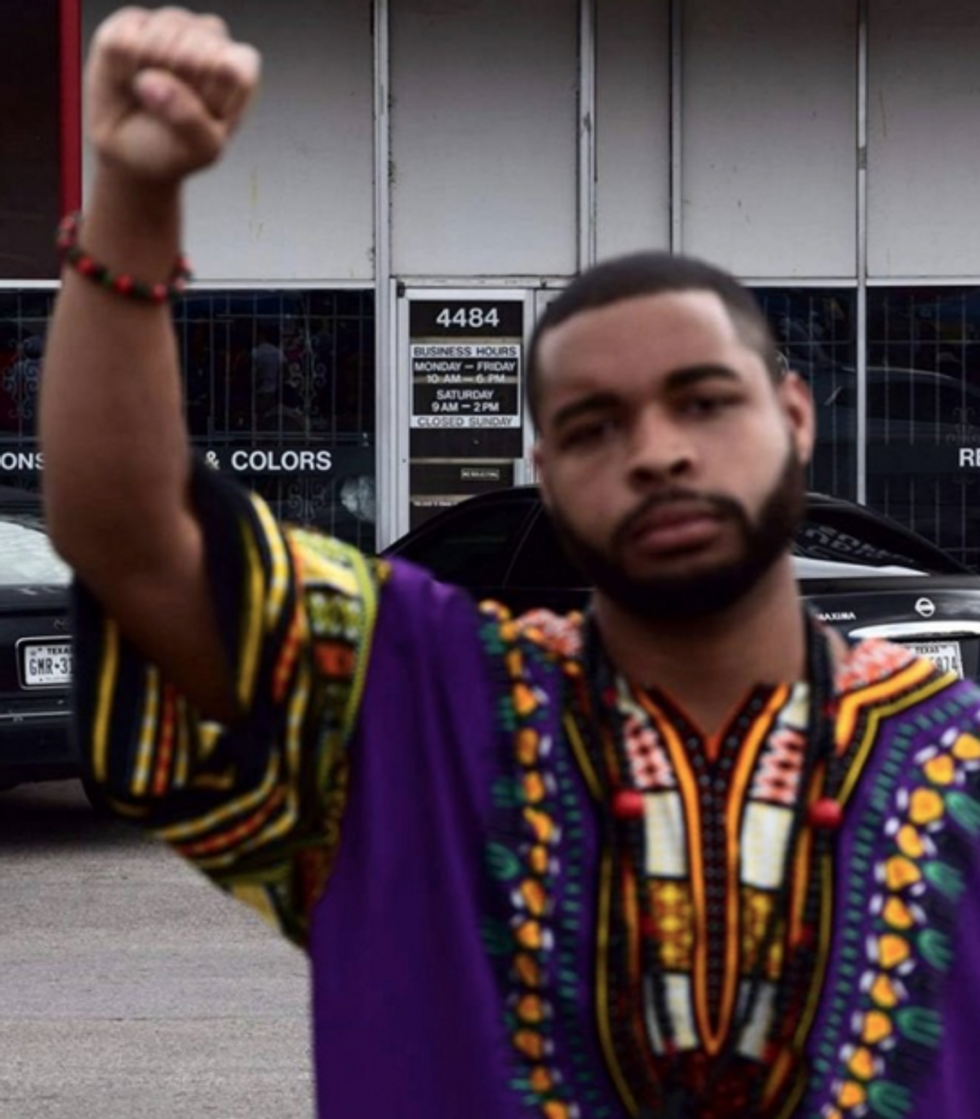 Micah Johnson (Image source: screen grab from Facebook)

In Falcon Heights, Minnesota, a police officer fatally shot Philando Castile during a traffic stop. Castile's girlfriend claimed he was reaching for his ID after informing the officer he was licensed to carry a gun when he was shot. In Baton Rouge, another police officer shot and killed Alton Sterling during a physical altercation.
During a Black Lives Matter protest march on July 7, Johnson opened fire on officers in downtown Dallas, killing five and wounding seven others. He said he wanted kill white cops as retribution for recent officer-involved shootings, according to police.
Following a lengthy standoff inside a parking garage, police killed Johnson using a bomb delivered by a robot early Friday morning.
The gunman's grief-stricken father broke down in tears as he struggled to understand why his son would commit such a horrific act of violence.
"I don't know what to say to anybody to make anything better. I didn't see it coming," Johnson said. "I love my son with all my heart. I hate what he did."
The full interview will air exclusively on TheBlaze TV Wednesday at 5 p.m. ET and again at 8 p.m. ET.
---