National Rifle Association commentator and gun rights activist Colion Noir sharply criticized blame cast upon the NRA in media coverage of the fatal shooting of a black man in Minnesota last week.
Philando Castile was shot by police during a traffic stop, and the aftermath was broadcasted live on Facebook.
"As I watched Philando Castile dying in that car, I watched myself die, and it evoked every emotion in my body," Noir said in a new NRA video. "I didn't want to ask questions, I didn't care what happened before the video started recording; all I knew is that I was watching a man struggle for his life — and then die in front of his family and the entire world."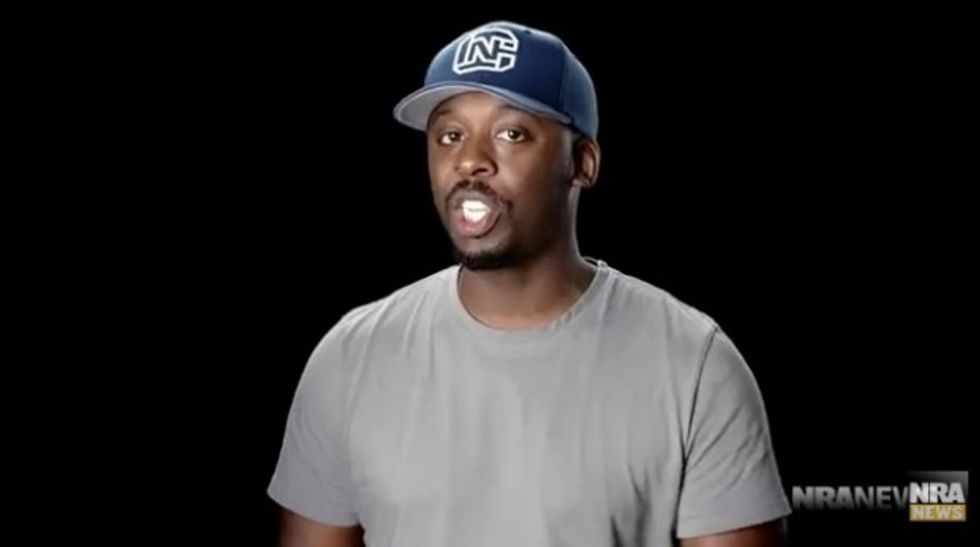 Image source: YouTube
"But as a lawyer, I've learned to wait for all the evidence before rushing to judgment because emotions can blind you and rob you of impartiality," Noir continued. "However, the s*** I'm seeing in the mainstream media, on Instagram, YouTube and Twitter about how the NRA doesn't care about black gun owners because they haven't said anything about Philando is so disingenuous, it's sad."
Noir noted that there are similarities between himself and Castile.
"Philando Castile was a 32-year-old black man with a concealed carry license who was stopped for a broken tail light. I'm a 32-year-old black man with a concealed carry license, and I was stopped two weeks ago," Noir said. "The NRA doesn't need to make a statement about Philando, because they gave him his own show. I've been fighting for gun rights under the NRA brand for years; y'all just got here."
Noir said he is called "a coon and Uncle Tom" for his work for the NRA, even though he's "fighting for the same damn rights that Martin Luther King, Huey P. Newton and Malcolm X fought for."
Noir said the mainstream media's coverage of gun rights is "racist."
"If any organization acts in a racist manner towards my gun rights, it's you, the national news media," he said. "You call the NRA racist, while in the same breath telling blacks like me that we shouldn't own guns because we can't be trusted to not just kill each other. Name one thing the NRA does to make it harder for black people to access their Second Amendment rights. Go ahead. Name one. You can't. Because unlike you, the NRA actually fights for my rights."
Noir said the media fails to cover inner-city violence, in particular the number of deaths in Chicago.
"How many innocent black people would be alive today if we applied the same level of justice to inner-city hell holes that we demand in our lily-white suburbs?" Noir asked. "No one knows!"
"And that must be the way you cowards in the media want it," he continued, adding, "This is sad, man. You want this division. You need the hate. You need a villain."
Watch below:
(H/T Washington Free Beacon)
—
Follow the author of this story on Twitter and Facebook: