Cleveland Browns running back Isaiah Crowell posted a graphic and disturbing image of a police officer getting his throat slit on his Instagram account after five officers were murdered in Dallas.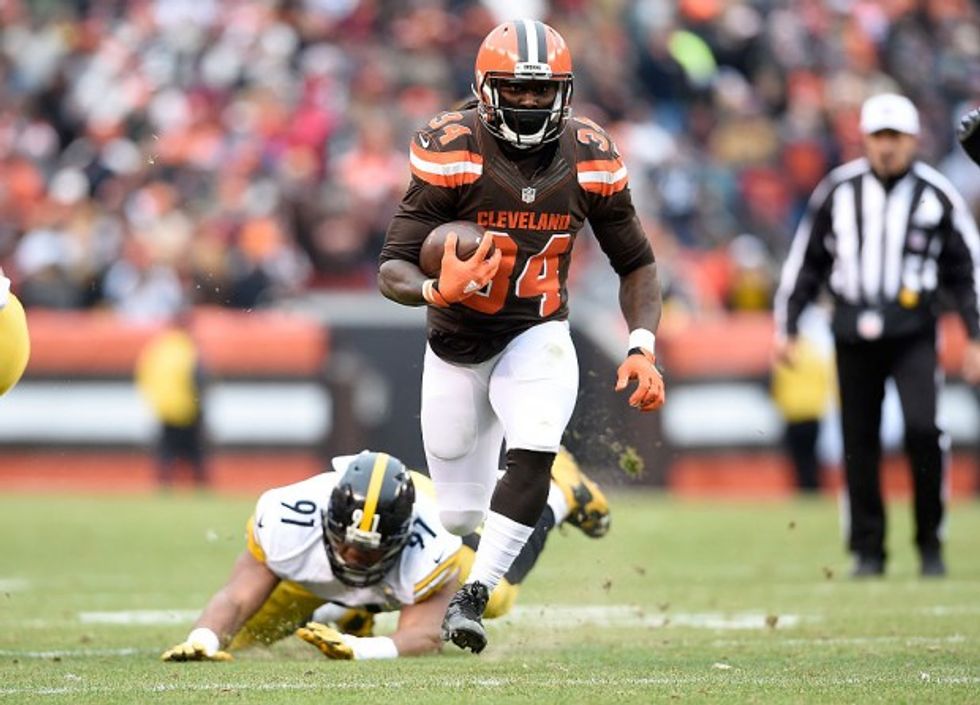 CLEVELAND, OH - JANUARY 3: Isaiah Crowell #34 of the Cleveland Browns carries the ball during the first quarter against the Pittsburgh Steelers at FirstEnergy Stadium on January 3, 2016 in Cleveland, Ohio. (Photo by Jason Miller/Getty Images)
He quickly deleted the post — but it was too late. The internet responded with an outpouring of outrage and the NFL player was forced to issue an apology. He released the following statement on Monday:
"Last week was an emotional and difficult week as we saw extreme acts of violence against black men across our country as well as against police officers in Dallas,'' he wrote. "I posted an image to Instagram in the midst of that emotion that I shouldn't have and immediately removed it. It was an extremely poor decision and I apologize for that mistake and for offending people.

"My values and beliefs do not match that image. I am outraged and upset by the deaths of Alton Sterling and Philando Castile along with so many others.  I am also outraged and saddened by the attacks in Dallas and the deaths of the five honorable police officers (Lorne Ahrens, Michael Krol, Michael J. Smith, Brent Thompson and Patrick Zamarripa) who were providing protection while trying to keep peace.
The Browns organization said in its own statement that Crowell's apology isn't enough.
"We have spoken to Isaiah regarding his extremely disturbing and unacceptable social media decision. It was completely inappropriate and we have made him aware of our high level of disappointment," a team spokesman said in statement. "I  Isaiah has apologized but also knows that just an apology is insufficient and that he must take steps to make a positive difference after a very negative and impactful post.''
It's unclear how the incident will impact the 23-year-old running back's future with the Browns. He is entering his third season with the team.
---