Following Mike Pence's private meeting with Donald Trump and his family Wednesday, the Indiana governor said the presumptive GOP nominee made no offer for him to serve as his running mate.
Pence said the fact that he is being considered by the Trump campaign for vice president is "very humbling" and will consider the vetting process "to have been a great honor," regardless of the conclusion.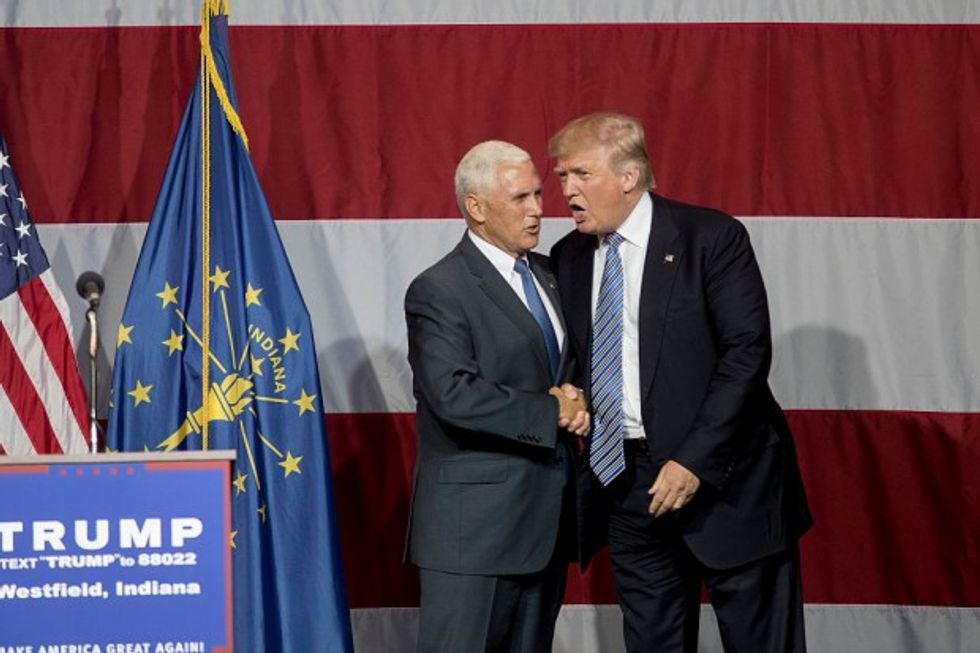 Republican presidential candidate Donald Trump greets Indiana Gov. Mike Pence at the Grand Park Events Center on July 12, 2016 in Westfield, Indiana. Trump is campaigning amid speculation he may select Indiana Gov. Mike Pence as his running mate. (Photo by Aaron P. Bernstein/Getty Images)
"I think he's giving it careful consideration, and we're humbled to be a part of that," the Indiana Republican said, according to the Indy Star. "There are a number of other noteworthy Americans they are considering, and I'm just honored to be on that list."
Speaking to reporters after the private sit-down, Pence revealed what he and Trump spent the meeting discussing.
"We had a great conversation about the country," he said, "the challenges facing America and my firm belief that Donald Trump is going to provide the kind of leadership that America needs to strengthen our nation at home and abroad and give Americans the confidence that we will be appointing people to the Supreme Court that will stand by our Constitution."
Regardless of the ultimate decision, Pence was quick to praise Trump, calling the billionaire businessman a "dedicated family man" and a "great dad" with a "good family."
"I can just honestly tell you, Karen and I, and our daughter traveled about a week ago to spend time with [his] family," he said. "We saw him off the campaign trail among friends and members of his company. These are good people."
Trump's meeting with Pence comes the same day the real estate developer met with former House Speaker Newt Gingrich, who is also believed to be a finalist in Trump's VP short list, in Indianapolis. According to a report from CNN, Gingrich flew to the meeting via a private jet provided by Fox News commentator Sean Hannity.
"I wouldn't be happy with anyone but Newt," Hannity said on his Fox show Tuesday night.
—
Follow the author of this story on Twitter: