© 2023 Blaze Media LLC. All rights reserved.
"He's straight out of central casting."
WASHINGTON (AP) — Donald Trump and key members of his family huddled with Mike Pence Wednesday morning at the Indiana governor's mansion as the billionaire enters the final phase of his search for a running mate. Trump was directing his staff to prepare for a Friday announcement.
"It's a little bit like 'The Apprentice,'" former House Speaker Newt Gingrich, one of Trump's finalists, said in a Tuesday interview with Fox News Channel. "You find out sooner or later who the last one standing is."
Pence, Gingrich and New Jersey Gov. Chris Christie were said to be the final contenders for vice presidential candidate on the Republican ticket less than a week before the GOP meets in Cleveland for the formal nomination. That's according to a person familiar with Trump's thinking, who spoke on condition of anonymity because the person was not authorized to discuss the vetting process. Trump said in a Tuesday interview with The Wall Street Journal that Alabama Sen. Jeff Sessions is also still in the mix.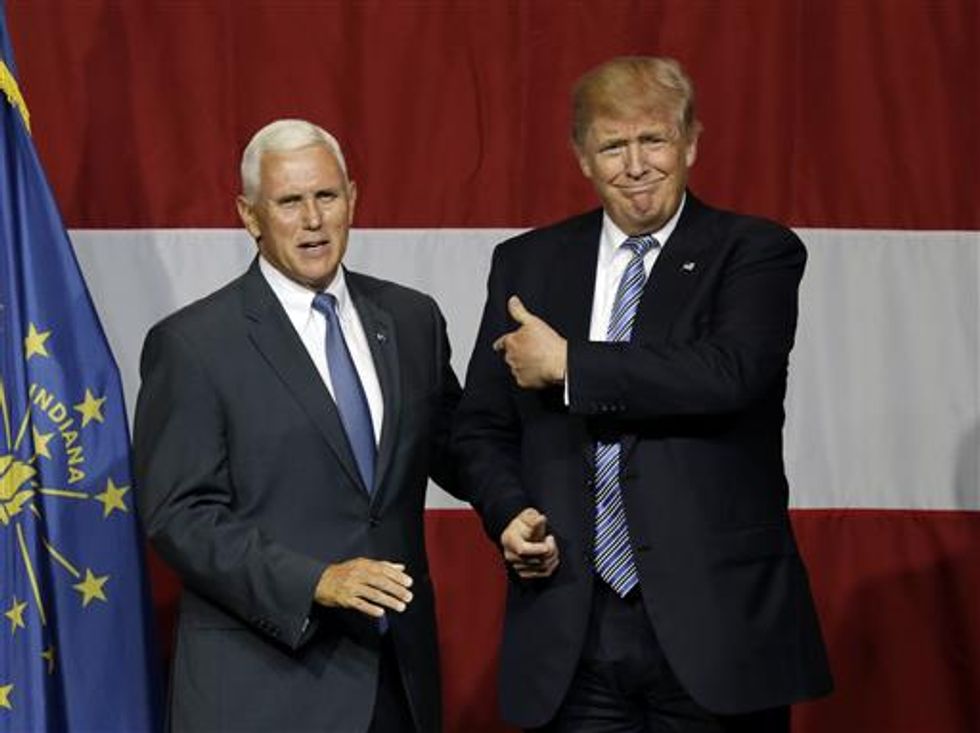 Indiana Gov. Mike Pence joins Republican presidential candidate Donald Trump at a rally in Westfield, Ind., Tuesday. (AP/Michael Conroy)
The three finalists have had "auditions" as Trump's partner, opening for the presumed GOP nominee at speeches and rallies. After traveling together on Tuesday, Pence and Trump met up again on Wednesday at the governor's mansion. They were joined by Trump's three adult children, as well as Trump's son-in-law Jared Kushner and campaign chair Paul Manafort.
Pence is a steady, staunch conservative who would help calm nervous Republican wary of Trump's impulsive style. Gingrich is a boisterous rabble-rouser who has spent decades in Washington, including as House speaker. Christie, a one-time rival, has become one of Trump's most trusted advisers.
Trump has spent weeks consulting with friends and family as he weighs the most important decision of his campaign to date. He's also met with the candidates and brought his finalists on tour to test their receptions before his crowds.
Introducing Trump at a rally in Westfield, Indiana, on Tuesday evening, Pence received an enthusiastic reception as he compared Trump to Republican icon Ronald Reagan and dug into Trump's likely Democrat rival, Hillary Clinton.
Trump told The Wall Street Journal on Tuesday he is looking for a "fighter skilled in hand-to-hand combat" as his second-in-command, but hadn't seen enough of Pence to measure his fight. Pence's speech appeared to be an effort from the former congressman to show Trump he could take on such a role.
While Trump kept his cards close, he spoke playfully of Pence at the rally: "I don't know whether he's going to be your governor or your vice president."
Pence and Gingrich would be welcome picks among anxious Republican officials already gathering in Cleveland for next week's convention. Their governing experience and popularity among the party's conservative base would mark a sharp contrast to Trump, whose brand of politics has alienated hard-line conservatives and establishment Republicans alike.
Former Trump adviser Michael Caputo said Pence fit that bill.
"Not only does he fulfill Trump's requirement for a running mate with political experience, he also is CEO of a company called Indiana," Caputo said. "He's straight out of central casting. He's a communicator. He gets the message, he stays on messages. And he knows how to reach out to a broad range of America."
In an interview with The Associated Press on Monday, Trump said he'd narrowed his list to four contenders. He appeared to have made progress by Tuesday, when he told Fox News Channel's Bill O'Reilly that he had "a pretty good idea" of his pick.
Still, he appeared to agree with O'Reilly's complaint that his campaign's plans for Friday announcement are ill-conceived, because fewer people tend to watch the news that day.
"When I heard I was doing it on Friday, I was saying, I wonder if those people know me very well," Trump said of his campaign staff.
Trump's team has been building hype for the decision, including in a text message to supporters that urged recipients to sign up to receive an early notification of the choice. Fox News Channel added to the speculation Tuesday when it said it had suspended its contributor agreement with Gingrich "due to the intense media speculation" about his potential to join Trump's ticket.
Less than an hour later, Gingrich appeared on the network and suggested Trump's decision was imminent.
"My guess is you're going to hear either tomorrow or Thursday," Gingrich said. "Certainly no later than Friday, because they're going to want to dominate the weekend news with the new vice presidential selection."
Want to leave a tip?
We answer to you. Help keep our content free of advertisers and big tech censorship by leaving a tip today.
more stories
Sign up for the Blaze newsletter
By signing up, you agree to our
Privacy Policy
and
Terms of Use
, and agree to receive content that may sometimes include advertisements. You may opt out at any time.