NEW YORK — Television personality Montel Williams was one of the first public figures to label last week's deadly ambush on Dallas police officers a terrorist attack, and as more information has come to light about the shooter and the motivation behind the attack, he's doubled down on that assertion.
Williams told TheBlaze that from the minute he watched the shooting unfold on television, he knew the suspect had a military background — and he was right. The gunman, identified as Micah Xavier Johnson, was in the U.S. Army.
Johnson's parents, who spoke exclusively to TheBlaze, said they noticed a change in their son's behavior after he was discharged from the Army in 2015.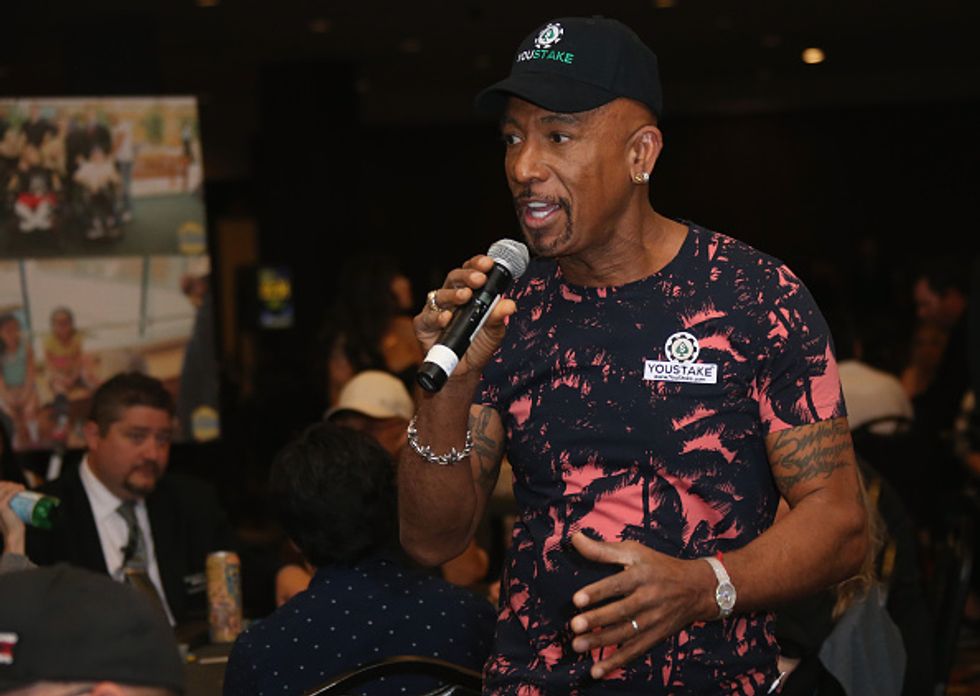 Television personality and host Montel Williams. (Getty Images/Gabe Ginsberg)
"Now look at what's coming out now," Williams said of the shooter's military background. "What's coming out now doesn't fit the narrative of hate. It fits the narrative of the fact that you have a young man who came home a year ago, a year and a half ago, and everyone who knows him said he changed 100 percent."
While there's no evidence yet that Johnson had post-traumatic stress disorder, Williams pointed to the high percentage of veterans who suffer from PTSD or traumatic brain injuries. Out of more than 1,180,000 veterans who received services from the Veterans Administration between Oct. 1, 2001 and March 31, 2015, almost 379,000 were diagnosed with PTSD.
"So here is a guy who is already suffering, he becomes really malleable, and he becomes malleable not just by hate websites," Williams added. "He was looking at all kinds of different philosophies and some of them went into hate."
Calling Johnson's ambush a terrorist attack isn't exactly unusual, Williams added, as he compared him to Timothy McVeigh, who killed 168 people in the Oklahoma City bombing in 1995, and Ted Kaczynski, who killed a total of three people as he went on a nationwide bombing campaign between 1978 and 1995.
The only difference between the three men, Williams noted, is their race.
"I want to kind of lift the iron and say this is not just a black-white issue as much as we're trying to say it was," Williams said. "Because that man, until he got in trouble at the end, was pretty much an awarded solider. Respected. And then he had an issue. I would like to go back and see what that issue was, but most of the public doesn't want to hear stuff like that. Why can't we have that discussion with him? If you go back and look at Timothy McVeigh, that's all we talked about: he was mentally unstable, should he get the death penalty, all that. Same with Kaczynski."
"We give white perpetrators that benefit of a conversation; this one we want to make sure that's not what fits in this narrative," Williams continued.
Williams said that as he watched news coverage of the shooting, "not one commentator could keep from turning this into a black-white issue." But he did commend Dallas Police Chief David Brown for his words following the attack on his officers.
"Truthfully, I was not one to jump and cheer after President Obama's speech and say it was the greatest thing since sliced bread. I didn't do that," Williams said. "I would jump up and down and say right now that [Brown] is demonstrating the poise, the dignity, the acumen, the expertise of every police chief we should see across this country, period. Honestly, I'm more impressed with him every single time I hear him speak and handle issues that are presented to him."
[sharequote align="center"]"As long as people accepts the lies, there is no change."[/sharequote]
Williams also praised Brown's response to Black Lives Matter protesters: a job offer.
"We're hiring. Get out of that protest line and put in an application," Brown said during a press conference Monday. "We'll put you in your neighborhood and help you resolve some of those problems."
The idea of having police working in their own communities could help the discord between minorities and law enforcement officials, Williams said, adding that officers "self-policing" other officers could also help.
"The majority of this country are those who write history or those who write the current occurrences," Williams said. "So those in control are in control. So until the masses, white people, are infuriated, there is no change. As long as [an] excuse can be made to justify this, nothing is going to change."
The talk show host also criticized those who throw around false statistics during media interviews, noting that since "black on black" and "white on white" crime is more prevalent than "black on white" crime, white Americans should not fear their black neighbors.
"We are more apt to hurt a black person than we are a white person; definitely goes in terms of rape, assault, those things," Williams said. "So why would a white person ever fear me? When you get into an elevator, you shouldn't pull your purse away from me. Pull it away from the white guy standing behind you."
"But see, what we're being told is all of the crime in America is happening in the black community, all of the crime in America is happening in the inner-city," he continued. "As long as people accepts the lies, there is no change."
—
Follow Kaitlyn Schallhorn (@K_Schallhorn) on Twitter