Less than 18 hours after the Richmond, Virginia, police department tweeted photos showing the new location of the city's 28-year-old memorial for its officers killed in the line of duty, the memorial was vandalized with red paint.
Someone vandalized the police memorial that was recently moved to Byrd Park @CBS6 @RichmondPolice pic.twitter.com/ex0WpKufnL

— Jake Burns (@JakeBurnsCBS6) July 13, 2016
The phrase "Justice For Alton" — presumably a reference to Alton Sterling, who was fatally shot by Baton Rouge police during an altercation last week — was painted on the stone plaza where the memorial statue now stands. The statue itself also was defaced with red paint.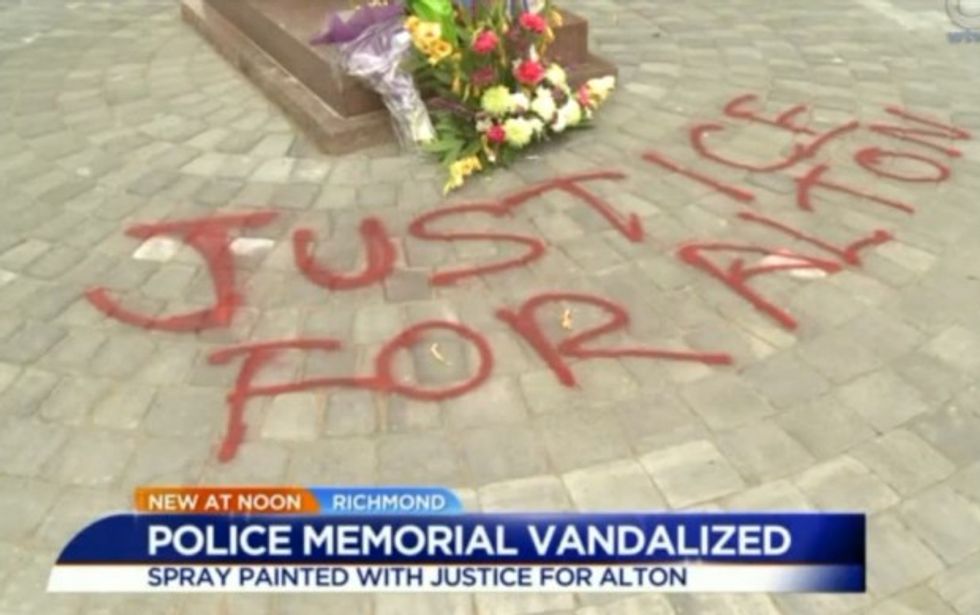 Image source: WTVR-TV
According to local reporter Jake Burns of WTVR-TV, the statue sat untouched and "without a scratch" in its original location for nearly three decades. It was only after police posted the following tweet — proudly showing off the new location and thanking people for leaving flowers on the statue — that the vandalism occurred.
The paving stones indicate beautiful progress at the Police Memorial statue. Thanks for the flowers, #rva pic.twitter.com/CKRNCzoAyt

— Richmond Police (@RichmondPolice) July 12, 2016
Richmond police told TheBlaze clean-up efforts have begun.
(H/T: WTVR)
—
Follow the author of this story on Twitter and Facebook: