Sen. Tim Scott (R-S.C.) addressed the "deep divide between the black community and law enforcement" during an emotional speech on the Senate floor Wednesday.
Scott, the lone black Republican in the U.S. Senate, said that while the vast majority of police officers only wish to "protect and serve," there's a "trust gap" because a few officers don't live up to their oath.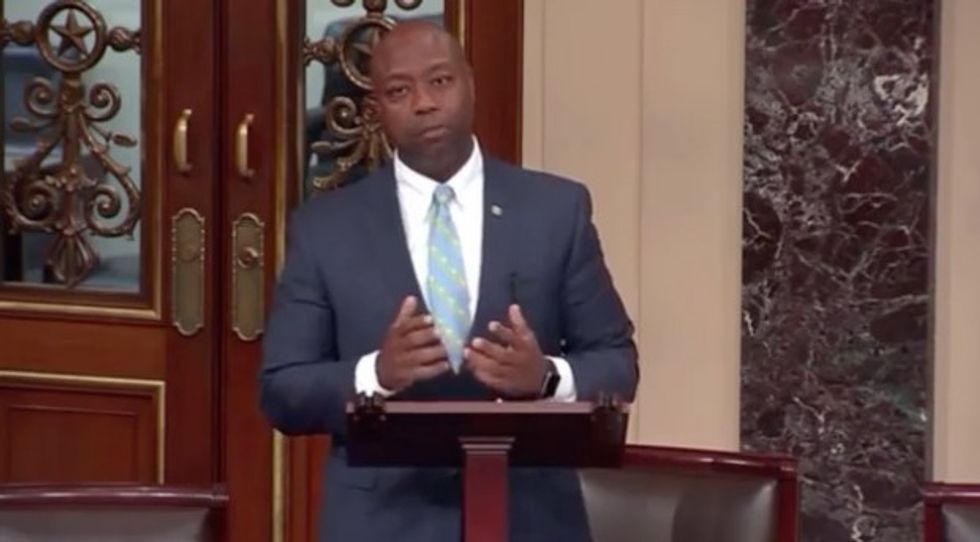 Image source: YouTube
"In the course of one year, I've been stopped seven times by law enforcement," Scott said. "Not four, not five, not six, but seven times in one year as an elected official."
Scott acknowledged that there were times when he was pulled over for speeding, and held up two fingers.
"But the vast majority of the time I was pulled over for nothing more than driving a new car in the wrong neighborhood or some other reason just as trivial," he said.
Scott said that "I do not know many African-American men who do not have a very similar story to tell, no matter their profession, no matter their income, no matter their disposition in life."
[sharequote align="center"]"It simply leaves you blind and the American family very vulnerable."[/sharequote]
"Imagine the frustration, the irritation, the sense of loss of dignity that accompanies each of those stops, even here on Capitol Hill," Scott said.
Scott said that even as a senator, he's encountered issues with U.S. Capitol Police while commuting to work — and has received three apologies from a supervisor or the chief of the Capitol Police.
"I recall walking into an office building just last year after being here for five years on the Capitol. And the officer looked at me with a little attitude and said, 'The pin I know, you I don't, show me your ID,'" the senator said. "I was thinking to myself, 'Either he thinks I'm committing a crime, impersonating a member of Congress, or what?' Well, I'll tell you that later that evening, I received a phone call from his supervisor apologizing for the behavior."
Scott also praised police for the dangerous work they do, saying we should be "grateful" for their sacrifices.
"There is never, ever an acceptable reason to harm a member of our law enforcement community," he said. "Ever."
But Scott noted that just because some Americans haven't experienced racism doesn't mean it doesn't exist.
"Recognize that just because you do not feel the pain, the anguish of another, does not mean it does not exist," he said. "To ignore their struggles, our struggles, does not make them disappear. It simply leaves you blind and the American family very vulnerable."
Scott's speech was the second of three the senator plans to deliver about race and policing. He called this speech "the most difficult because it is the most personal."
Watch below:
—
Follow the author of this story on Twitter and Facebook: