UPDATE 3:15 p.m.: Open Primaries activists on Thursday afternoon told TheBlaze they were denied entry into the convention premises as they attempted to deliver the petition to the Rules Committee. In a video produced by the organization, the activists with the petition did not appear to have appropriate credentials to enter.
Original story below
—
While grassroots efforts are underway to unbind delegates at the Republican National Convention, there's another movement underfoot to make the GOP primaries more inclusive.
Open Primaries, a nonprofit organization, is set to deliver a petition bearing 32,000 signatories to the RNC Rules Committee Thursday in Cleveland demanding that the national party implement a rule to make state primaries and caucuses open to all — no matter party affiliation.
"We want to give more voting rights to independents because in state after state, if you say you don't want to be affiliated with a party, you're making yourself a second-class citizen," said John Opdycke, Open Primaries' president.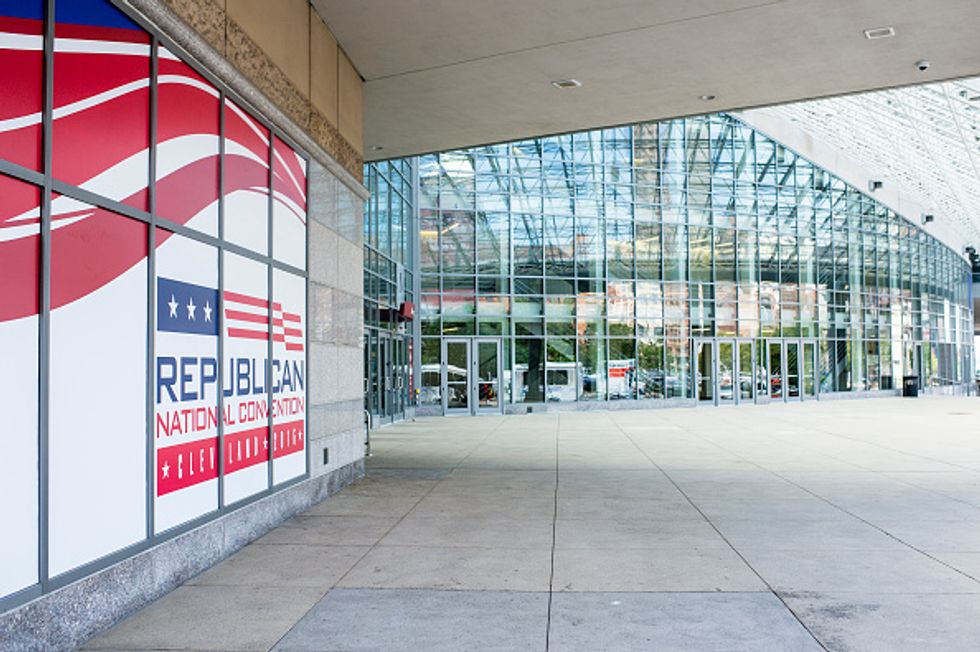 Windows of Quicken Loans Arena are decorated for the Republican National Convention in Cleveland, Ohio. (Getty Images/Angelo Merendino)
It's the country's "combat environment that pits Americans against each other simply because they have different ideologies" that creates a dangerous paradigm — and one Opdycke told TheBlaze he wants to get away from.
"Open Primaries can restructure the political environment so that liberal[s] and conservatives, black and white, can come together in new ways behind new candidacies that break down a lot of these barriers," he said. "Open Primaries is not about getting moderates elected; it's the exact opposite of that. It's about allowing the American people to speak and come together in new ways which we so desperately need right now."
The movement to make primaries available to all — regardless of political affiliation – is immensely criticized by Republicans who don't want Democrats invading their party's primaries and voting for a weaker candidate, just as Democrats don't want Republicans doing the same. However, Opdycke argued there's "no evidence to suggest" that would happen.
"It's one of these fantasies that people put in place to instill fear ..." he said. "The people who say that, they just don't want to talk about the issue. How do you say that a primary system that is payed for by the taxpayers, and yet the taxpayers can't participate in it? How do you justify it?"
If parties want to close their primaries, they shouldn't be publicly or taxpayer funded, he said.
"I think people should be able to vote for whatever reason they want. I do not believe there is a correct motivation for voting or an incorrect motivation," Opdycke continued. "Americans have the right to vote. How they use that vote, how they use it tactically, whether it be for someone, against someone, that's their business. And I don't know why you think you can tell people there's a proper way to use your vote or an improper way to vote."
The same petition will be delivered to the Democratic Party at the Philadelphia convention later this month, but for now, Open Primaries has its sights set on the GOP.
"I don't expect the rules committee to be responsive," Opdycke said. "I think the dominant voice in the GOP is one of not being open to opening the system. But I think it's important that we're going to be there because there are Republican leaders in the movement."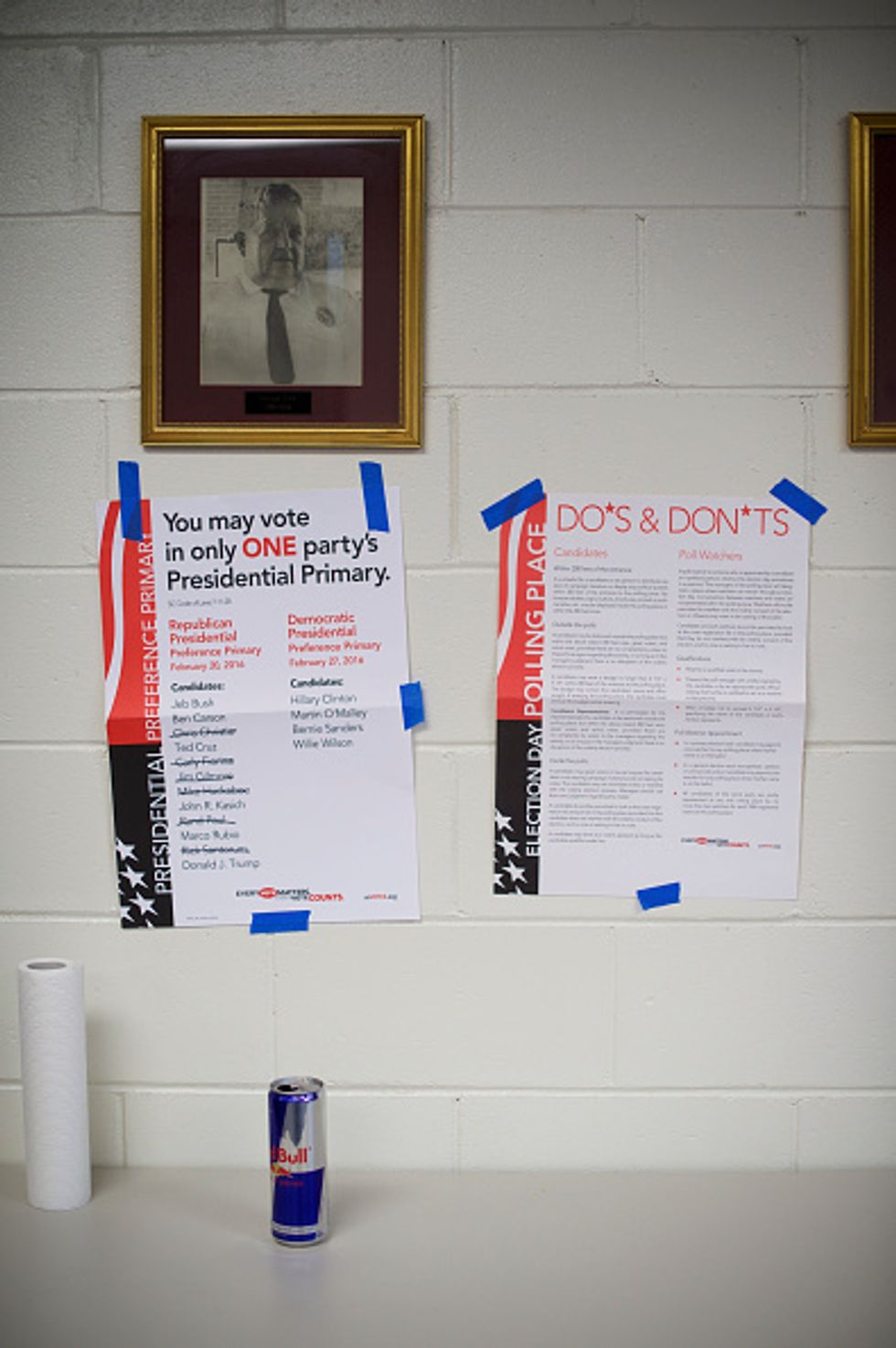 Voting instructions hang at the Cordova Town Hall polling precinct for the South Carolina Democratic presidential primary February 27. (Getty Images/Mark Makela)
An AP-NORC poll released in May found that 69 percent of Americans wish to open primaries to all voters, and 81 percent of Americans believe primaries are a fairer process than caucuses.
"This is not an issue that is on the margins because there is deep support among the American people, and I would hope the Republican Party would align itself with the American people," he added. "I don't have a lot of optimism that they will right now, but hopefully they will eventually."
Multiple members of the RNC Rules Committee confirmed Opdycke's speculations ahead of receiving the petition.
One member, Morton Blackwell, told TheBlaze he doesn't expect the national party to change the rules to override the state parties that run closed primaries and caucuses.
"I'm surprised to hear that somebody is going to try to do that because many states have primaries which are limited to participation just for registered Republicans or for someone who seriously declares their party affiliation in a binding way prior to the primary election," Blackwell told TheBlaze.
Citing discontent among the Virginia Republican Party that many Democrats were able to vote in the state's March primary, Blackwell added that "plenty of people in the party and in the grassroots of the party overwhelmingly want Republicans to pick the Republican president."
Another source close to the RNC Rules Committee told TheBlaze that the Republican Party "has a little too much on its plate" during the 2016 convention "to worry about a movement they hadn't really heard of until this week."
But regardless, Opdycke said he hopes his organization will still at least garner attention and support among those gathered in Cleveland.
"I can see the big story of the convention is going to be who is nominated. We're not naive in thinking that the rules for the 2020 primary are going to be the main story, but nonetheless it's an important story," he told TheBlaze.
—
Follow Kaitlyn Schallhorn (@K_Schallhorn) on Twitter