As the terror attack unfolded in Nice, France, former Florida congressman Allen West said that earlier this year he "had the sick feeling this would happen" and offered his thoughts on how the U.S. "must respond."
"Earlier this year I had the sick feeling the enemy knew this year was their last year, their chance to inflict levels of carnage unseen," West wrote in a post on his website following the terror attack in Nice that left at least 84 people dead.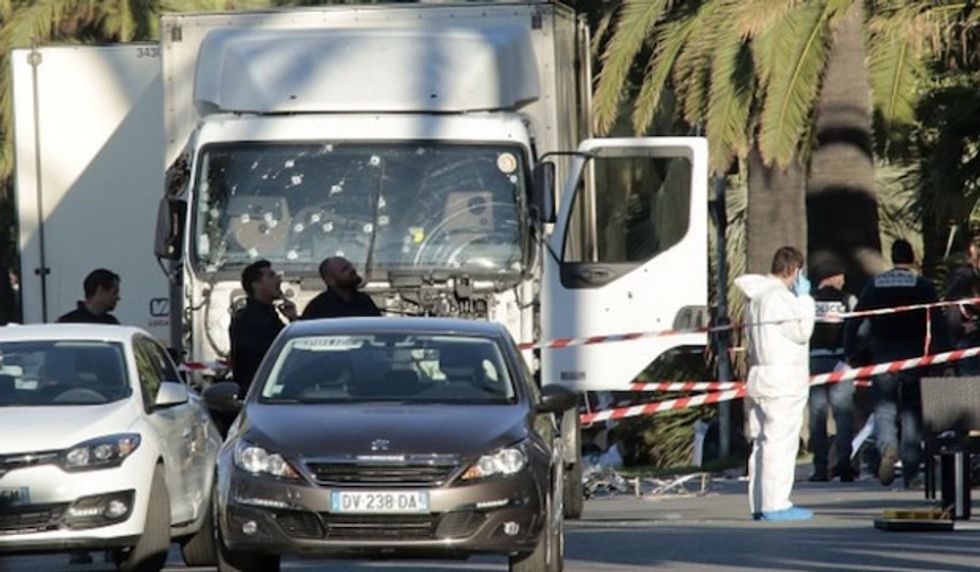 Forensic police investigate a truck at the scene of a terror attack on the Promenade des Anglais on July 15, 2016 in Nice, France. A French-Tunisian attacker killed 84 people as he drove a truck through crowds, gathered to watch a firework display during Bastille Day celebrations. The attacker then opened fire on people in the crowd before being shot dead by police. (Photo by Patrick Aventurier/Getty Images)
"This MUST end, and it must end now — sadly, there will be no replacement of leadership at 1600 Pennsylvania Avenue until next year [in] January," West added. "Sadly, we do not have a parliamentary system where a vote of NO CONFIDENCE can be taken and we get a new Prime Minister."
The former congressman then called on the U.S. to launch a "dedicated coalition" against the Islamic State in the Middle East and in the U.S.
"We must find the ISIS centers of gravity and surround Raqqa and reduce it, along with Mosul. At home, we must pursue any and all clerics and mosques that are proselytizing radical hatred and deport them. We must enact stringent immigration measures against single military-age Muslim males and focus on any country that has Islamic terror operations, West wrote. "We must declare war against Islamic fascism and define it in very specific terms and not provide any cover for seditious speech on our shores."
"Our men and women in uniform are chomping at the bit to deliver a first rate ass whipping on these jihadis," he added.
—
Follow the author of this story on Twitter and Facebook: