Texas Lt. Gov. Dan Patrick is accusing ABC News of deceptively editing his town hall conversation with President Barack Obama over the White House's treatment of law enforcement.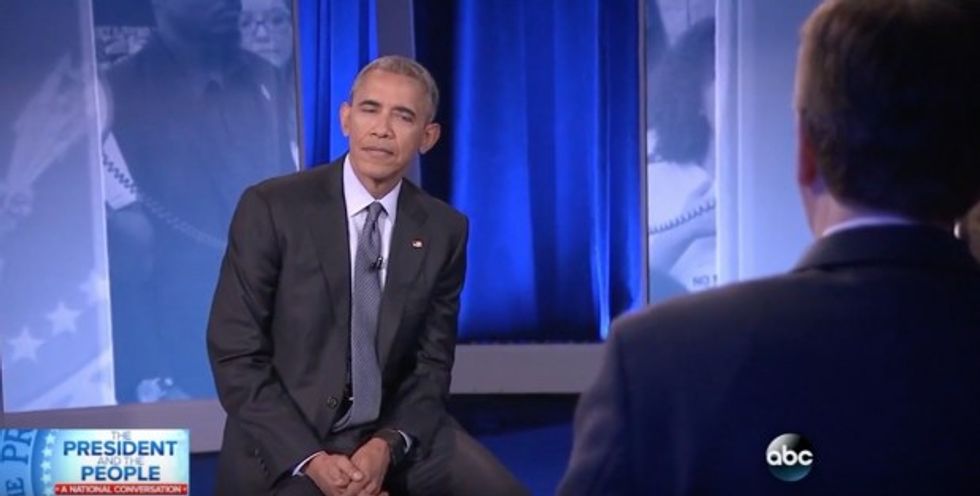 Texas Lt. Gov. Dan Patrick challenges President Barack Obama on his treatment of law enforcement during an ABC town hall.
Speaking to radio host Chris Salcedo on KSEV AM700 in Houston, Patrick compared ABC's editing job to the infamous edit in Katie Couric's anti-gun documentary that replaced gun owners' lucid responses with looks of confusion.
(Catch the full interview with Patrick on the Chris Salcedo show on TheBlaze Radio Saturday at noon to 3 p.m. ET.)
"I'm not happy," Patrick said. "The interview, they kept in most of my questions, but they cut out about 50 percent."
Patrick conceded that ABC News had to cut a lot of the show to fit it into the hour format, but also claimed the network also employed some questionable tactics.
"Remember that Katie Couric interview story a few weeks ago when she was talking to gun owners and on the actual tape it did not represent what actually happened? For my interview, the final product did not represent accurately everything we talked about," he said.
Patrick then accused ABC of using Obama's answers to "questions that did not appear on the tape to answer other questions that did."
"It would be like you asking me a question right now and five minutes from now, you ask me another question … If you edited this, you wouldn't take the answer to the next question and put it to this one — and that's what they did."
Listen to the audio via KSEV AM700 below: When pressed by Salcedo on whether the supposed ABC edits appeared to cast Obama in a more positive light, Patrick said "it is hard for me to say."
Moments later, he seemed to acknowledge the network was likely cutting for "time," but argued they could have cut parts of Obama's remarks instead because he "filibustered" every answer.
The Texas Republican said ABC also cut out two impactful moments of his interaction with Obama. Firstly, a question about some of the anti-cop rhetoric coming from protesters was edited out:
"Mr. President, you must publicly condemn protesters chanting 'kill the cops.'"
Patrick said ABC actually aired Obama's answer without airing the question, which he argued lessened the impact.
The second moment of the town hall Patrick was displeased to learn had been removed came toward the end of the event when he stood up with Cameron Sterling, the 15-year-old son of Alton Sterling, to urge the president to put an end to violence.
"That really bothers me, probably as much as than anything," Patrick said.
A representative for ABC News did not immediately respond to a request for comment and access to the unedited footage to fact check Patrick's claims.
---