ANKARA, Turkey (AP) — The Latest on the attempted military coup in Turkey (all times local):
8 p.m.
As Prime Minister Binali Yildirim addressed crowds who gathered outside parliament, some of those assembled began to shout, "We want the death penalty! We want the death penalty!" They were referring to plotters of the attempted coup.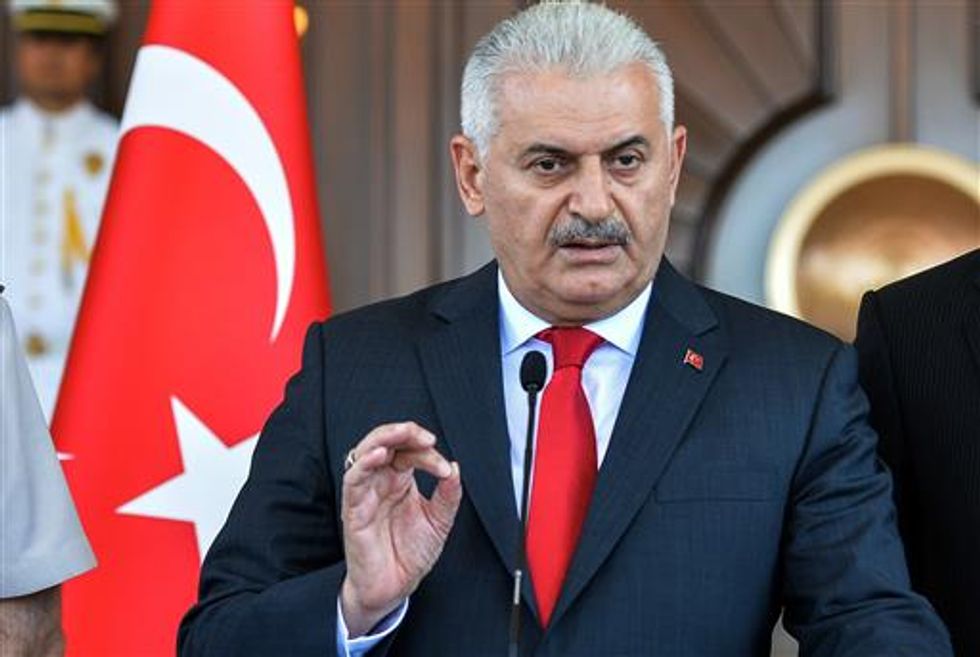 Turkey's Prime Minister Binali Yildirim speaks to the media during a press conference in Ankara, Turkey, Saturday, July 16, 2016. (AP Photo)

Yildirim responded: "We got your message. The necessary will be done."
Turkey scrapped the death penalty more than a decade ago.
The prime minister also asked the crowds to walk to Ankara's main square nearby and remain in the streets to keep a second night of "watch for democracy."
___
7:55 p.m.
Turkey's state-run news agency says the commander of the country's second army has been arrested as part of an investigation into the attempted coup.
The second army is based in eastern Turkey to counter threats from Syria, Iran and Iraq.
Anadolu Agency says Gen. Adem Huduti was detained for questioning in the eastern city of Malatya, where the army is based. It says a garrison commander and two brigadier generals were detained as well.
___
7:50 p.m.
Defense Minister Fikri Isik says state authorities are in full control of all areas in Turkey following the coup attempt.
Isik said Saturday that Turkey can confidently say it has thwarted the coup attempt but warns that authorities have to remain vigilant.
Isik said that "at any time there could be new tests, new attempts. We have prevented the coup, but it is too soon to say that the danger is over."
___
7:30 p.m.
Turkey's four main political parties have released a joint declaration during an extraordinary parliamentary meeting held in the wake of the country's failed coup attempt.
The four parties on Saturday strongly condemned the attempted coup and warned that any attempt against the people or the parliament will be met "with the iron will of the Turkish Grand National Assembly resisting them, just as they did today."
The declaration praised the Turkish nation for its unwavering belief in democracy and lauded citizens for taking to the streets and resisting the coup.