CLEVELAND — The theme of the day at the Republican National Convention is "Make America Safe Again" — and surrogates for presumptive GOP nominee Donald Trump lobbed criticism at President Barack Obama for his reaction to a recent spate of attacks targeting police officers.
At a breakfast for New York delegates, Sen. Bob Corker said that police are "despondent" after the targeted shootings in Dallas and Baton Rouge, and many of them don't feel that Obama supports them.
In contrast, police unions and individual officers see Trump as an advocate, Corker said.
"When they hear Trump's name, they light up, because they feel like they finally have someone who will stand behind them," Corker said.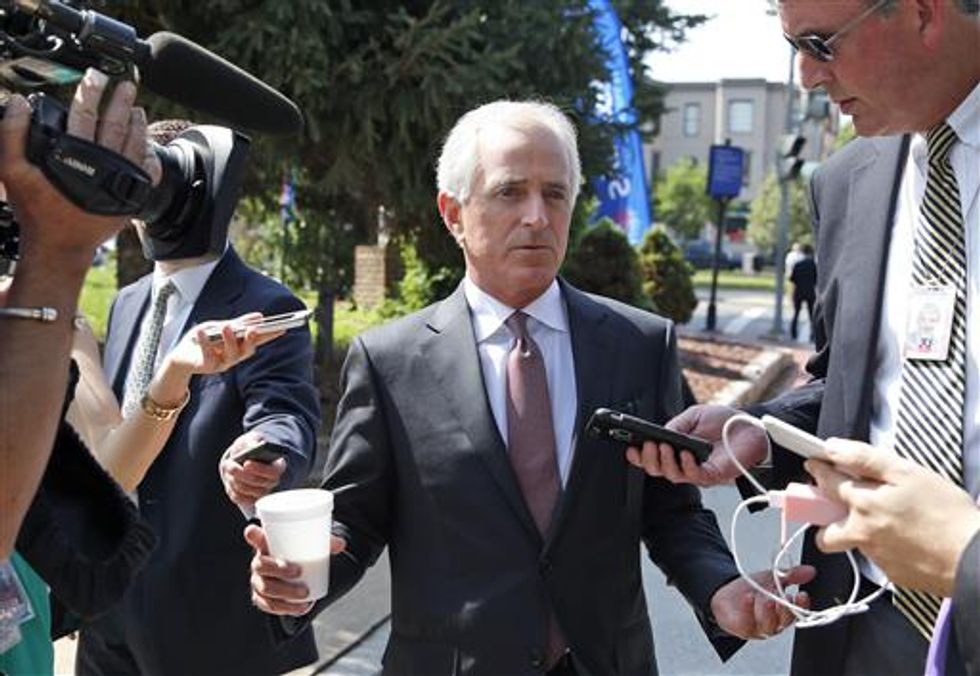 Sen. Bob Corker, R-Tenn., talks with reporters last week outside the National Republican Senatorial Committee headquarters in Washington. (AP/Alex Brandon)
Corker, a Republican senator from Tennessee, was considered a potential vice presidential pick before Trump announced Indiana Gov. Mike Pence as his running mate last week.
Trump is rumored to be rolling out his choices for some Cabinet positions at the convention this week.
After Sunday's shooting in Baton Rouge which killed three officers, Obama cautioned Americans to tone down "inflammatory rhetoric" and "careless accusations."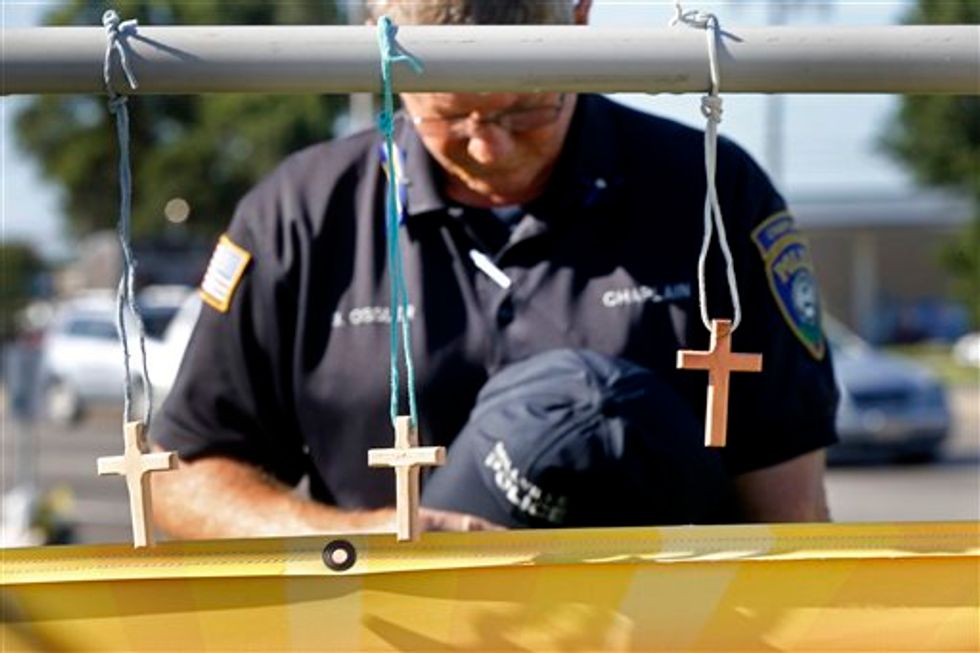 Millville, N.J. police chaplain Robert Ossler prays at a makeshift memorial at the shooting scene in Baton Rouge, La., where several law enforcement officers were either shot or killed. (AP/Gerald Herbert)
In response, Trump blasted Obama for a "lack of leadership" on the issue of violence against police.
"President Obama just had a news conference, but he doesn't have a clue," Trump tweeted last night. "Our country is a divided crime scene, and it will only get worse!"
Convention proceedings get underway around 1 p.m. today at the Quicken Loans Arena in downtown Cleveland. Local authorities are expecting numerous protests, and have amped up the police presence in the nearby area in case of possible violence.
—
Follow the author of this story on Twitter and Facebook:
[facebook //www.facebook.com/plugins/like.php?href=