CLEVELAND — The free-the-delegates push that led to a chaotic floor fight at the Republican National Convention never garnered enough widespread support to succeed, according to talking points sent out by the RNC today.
Despite a last-ditch effort on the GOP convention floor Monday, the anti-Trump grassroots faction was unable to unbind delegates in hopes of unseating presumptive presidential nominee Donald Trump.
Free-the-delegate supporters claim that convention officials unfairly stifled their attempts.
But the memo, sent by an RNC staffer to the RNC's communications staff, cited the convention rules as the reason the effort failed. And some of the signatures collected by anti-Trump delegates were gathered under false pretenses, the memo claims.
"People were misled at breakfasts this morning," the memo, obtained by TheBlaze, stated. "They just asked people to sign a piece of paper not knowing what it was. When they found out what it was, they took themselves out of it."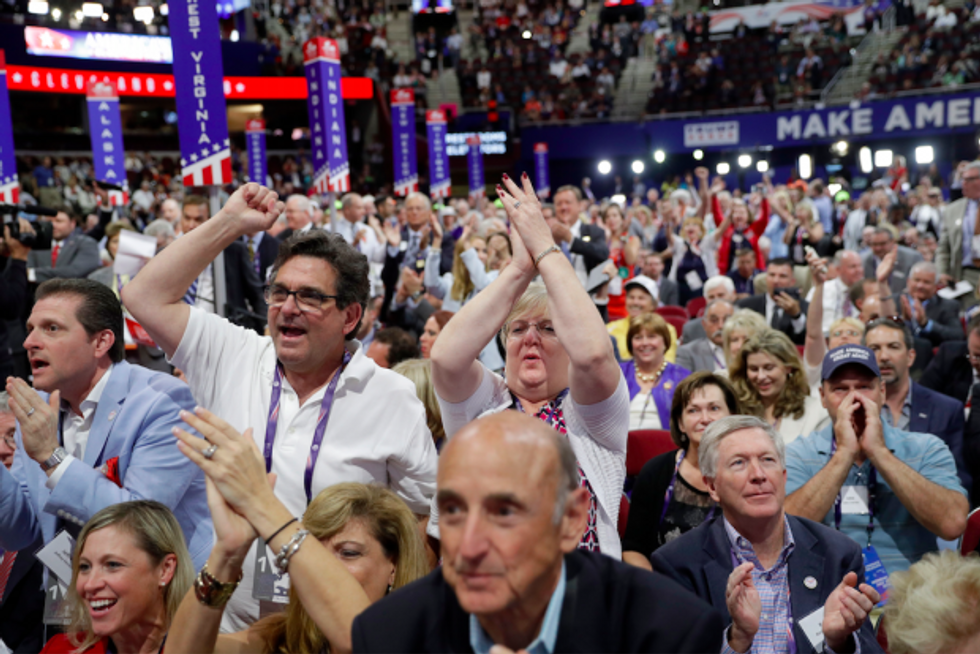 Delegates react as some call for a roll call vote on the adoption of the rules during first day of the Republican National Convention in Cleveland, Monday, July 18, 2016. (AP Photo/John Locher)
The memo also asserts that "a wide majority of states didn't want" to unbind the delegates and said the group failed to obtain enough support for a minority report or a voice vote.
Free-the-delegates supporters only received enough support among six states and "lost one during the vote" despite a claim that they had the support of nine or 10 states, the memo stated. Among those states, Iowa, Maine, Minnesota and Washington, D.C. withdrew supporters, according to the memo.
Alaska "was rumored but never submitted," the memo concluded.
Delegates chanted "roll-call vote" on the floor before convention chair Rep. Steve Womack (R-Ark.) allowed a vote on the Rules. However, Womack declared that the "ayes" won the vote, meaning the convention rules posed by the powerful RNC Rules Committee were adopted — without a way to unbind delegates.
Leaders of the free-the-delegates faction were angered following the voice vote.
"That was a shameless display of tyranny," Regina Thompson, a Colorado delegate and co-founder of the Free the Delegates group, told TheBlaze Monday afternoon. "In the Republican Party, no less."
Delegates Unbound said in a statement that the "RNC continued to deny the will of the delegates utilizing tactics typically seen under oppressive regimes."
Dane Waters, co-founder of Delegates Unbound, added: "These tactics not only fail to unify the party but have gone 180-degrees in the opposite direction, creating division not seen in my lifetime."
—
Follow Kaitlyn Schallhorn (@K_Schallhorn) on Twitter