Presumptive Republican presidential nominee Donald Trump questioned President Barack Obama's response to the shooting deaths of police officers in Dallas and Baton Rouge during a Monday telephone interview with "Fox and Friends."
"I mean, you know, I watched the president and sometimes the words are okay," Trump said. "But you just look at the body language. There's something going on. Look, there's something going on, and the words are not often okay, by the way."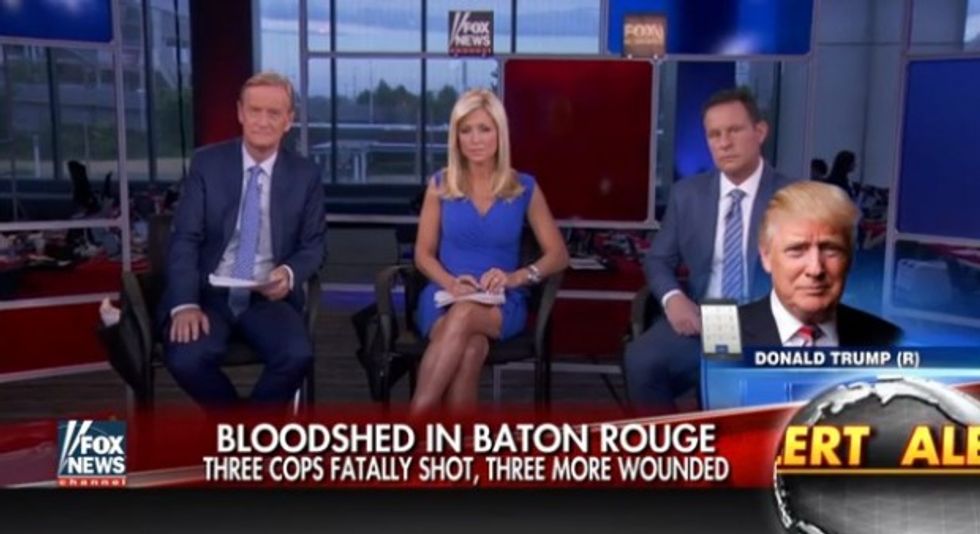 Image source: Fox News
"What does that mean, there's something going on?" host Steve Doocy asked.
"There's just a bad feeling, a lot of bad feeling about him," Trump replied. "I see it, too. There's a lot of bad feeling about him. We have a country that has not been like this since I can remember it."
Trump repeatedly said that he believes "there's something going on" driving "bad people" to perpetrate violence against law enforcement officers.
Host Brian Kilmeade asked Trump about a speech recently delivered by South Carolina Sen. Tim Scott, the lone black Republican serving in the Senate, about him being targeted by police due to his race. Scott also said police officers should be shown gratitude for the dangerous work they do.
"Is there something on the other side that needs to be addressed, too?" Kilmeade asked.
"It's probably something that we really don't know and maybe we can't feel it unless we're black," Trump said. "It is ... definitely something going on there also. That has to do with training, and it has to do with something. But there is something going on that maybe, Brian, we can't recognize or we can't see it unless you're black and it's an experience. There's no question about that."
Trump added that "we have to bring law and order back to this country, whether we like it or not."
Trump also disputed reports suggesting he wavered over his selection of Indiana Gov. Mike Pence as a running mate, calling him "my first choice."
Watch below:
—
Follow the author of this story on Twitter and Facebook: