CLEVELAND — For reality star and transgender activist Caitlyn Jenner, it was more difficult to "come out" as a Republican than as a transgender woman.
"It was easy to come out as trans. It was hard to come out as a Republican," Jenner told those gathered at a brunch near the GOP convention.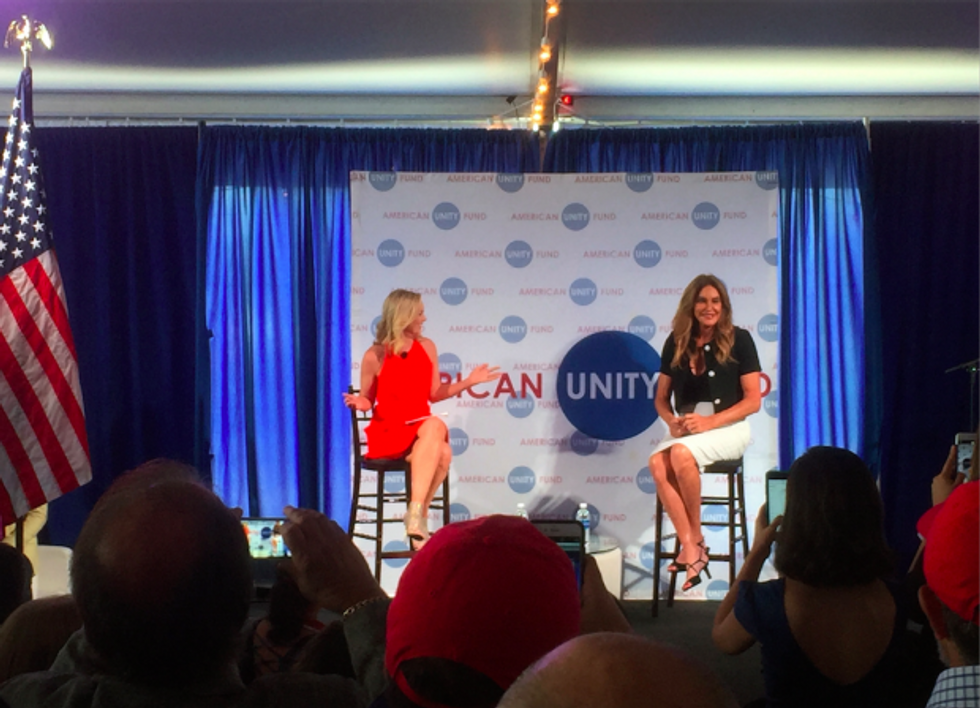 Caitlyn Jenner, right, speaks at an American Unity Fund brunch at the Rock and Roll Hall of Fame in Cleveland on the sidelines of the Republican National Convention. (AP Photo/Josh Lederman)
While not attending the actual GOP convention, Jenner addressed those gathered at the American Unity Fund brunch at Cleveland's Rock and Roll Hall of Fame Wednesday morning. She and other speakers gathered to promote inclusion of the LGBT community among Republicans.
The Olympic gold medalist laughed as she joked that God must have "chuckled" as he gave her so many qualities, including her athletic ability, and then decided to "give this one the soul of a female and see what he does."
"That's what I've dealt with my whole life," Jenner said. "Maybe this is the reason God put me on this earth — to tell my story."
Jenner is often ridiculed and questioned for her political ideology by her co-stars on her reality show, "I Am Cait," which details her transition from sports hero Bruce Jenner into a woman. Earlier in the presidential cycle, she said that she "liked" former GOP presidential contender Texas Sen. Ted Cruz — invoking backlash from others in the trans community.
But, as she told fans Wednesday, "I am not giving up on this country. I am not giving up on the Constitution."
Wednesday's brunch also featured television personality Montel William, who admonished conservatives to be inclusive of every American, including those in the LGBT community.
"We need to be aggressive in defending those Republicans who stand with us on the right side of this issue, and we need to recruit and encourage the next generation of Republican candidates who will lead our party back to Reagan's iconic lesson to all of us about what being the party of Lincoln really means," Williams said.
—
Follow Kaitlyn Schallhorn (@K_Schallhorn) on Twitter