Newly released dashcam and bodycam video shows the moment when officers responded to a man who set his house on fire and pointed his gun at them last month.
Randy Blecher, 50, used lighter fluid to set fire to his house and yard in Farmington, Arkansas, according to KSFM-TV. When officers arrived on scene, Blecher was outside with one handgun and a shotgun.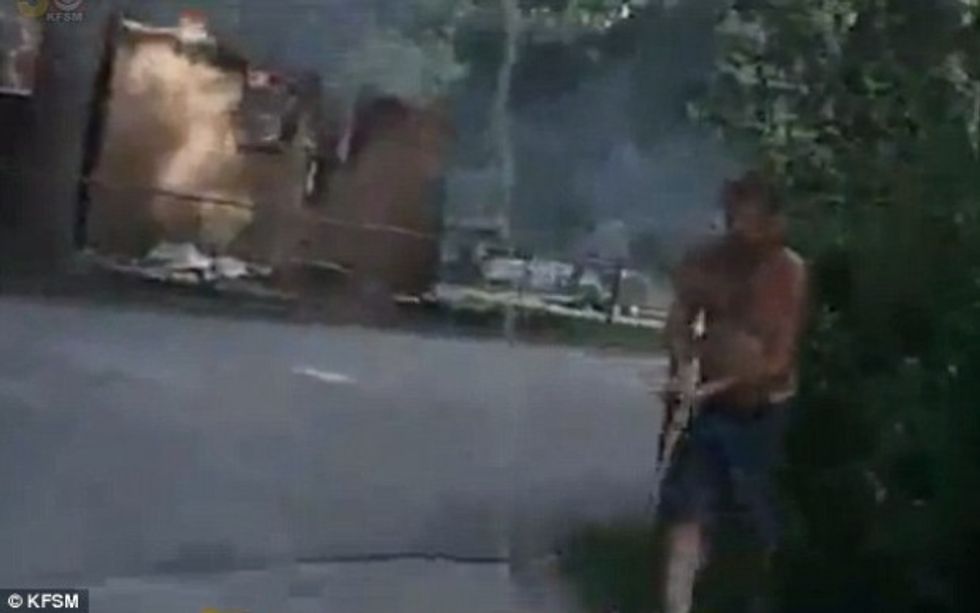 Image source: KFSM-TV
"[Blecher] kept pointing the guns at either his head or his chin. He waived them around in the direction of the officers," Washington County Prosecutor Matt Durrett said, adding that the man "also fired shots."
After taking cover behind a truck parked along the street, Durrett said the officers began making conversation with Blecher, which was when he told officers he wasn't going to prison. Officers tried to negotiate with the suspect, but when those efforts failed, they deployed a Taser, which proved ineffective on Blecher.
He then relocated and put down his shotgun but brandished his handgun.
That's when more than one officer fired shots, hitting Blecher in his legs and torso. Bleher was taken to a nearby hospital, where he was pronounced dead.
Following the release of the harrowing footage, Durrett is standing behind the responding officers, telling KSFM that the use of lethal force in this instance was justified.
"The officers involved in this incident reasonably believed their lives were in danger, that they were at risk of death or serious physical injury," Durrett said. The Washington County Sheriff's Office said the officers showed "incredible restraint."
(Content warning: Some viewers might find this footage disturbing)
(H/T: Daily Mail)
—
Follow the author of this story on Twitter and Facebook: