Fox News contributor and Washington Post columnist Charles Krauthammer said Thursday that Texas Sen. Ted Cruz "blew it" at the Republican National Convention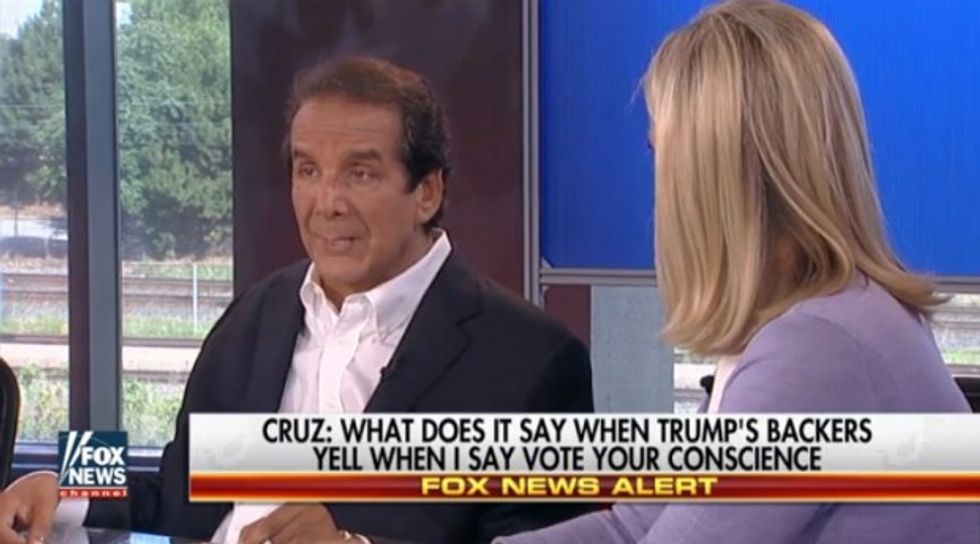 Image source: Fox News
Cruz delivered a primetime speech to the convention Wednesday evening but did not endorse GOP nominee Donald Trump.
"What Cruz delivered was the longest suicide note in American political history, and this morning he added an addendum," Krauthammer said during a panel discussion on Fox News' "America's Newsroom" Thursday.
The "addendum" Krauthammer was referring to was Cruz's Thursday morning event with the Texas delegates where he said that he is "not in the habit of supporting people who attack my wife and attack my father."
Krauthammer argued that when Cruz told the Texas delegates that his non-endorsement was personal due to Trump's attacks on his family, the senator "undid the great political, philosophical reasons he offered last night."
"As of this morning, I think he's destroyed his political career right there," Krauthammer added.
Panelist Steve Hayes disagreed with Krauthammer, saying that his fellow panelist is "not very often really, really wrong," but he thinks Cruz's gamble may pay off, noting that it isn't mutually exclusive to oppose Trump both on principle and on personal grounds.
"I do think it's a statement of principle," Hayes said, noting that Trump mocked John McCain, Carly Fiorina and a disabled reporter.
"They're embracing him after that, and I think it's important to say, 'Not everyone's along for the ride,'" Hayes said.
Watch:
—
Follow the author of this story on Twitter and Facebook: