Two New York City police officers were crowned "heroes of this city" this week after a passing driver hurled what turned out to be a fake bomb into their squad car.
"Boss, this is a bomb," Officer Peter Cybulski told Sgt. Hameed Armani when the device landed in their police cruiser.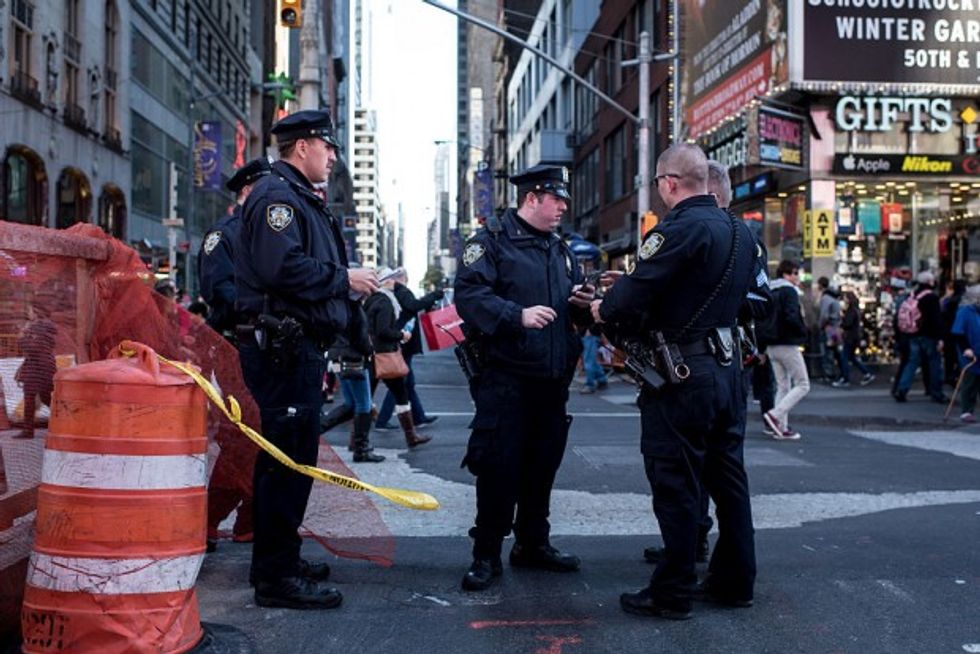 Police officers keep watch in Times Square following a series of terrorist attacks in Paris on November 14, 2015 in New York City. Security in New York City has increased following the coordinated assault on Paris which ISIS claimed responsibility for. At least 120 people have been killed and over 200 injured, 80 of which seriously. (Photo by Andrew Renneisen/Getty Images)
But it was what they did next that gave them the title "heroes." Instead of exiting the vehicle and running to safety, Armani drove as fast as he could, hoping to get the device as far away from crowds as possible.
"We're gonna go, but I'm not going to have anybody else go with us," Armani recalled thinking at the time, according to ABC News.
After the dramatic scene was back under control, and it was determined that the bomb was a fake, both Cybluski and Armani were hailed for their courageous decision.
The police partners "put their own lives at risk so that they could save potentially hundreds, if not thousands, of people in Times Square," Police Commissioner William Bratton said, calling Cybluski and Armani the "heroes of the city."
The driver was later identified by police as 52-year-old Hector Meneses was taken to the hospital for evaluation.
At the time of the hoax, Armani and Cybluski were in marked, parked police van just down the block from the theater where the hit musical "Hamilton" was underway. Surveillance video shows an SUV slowly driving by as the man inside the vehicle throws something into the officers' open passenger-side window.
At that, Armani turned on the cruisers lights and sirens and headed away from the gathering of people in the city square. The two men — Armani a Muslim and Cybluski a Catholic — simply began praying, Armani said.
Armani, an Afghan immigrant, joined the New York City Police Department 10 years ago, while Cybluski joined the force three years ago after two years ago in a police cadet program.
"We thought, 'This is it. We're not going to make it ... but I'm happy nobody else is going to get hurt,'" Armani said.
The men drove a block and a half away, to a less crowded spot, before getting out of their van, where they discovered the device was a hoax. As it turned out, the device contained a red candle, two solar-powered garden lamps, a T-shirt and tin foil, William Aubry, chief of Manhattan detectives, said.
Ultimately, police said they were able to track down Meneses' SUV using lisence-plates reader technology. He vehicle was found at Columbus Circle, a major traffic circle by Central Park, police said.
Meneses barricaded himself in the SUV when officers finally approached his car. He told the police he wanted to die and had a bomb strapped to an industrial-style vest we was wearing, according to Aubry.
Police used a robot to search the vehicle as hostage negotiators attempted to talk with Meneses, who was also wearing a red construction helmet and holding a household remote-control device, for more than six hours, Aubry and Chief of Department James O'Neill said.
SWAT officers eventually closed in on Meneses, hitting him with pepper-spray and pulling him out of the SUV, which was filled with more than 19 garden lamps and a capped pot with wires coming out, appearing to recreate the look of a pressure cooker bomb, officials said.
Meneses, originally from Columbia, lives in Queens. Neighbors told reporters he is quiet but amiable, according to ABC. Lucia Amaral, a friend and his former landlord, said Meneses has been unemployed and faced financial trouble in recent years.
"I can't believe this is the same person" accused of throwing a fake bomb, Amaral said in a comment to the New York Post. Meneses applied in April for a taxi driver's license, but has not gotten it, according to the city's Taxi and Limousine Commission.
For the officers, the decision to protect people against what they thought to be was a legitimate bomb was just part of the job.
"We come to work every day not knowing, quite literally, what might be thrown at us," Cybluski said.
—
Follow the author of this story on Twitter: