Political consultant Roger Stone met with InfoWars founder and conspiracy theorist Alex Jones on Wednesday evening to discuss organizing a primary challenge to Sen. Ted Cruz (R-Texas) after the former Republican presidential candidate declined to endorse GOP nominee Donald Trump, according to The Hill.
Cruz will seek a second term in the Senate in 2018.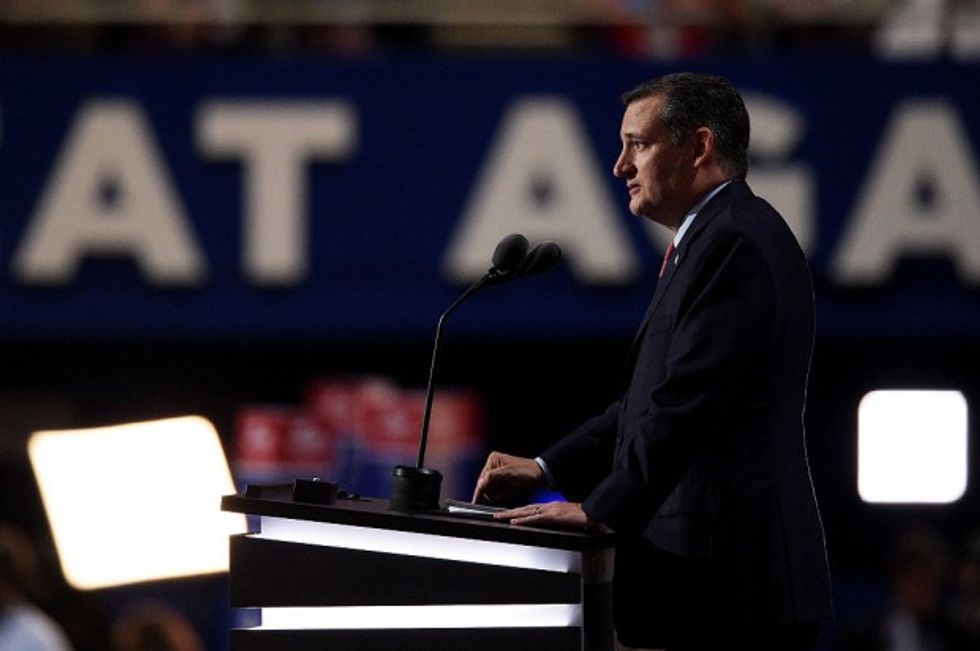 Sen. Ted Cruz (R-Texas) pauses during his speech on the third day of the Republican National Convention Wednesday at the Quicken Loans Arena in Cleveland. (Jeff Swensen/Getty Images)
"We're actively looking for a candidate," Stone told The Hill, adding that his preference would be Texas Lt. Gov. Dan Patrick.
"He'd be my choice, but in all honesty, anybody who is registered in the Republican Party in Texas would be better than Ted Cruz," he said.
A spokesman for Patrick told The Hill that the lieutenant governor is "not interested" in running for the Senate.
Stone previously told The Hill that Cruz has "exempted himself from real conservatives."
"Ted Cruz thinks he's Ronald Reagan," Stone said. "The problem is he's not anything near Reagan in terms of being an inspiring, likable figure. He's a dumb son of a bitch who thinks he's smarter than everybody else," adding, "He's a despicable human being."
During his speech to the RNC, Cruz congratulated Trump for securing the nomination but didn't endorse him.
"Please, don't stay home in November," Cruz said. "If you love our country and love our children as much as I know that you do, stand and speak and vote your conscience. Vote for candidates up and down the ticket who you trust to defend our freedom and to be faithful to the Constitution."
When some delegates began to chant "Trump," Cruz replied, "I appreciate the enthusiasm of the New York delegation."
Numerous convention delegates were furious with Cruz after his speech, even from his own state.
Cruz told a gathering of Texas delegates on Thursday morning that his differences with Trump are "personal."
"I am not in the habit of supporting people who attack my wife and attack my father," Cruz said.
Some delegates argued that Cruz should honor his pledge to support the GOP nominee.
"That pledge was not a blanket commitment that if you go and slander and attack Heidi, that I'm going to nonetheless come like a servile puppy dog and say thank you very much for maligning my wife and maligning my father," Cruz replied.
—
Follow the author of this story on Twitter and Facebook: