InfoWars founder and conspiracy theorist Alex Jones interrupted Cenk Uygur, the liberal host of "The Young Turks," at media row at the Republican National Convention in Cleveland Thursday evening, nearly resulting in a brawl.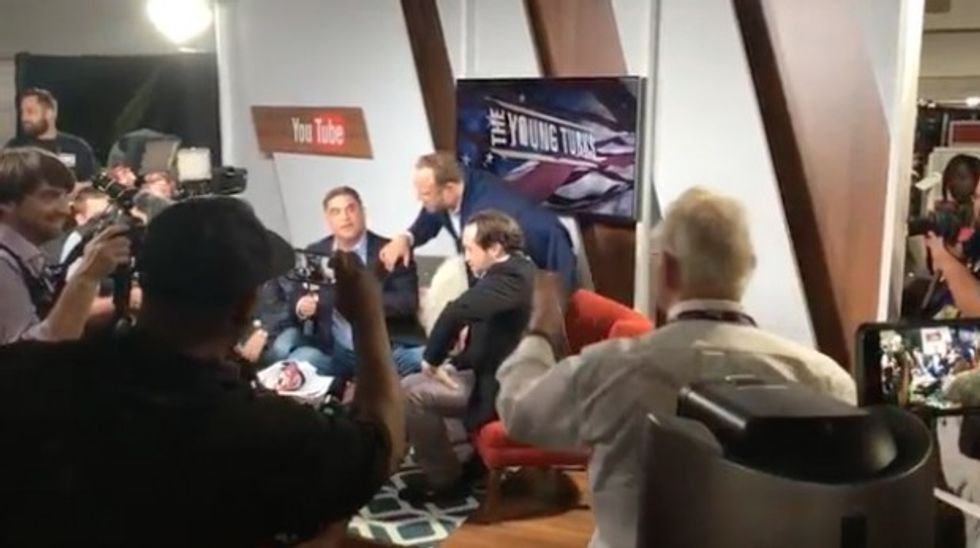 Image source: YouTube
Jones, alongside political consultant and Trump ally Roger Stone, interrupted Uygur after asking staffers to "point 'em out."
"I'm gonna come sit in your lap," Jones told Uygur. "Hey, how's the revolution going?"
The discussion quickly became hostile when Jones handed Uygur a shirt featuring an image of former President Bill Clinton captioned with the word "rape."
"First of all, Alex, this ain't your f***ing show, and Roger this surely ain't your f***ing show," Uygur said.
After the confrontation, Uygur tweeted:
The show must go on. Despite unwelcome interruptions to our show by small time losers we are still broadcasting on https://t.co/4eFbjJs2EJ

— Cenk Uygur (@cenkuygur) July 22, 2016
Jones tweeted that his video of the confrontation was removed from YouTube:
Emergency: Infowars Videos Removed from YouTube Following Young Turks Meltdown - https://t.co/JP2ZskGnqH #triggered #censored #tcot #tlot

— Alex Jones (@RealAlexJones) July 22, 2016
Watch below via Townhall's Leigh Wolf.
(Content warning: Strong language):
—
Follow the author of this story on Twitter and Facebook: