Republican presidential nominee Donald Trump vowed not to accept the endorsement of former rival Texas Sen. Ted Cruz during a press conference Friday.
In a swipe at Cruz, Trump said, "Somebody got booed the hell out of a place by thousands and thousands of people."
"Honestly, he may have ruined his political career, I feel so badly," Trump said.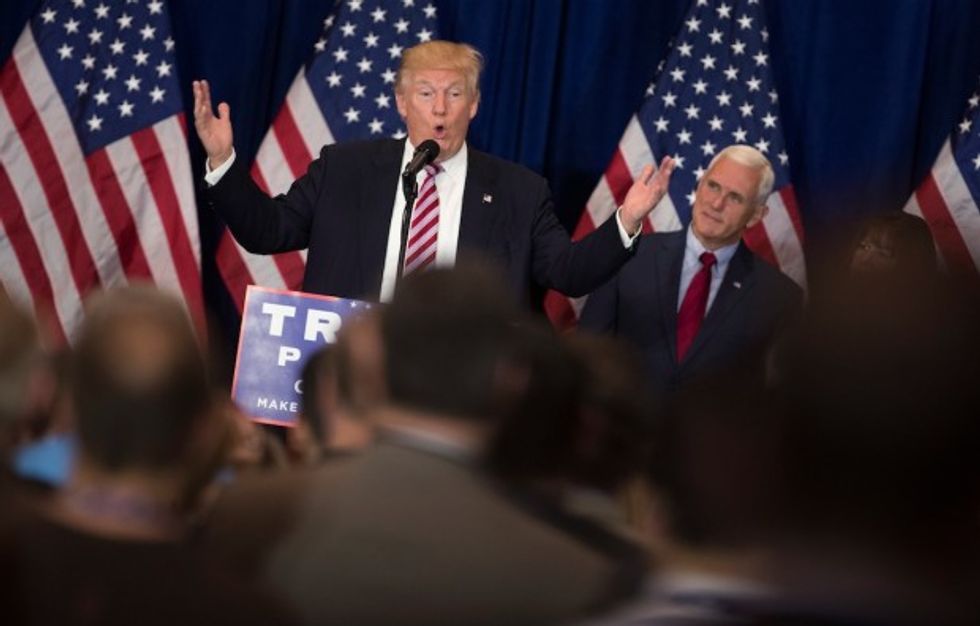 Vice presidential running mate Gov. Mike Pence (R-Ind.), right, looks on as Republican presidential nominee Donald Trump speaks during an goodbye reception with friends and family following the Republican National Convention in Cleveland Friday. (AP Photo/Evan Vucci)
Trump said Cruz, who is "bound by the pledge," should have endorsed him, arguing that Cruz "would have been in better shape in four years."
Trump acknowledged that he was given a copy of Cruz's prepared remarks prior to his speech because "we don't want surprises" but alleged that Cruz "added" material to his "boring" speech.
"'Cause he was implying something, which is wrong, but that's OK," Trump said.
During his speech, Cruz urged the American people to "vote your conscience," which some viewers interpreted as a call not to vote for Trump.
"Please, don't stay home in November," Cruz said. "If you love our country and love our children as much as I know that you do, stand and speak and vote your conscience. Vote for candidates up and down the ticket who you trust to defend our freedom and to be faithful to the Constitution."
Trump said he wouldn't accept an endorsement from Cruz.
"He'll come and endorse because he has no choice," Trump said. "But I don't want his endorsement. What difference does it make? I don't want his endorsement."
Trump said Cruz should "stay home" and "relax" instead.
"I like Ted, he's fine," Trump said. "I don't need his endorsement. If he gives it to me, I will not accept it."
During remarks to a gathering of Texas delegates Thursday morning, Cruz disputed the notion that he is still bound by a pledge to support Trump after his attacks on his wife and father.
"That pledge was not a blanket commitment that if you go and slander and attack Heidi, that I'm going to nonetheless come like a servile puppy dog and say thank you very much for maligning my wife and maligning my father," Cruz said.
Watch:
—
Follow the author of this story on Twitter and Facebook: