WASHINGTON (TheBlaze/AP) -- U.S. Secretary of State John Kerry said Friday that climate change is as dangerous as, if not more, than the threats posed by the Islamic State and other extremist groups.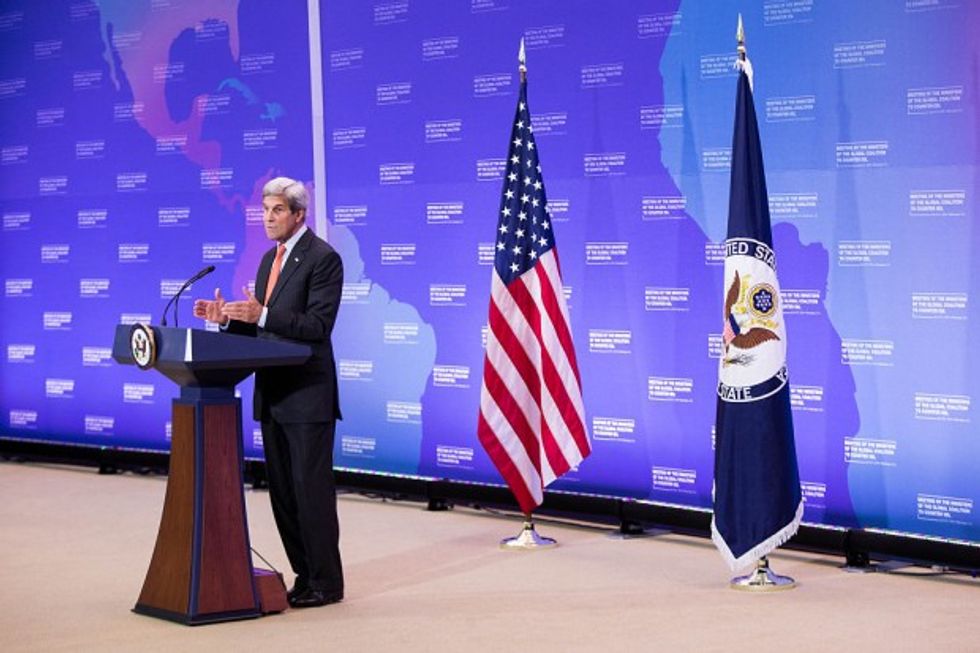 WASHINGTON, DC - JULY 21: U.S. Secretary of State John Kerry speaks at a press conference an anti-ISIL coalition summit at The State Department on July 21, 2016 in Washington, DC. Secretaries Kerry and Carter are holding the first joint ministerial of the Counter ISIL Coalition. (Photo by Zach Gibson/Getty Images)
Speaking Friday in Vienna at an international climate change conference, Kerry said the issue might not get as much public attention as terrorism but that the meeting is as important as a gathering he hosted only Thursday in Washington on combatting the Islamic State.
"It's hard for some people to grasp it, but what you are doing here right now is of equal importance, because it has the ability literally to save life on this planet," Kerry told the conference of parties to the 1987 Montreal Protocol, a global treaty to end the use of many chlorofluorocarbons from aerosols and refrigerants that deplete the ozone layer.
Watch the video and analysis below via Fox News:
The reactions to Kerry's statements were brutal.
John Kerry Says Air Conditioners as Dangerous as... ISIS?! https://t.co/cz6oR3DmpA via @deneenborelli #tcot #PJNET https://t.co/pQlpUZH2Sn

— Tom Borelli (@Tom Borelli)1469284189.0
@AnneBayefsky John Kerry has taken waaay to much LSD in the 70's. His brain is fried.

— JesusisKing (@JesusisKing)1469315871.0
@LouDobbs @Anthony_Rocca @JohnKerry Wow.That just tells you, these liberal politicians are not serious in protecting the American people!

— Bits4Bits💖 (@Bits4Bits💖)1469315675.0
@LouDobbs @Anthony_Rocca @JohnKerry @FoxNews Nothing surprising. Absolutely the dumbest guy to ever hold that job.

— #pervyjoe (@#pervyjoe)1469315484.0
. @JohnKerry maybe you should turn off all your AC's in ALL your Mansions https://t.co/DI0R3jnGMa

— Proud Deplorable (@Proud Deplorable)1469315325.0
Treaty members have claimed some success - including a healing of an ozone hole over Antarctica. They are now trying to adopt an amendment that would phase out substances that replaced chlorofluorocarbons, called hydrofluorocarbons. They trap more heat than carbon dioxide but are less plentiful.
Participants in the Vienna meeting hope to find consensus on an amendment that could be adopted at the next meeting of the parties in Kigali, Rwanda, in October.
---