Clinton Campaign Manager Robby Mook told CNN's Jake Tapper Sunday that "experts" have claimed that Russian hackers who favor Donald Trump coordinated the release of thousands of Democratic National Committee emails to aid the nominee's campaign.
"I don't think it's coincidental that these emails were released on the eve of our convention here," Mook told Tapper in a special edition of "State of the Union" broadcasted from the Democratic National Convention headquarters in Philadelphia.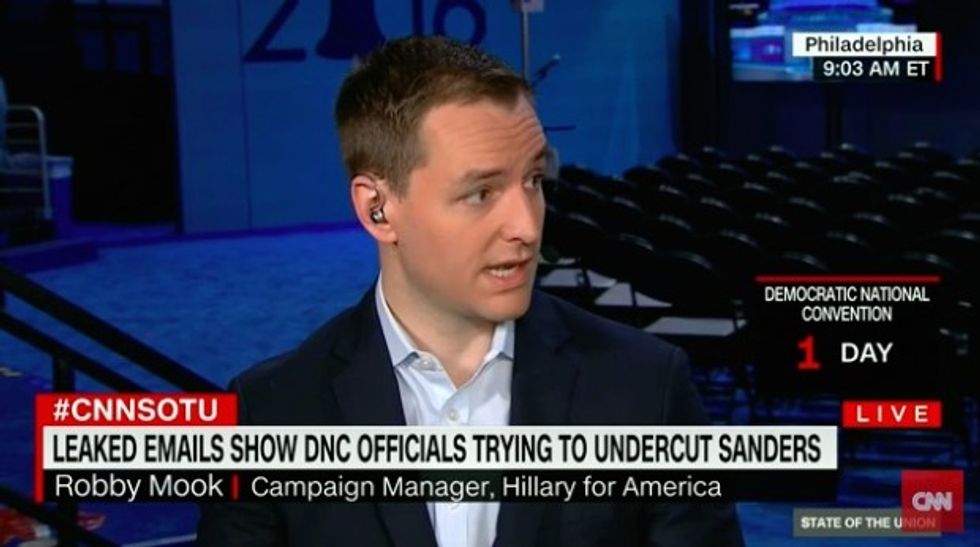 Image source: CNN/"State of the Union"
The emails, released Friday by WikiLeaks, included discussions on tactics that would help to negatively portray Vermont Sen. Bernie Sanders during his run for the White House.
"What evidence is there that the Russians were behind this in terms of the hacking and or in terms of the timing by WikiLeaks?" Tapper asked.
Mook replied that it's important to wait and "let the experts speak on this," noting that "it's been reported on in the press that the hackers that got into the DNC are very likely to be working in coordination with Russia."
The campaign manager noted again that the timing of the leaks would be ideal for hackers looking to create "maximum damage" in an effort to aid Trump.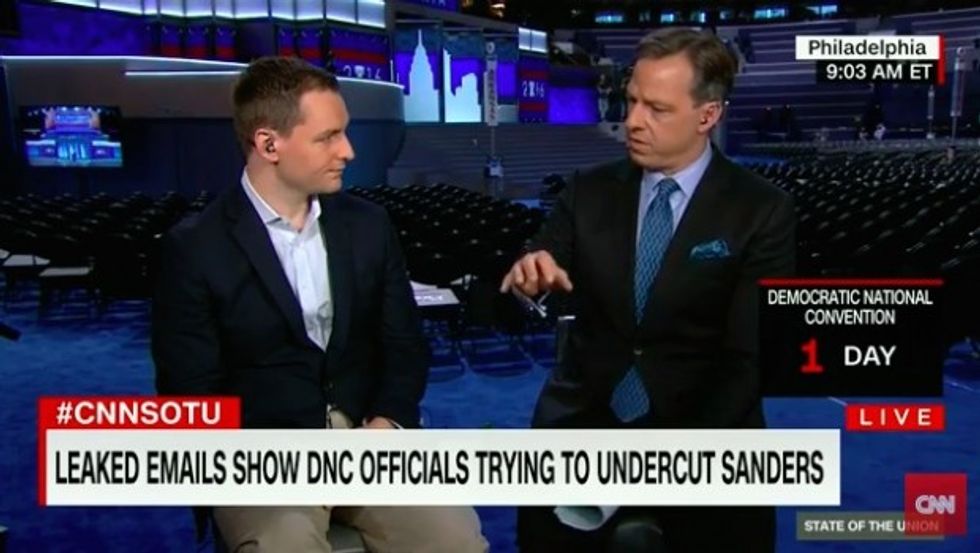 Image source: CNN/"State of the Union"
Tapper called Mook's suggestion a "very, very strong charge."
"You're basically suggesting that Russians hacked into the DNC and now are releasing these files through WikiLeaks to help Donald Trump," he said.
"Well this isn't my assertion," Mook said, stressing that "a number of experts" made the allegations.
"I think we need to get to the bottom of these facts, but that is what experts are telling us. Experts have said that it is the Russians that in fact went in and took these emails," he said. "And if they are the ones who took them, then we have to infer that they are the ones who released them."
The GOP nominee's son, Donald Trump, Jr., joined Tapper later Sunday morning. When asked about the speculation surrounding Russian involvement in the WikiLeaks scandal, he dismissed the "expert" claims as "disgusting" and "so phony."