The New York Post's Sunday cover story advertised the all-but-unbelievable headline, "Obama for Trump!"
But it's true. Malik Obama, President Obama's Kenyan half-brother is voting for Donald Trump.
EXCLUSIVE: Why President Obama's half-brother says he'll be voting for Donald Trump https://t.co/hxlCg8T30E pic.twitter.com/81zpspqFQL

— New York Post (@nypost) July 24, 2016
Though not quite as shocking as a Trump endorsement from Barack Obama, Malik Obama, 58, is a longtime Democrat who only recently made the switch to "the party of Lincoln."
"I like Donald Trump because he speaks from the heart," Malik Obama told the Post from his home in the rural Kenyan village of Kogelo. "Make America Great Again is a great slogan. I would like to meet him."
Obama said his decision was prompted by a "deep disappointment" in his brother's administration. He told the Post that the determining factor that led him to change parties was FBI Director James Comey's recommendation not to prosecute Democratic presidential candidate Hillary Clinton after she demonstrated "extreme carelessness" in her use of a private e-mail server while secretary of state under President Obama.
"She should have known better as the custodian of classified information," Obama said.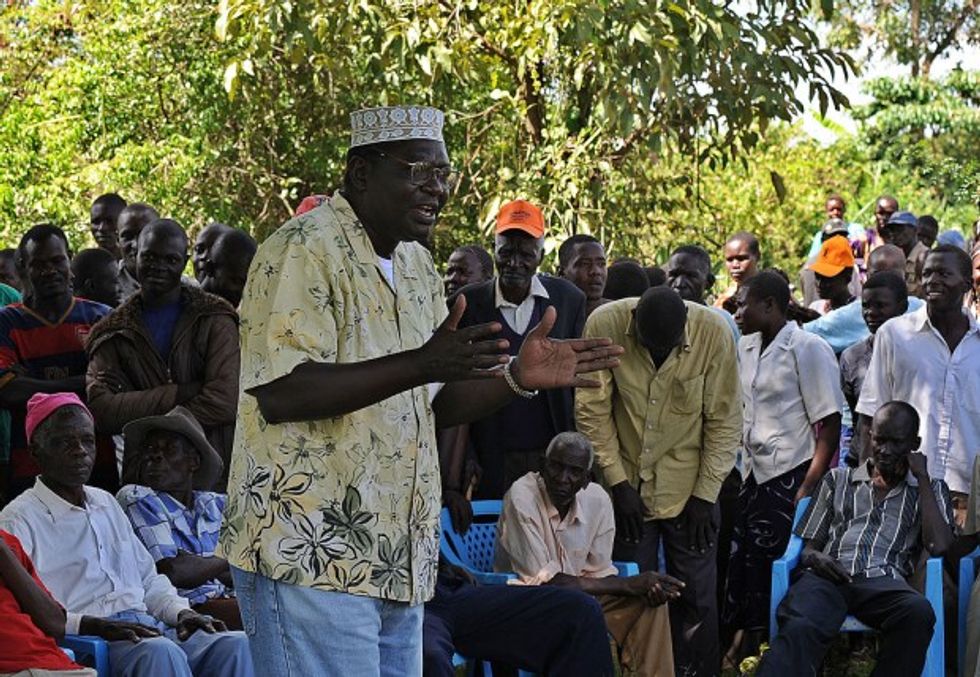 Malik Obama, 2013. (Tony Karumba/AFP/Getty Images)
He also blames Clinton and President Obama for the death of former Libyan dictator Moammar Gadhafi, whom he claimed was one of his best friends.
Malik Obama dedicated his 2012 biography of his late father to Gadhafi and others who he believes were "making this world a better place."
"I feel like a Republican now because they don't stand for same-sex marriage, and that appeals to me," he continued.
Obama himself has at least three current wives, according to the Post, though some reports have claimed the number to be much higher. Obama married his third wife in 2011. At the time, she was still in her teens.
When asked by the Post how many wives and children he has, Obama said, "That's personal."
Obama, who used to live in Maryland, plans to trek back to the United States in November to vote for Trump. Obama worked for many years as an accountant in Maryland and is registered to vote there, according to public records.