Last week an 18-year-old German-Iranian man opened fire in a crowded Munich shopping mall and a nearby McDonald's, killing nine people and wounding 16 others before killing himself. The gunman, later identified as David Ali Sonboly, reportedly shouted "Allahu Akbar" before the shooting began, according to the Daily Mail.
After the tragic massacre, a group of Germans gathered at the scene of the attack over the weekend to mourn together, only to be confronted with another disturbance.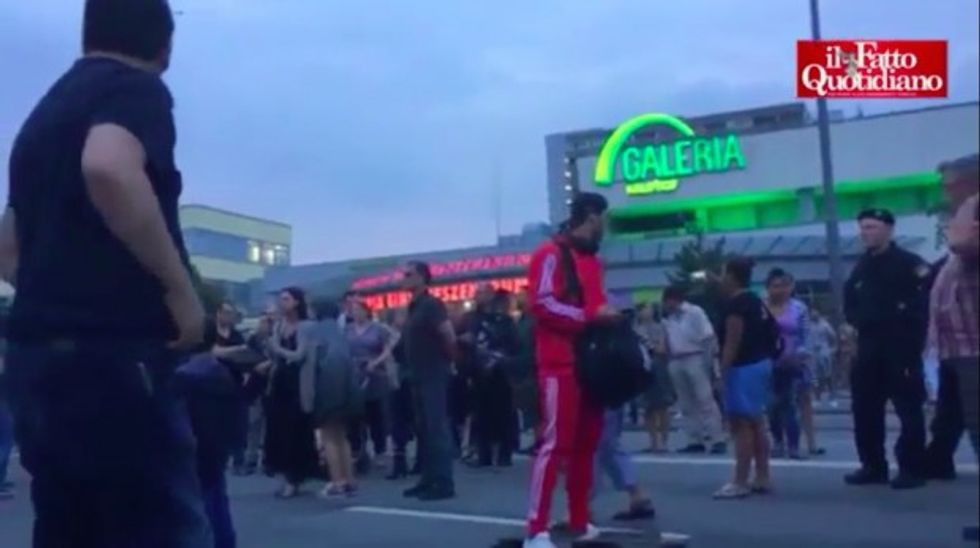 Image source: Il Fatto Quotidiano
The Italian news outlet Il Fatto Quotidiano released a video Sunday that captures the moment a group of Muslim men at the memorial shouted, "Allahu Akbar!" — the Islamic phrase often employed by jihadists that translates to, "God is the greatest."
The Germans in attendance reacted angrily, yelling at the individuals who uttered the Islamic cry. Police on the scene diffused the situation, but tensions remained high.
Watch (Caution: Strong language):
Munich police described the mall attack as "suspected terrorism" on Friday. It was the second attack in Germany in less than a week after a 17-year-old Afghan wounded four people in an ax-and-knife attack on a regional train Monday near the Bavarian city of Wuerzburg, attacking another woman outside as he fled before being killed by police.
The Islamic State group claimed responsibility for the train attack, but authorities have said the teen gunman likely acted alone Friday.
Germany was rocked by two more deadly attacks Sunday evening, one at a music festival and another at a bus station.
German Chancellor Angela Merkel has received backlash over the country's open-door immigration following the devastating week of terror.