During an interview on Fox News Wednesday, Baltimore Mayor Stephanie Rawlings-Blake rebuked recalcitrant State's Attorney Marilyn Mosby, who claimed "bias" on part of the officers who investigated Freddie Gray's death after prosecutors dropped charges against the three remaining police officers awaiting trial in Gray's death.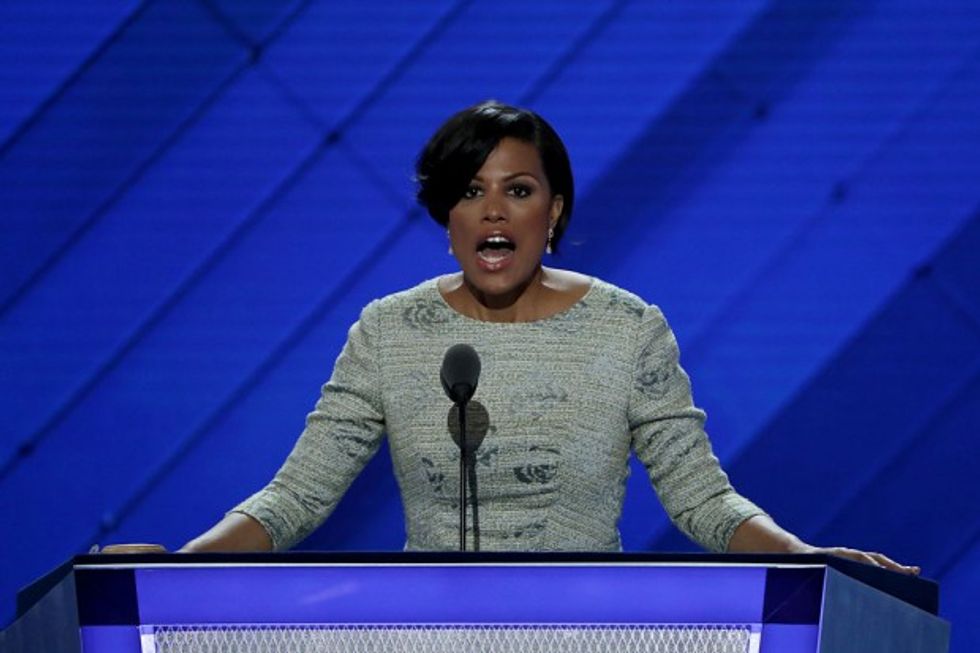 Baltimore Mayor Stephanie Rawlings-Blake calls to order the first day of the Democratic National Convention at the Wells Fargo Center, July 25, 2016 in Philadelphia, Pennsylvania. (Photo by Alex Wong/Getty Images)
Mosby accused the officers of having "a reluctance" and "an obvious bias" during their investigation because it did not produce any convictions.
"We do not believe Freddie Gray killed himself," she said during a press conference Wednesday, standing in the neighborhood where Gray was arrested and in front of a mural of him on a wall behind her. "We stand by the medical examiner's determination that Freddie Gray's death was a homicide."
While Rawlings-Blake did not specifically say justice was served in the decision not to prosecute any of the officers, she told Fox News anchor Shepard Smith that "justice is a process and the process was fair."
"It was even," she added. "[T]here's a difference between responsible and guilty beyond a reasonable doubt, and that's why you go to court."
When Smith asked the Baltimore mayor if she felt Mosby's defiant comments were "helpful," she said, "Absolutely not." She took particular issue with the insinuation that the "process is rigged."
"And that is I think an unfair statement about the judge and about the investigation, especially when she purported to do her own independent investigation in her initial press conference," Rawlings-Blake said.
During a press conference earlier in the day, Donald Trump, the Republican nominee for president, said Mosby acted "disgracefully" and "should prosecute herself." Smith attempted to get a response from Rawlings-Blake, but the agitated mayor would not comment on the businessman's charges.
"You'll never find me agreeing with Donald Trump. He says some off-the-wall stuff," she said. "He's encouraged espionage today, so I'm not responding to anything that he is putting out there."
Smith, repeating Trump's comments, pushed Rawlings-Blake again. "I can hear perfectly well. I heard what he said. I'm not responding to him," she shot back.
"You don't seem happy," the Fox News host said.
Watch the interview below:
—
Follow the author of this story on Twitter: