PHILADELPHIA — GOP presidential nominee Donald Trump's rhetoric on the campaign trail has already raised some national security issues and a President Trump is certain to cause even more, a group of national security experts said Wednesday.
While the Democrat-heavy panel of former U.S. leaders and national security experts discussed a litany of foreign and domestic security challenges the next president will face, one thing remained consistent — Trump, at least in some way, has left each of them distressed.
Former Defense Secretary Leon Panetta said Wednesday that this is the first election where only one candidate has the experience, temperament and worldly understanding to be president. The other candidate, Panetta said, "doesn't have any experience, doesn't know the world, shoots from the hip on all these issues."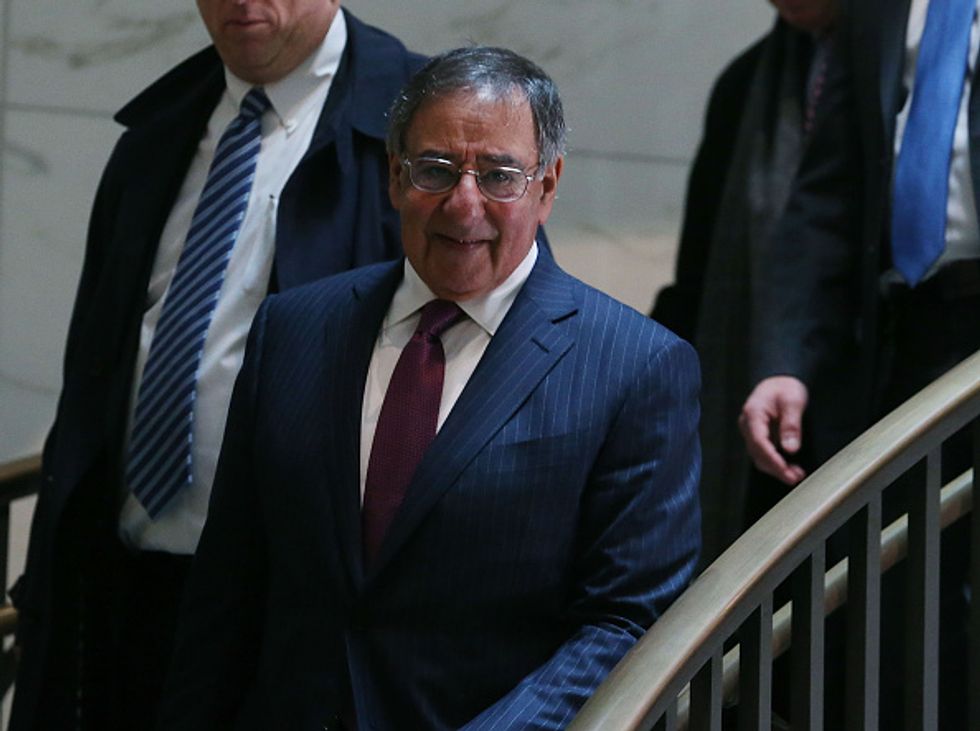 Former Defense Secretary and CIA director Leon Panetta walks to a closed door Benghazi Committee. (Getty Images/Mark Wilson)
"I know it's funny, but this is deadly serious business," Panetta said. "To think that there is even a possibility that someone like Donald Trump could be president of the United States … This is crazy stuff, and somehow you get the sense that people think it's a joke."
The former CIA director, who also served in President Bill Clinton's administration, went on to slam the 2016 presidential season as the "screwiest damn election" that he has witnessed in his public service tenure. He then went on to criticize a bevy of Trump's policy proposals, including his call for a moratorium on Muslim immigrants and support of more countries to obtain nuclear weapons.
"The fact is, what he has already said has presented a threat to our national security because if you go abroad and you talk to people abroad, they are very worried that somebody like this could become president of the United States," Panetta told those gathered at the University of Pennsylvania's new global research center, Perry World House. "It already raises questions in terms of where the United States is and whether we will be there."
Panetta wasn't alone in his concerns over Trump's rhetoric, including what he has already uttered just on the campaign trail. Former Secretary of State Madeleine Albright contended that she has her own concerns "about some of the comments that have come out of [Trump] and that they are a national security issue in many ways."
"I think that we are in a very delicate time," Albright said. "Just having Trump run for president has raised concerns about how we see national security issues."
Albright, a Clinton supporter, has been vocal regarding her concerns about the bombastic Republican candidate. Speaking at the Democratic National Convention Tuesday night, she argued that Trump "has already done damage just by running for president."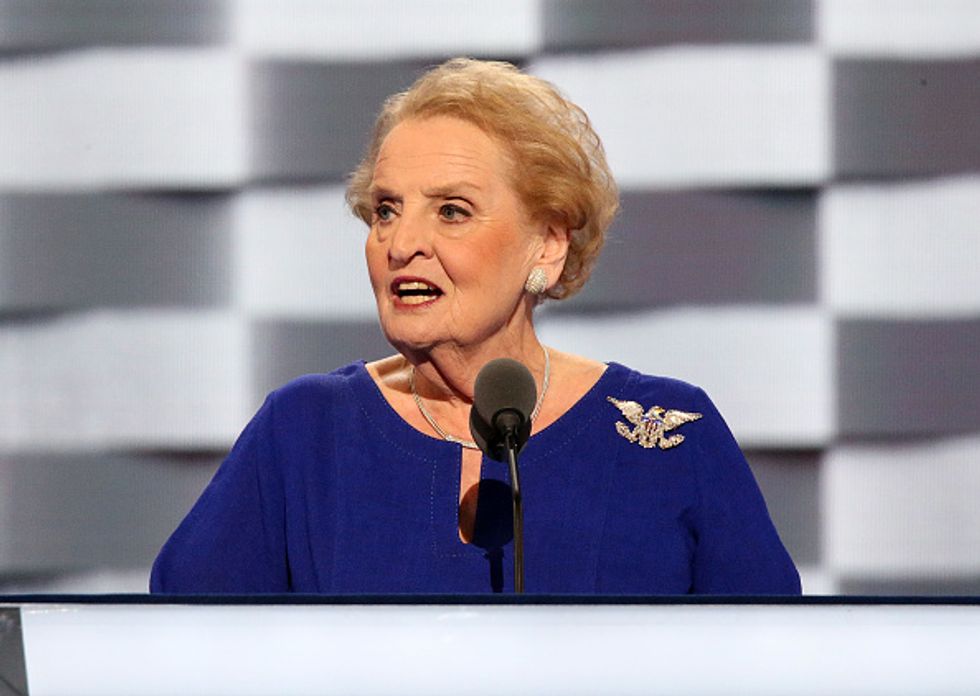 Former U.S. Secretary of State Madeleine Albright delivers remarks on the second day of the 2016 Democratic National Convention. (Getty Images/Paul Morigi)
"He has undermined the fight against terrorism by alienating our Muslim partners. He has weakened our standing in the world by threatening to walk away from our friends and allies and by encouraging more countries to get nuclear weapons," Albright said, adding that a Trump presidency would be a "gift" to Russian President Vladimir Putin.
But aside from security experts, military personnel, too, have concerns about Trump's "frightening" oratory, Rep. Seth Moulton (D-Minn.) said Wednesday. The former Marine Corps officer said some troops revealed their apprehensions during a recent trip he took to Afghanistan.
"Some of the troops brought politics up to me, and while I would never purport to speak for all of the troops, I'll tell you, there is some real concern out there about what's being said, about the danger that Trump's rhetoric puts lives in today," Moulton revealed. "Not just hypothetically, if he would become the commander-in-chief, but just by what he's saying on the campaign trail, how that hurts our ability to fight these wars, to survive in places like Iraq and Afghanistan."
Moulten continued to refer to Trump as a "maniac" and encouraged those in attendance to "talk to people who are planning to vote for" Trump.
—
Follow Kaitlyn Schallhorn (@K_Schallhorn) on Twitter