Hillary Clinton sought to draw a stark contrast between herself and Republican nominee Donald Trump Thursday night in Philadelphia as she accepted her party's nomination for the presidency.
""Now, America is once again at a moment of reckoning," Clinton said, as she became the first woman ever to accept a major party's nomination for the nation's top office. "We are clear-eyed about what our country is up against, but we are not afraid."
The billionaire businessman and now nominee of the Republican Party has taken the U.S. rhetoric "from morning in America to midnight in America," Clinton said.
"He wants us to fear the future and fear each other," she argued. "Don't believe anyone who says, 'I alone can fix it.'"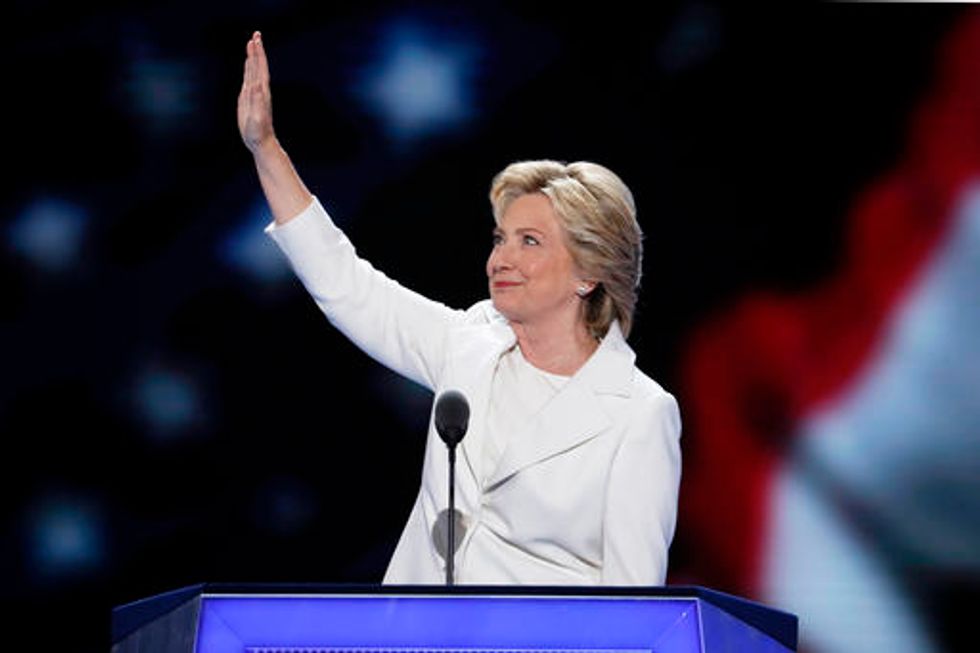 Democratic presidential nominee Hillary Clinton waves to delegates before speaking during the final day of the Democratic National Convention in Philadelphia on Thursday. (AP/J. Scott Applewhite)
The former first lady and former secretary of state spoke over chants of "Hillary, Hillary" from the delegates and attendees of the Democratic National Convention at the Wells Fargo Arena.
Clinton sought to reach out to voters who supported Vermont Sen. Bernie Sanders throughout his primary challenge to her candidacy, thanking the Democratic socialist for putting economic and social justice issues "front and center, where they belong."
At many points throughout the convention in Philadelphia, Democrats pointed out that their party had put together the "most progressive platform in history," partly as a result of Sanders' candidacy. The platform includes a push for a $15 minimum wage and a plan to break up big banks in the U.S., both championed by Sanders.
Clinton thanked Sanders, who has now endorsed her, for his inspiring campaign, and spoke directly to the people who supported him — some of whom have pledged that they will never support her in his place.
"Bernie, your campaign inspired millions of Americans, particularly the young people who threw their hearts and souls into our primary," she said. "I want you to know: I've heard you, your cause is our cause."
Last week, a Wikileaks release of Democratic National Committee emails seemingly showing favoritism to Clinton over Sanders further pushed his supporters away. The leak led the resignation of DNC chair Debbie Wasserman Schultz, as well as angry protests and demonstrations outside the arena.
Clinton also sought to reach out to Republican and undecided voters who are resistant to the idea of supporting Trump, a political neophyte who is known for his tough talk on issues like race and immigration.
"I will be a president for Democrats, Republicans, independents," she said. "For those who vote for me, and those who don't — for all Americans together."
Clinton also took the time to mention her history-making nomination, adding that breaking down historical barriers is good for men and women alike.
"After all, when there are no ceilings, the sky's the limit," she said.
—
Follow the author of this story on Twitter and Facebook:
[facebook //www.facebook.com/plugins/like.php?href=