The same day Republican vice presidential nominee Mike Pence said that politics is no place for name-calling, his running mate, Republican presidential nominee Donald Trump, indulged in a little name-calling of his own.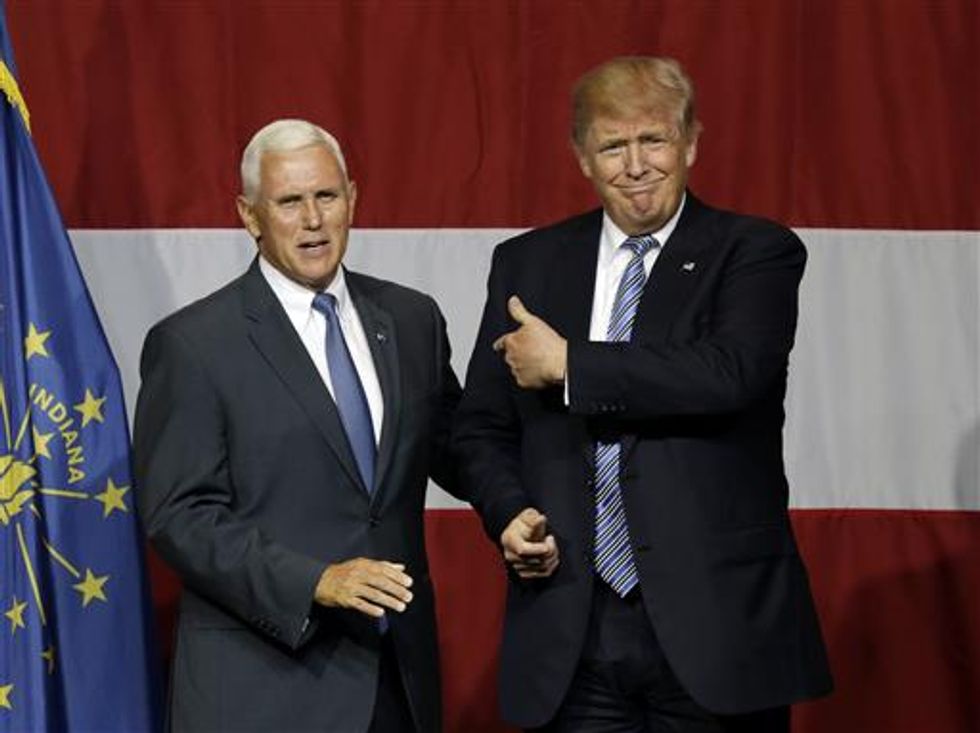 AP/Michael Conroy
On Friday, Pence, the governor of Indiana, told conservative radio host Hugh Hewitt, "I don't think name calling has any place in public life."
Pence was referring to President Barack Obama's speech Wednesday to the Democratic National Convention, during which the president characterized Trump as a demagogue.
"Anyone who threatens our values, whether fascists or communists or jihadists or homegrown demagogues, will always fail in the end," Obama said.
Pence, who promised early in his career not to use name-calling in his campaigns, told Hewitt, "I thought that was unfortunate that the president of the United States would use a term like that."
The same day Pence bemoaned name-calling in politics, his running mate took to Twitter to taunt "Crooked Hillary Clinton" and "Little Michael Bloomberg."
I am watching Crooked Hillary speak. Same old stuff, our country needs change!

— Donald J. Trump (@realDonaldTrump) July 29, 2016
"Little" Michael Bloomberg, who never had the guts to run for president, knows nothing about me. His last term as Mayor was a disaster!

— Donald J. Trump (@realDonaldTrump) July 29, 2016
Trump has frequently utilized name-calling throughout his campaign. "Lyin' Ted Cruz," "Little Marco Rubio," "Low Energy Jeb Bush," "Crazy Bernie Sanders" and "Pocahontas Elizabeth Warren" are some of his previous mocking monickers.
During a joint "60 Minutes" interview after Trump selected Pence as his running mate, Trump said that he "didn't ask" Pence to engage in similar name-calling.
"I don't think he should do it because it's different for him," Trump said.
—
Follow the author of this story on Twitter and Facebook: