PHILADELPHIA - In a swipe at Republican presidential nominee Donald Trump, President Barack Obama said that "America is already great" during a speech at the Democratic National Convention on Wednesday night.
"Our strength — our greatness — does not depend on Donald Trump," Obama said. "In fact, it does not depend on any one person."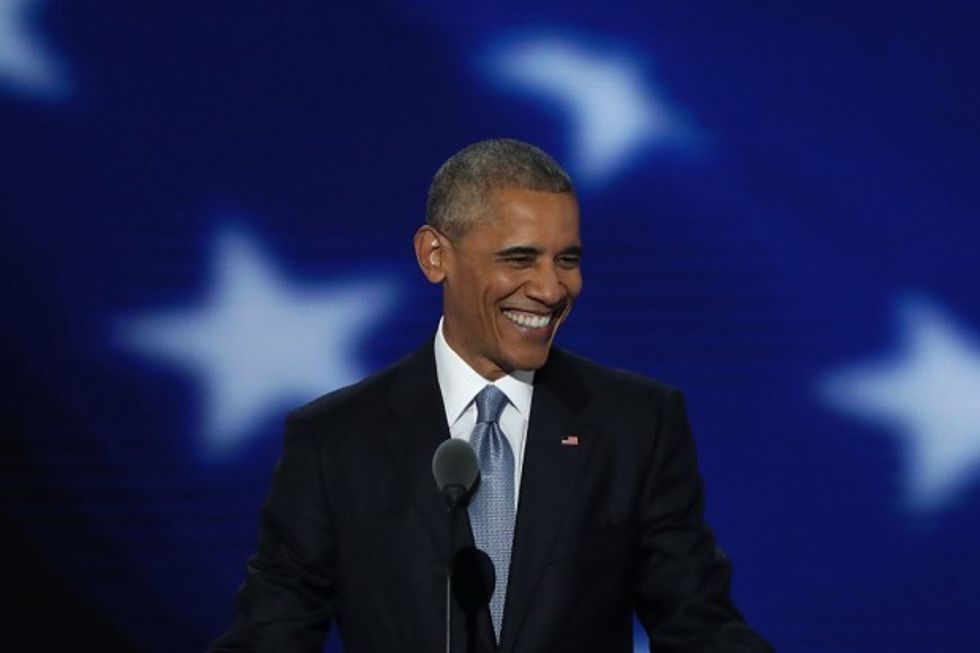 President Barack Obama acknowledges the crowd as he arrives on stage to deliver remarks at the Democratic National Convention on July 27, 2016 in Philadelphia, Pennsylvania. (Alex Wong/Getty Images)
Obama said that "we don't look to be ruled" by a "self-declared savior."
The president said that despite the "progress" of the last seven years, "we're not done perfecting our union."
"I stand before you again tonight, after almost two terms as your president, to tell you I am even more optimistic about the future than ever before," he said.
Obama said that "The America I know is full of courage, and optimism, and ingenuity."
"The America I know is decent and generous," he said. "Sure, we have real anxieties – about paying the bills, protecting our kids, caring for a sick parent. We get frustrated with political gridlock, worry about racial divisions; we are shocked and saddened by the madness of Orlando or Nice. There are pockets of America that never recovered from factory closures; men who took pride in hard work and providing for their families who now feel forgotten. Parents who wonder whether their kids will have the same opportunities that we had."
"All that is real; we're challenged to do better; to be better," he contined. "But as I've traveled this country, through all fifty states; as I've rejoiced with you and mourned with you, what I've also seen, more than anything, is what is right with America. I see people working hard and starting businesses; I see people teaching kids and serving our country. I see engineers inventing stuff, doctors coming up with new cures. I see a younger generation full of energy and new ideas, unconstrained by what is, and ready to seize what ought to be."
"There is only one candidate in this race who believes in that future," Obama said, "the next president of the United States Hillary Clinton."
Obama said he and Clinton "battled for a year and a half" when they both sought their party's nomination in 2008, "But after it was all over, I asked Hillary to join my team."
Obama said that "nothing truly prepares you for the demands of the Oval Office," but he believes Clinton is ready and "the Democratic Party is in good hands."
"Until you've sat at that desk, you don't know what it's like to manage a global crisis or send young people to war," the commander in chief said. "But Hillary's been in the room; she's been part of those decisions. She knows what's at stake in the decisions our government makes - the stakes for the working family, the senior citizen, the small business owner, the soldier, and the veteran. Even in the middle of crisis, she listens to people, and keeps her cool, and treats everybody with respect. And no matter how daunting the odds; no matter how much people try to knock her down, she never, ever quits."
"That's the Hillary I know," Obama told the energized crowd in the Wells Fargo Center. "That's the Hillary I've come to admire. And that's why I can say with confidence there has never been a man or a woman - not me, not Bill, nobody - more qualified than Hillary Clinton to serve as President of the United States of America."
Obama also praised Clinton's selection of Virginia Sen. Tim Kaine as her running mate.
"He will be a great vice president, he will make Hillary a better president, just as my dear friend and brother Joe Biden has made me a better president," he remarked.
When Obama criticized Trump, whom he referred to as "The Donald," he was met with boos from the audience.
"Don't boo, vote," Obama instructed.
At the conclusion of his speech, Clinton surprised the crowd by joining the president onstage.
—
Follow the author of this story on Twitter and Facebook: