A recent cyber breach into the Democratic Congressional Campaign Committee has similarities to a recent hack into the Democratic National Committee, sources have revealed.
The FBI has launched an investigation into the breach of the DCCC, the campaign arm of the party in the U.S. House, as Reuters reported that attack may have occurred in order to gather personal information about donors — such as names and credit card information — rather than actually steal money.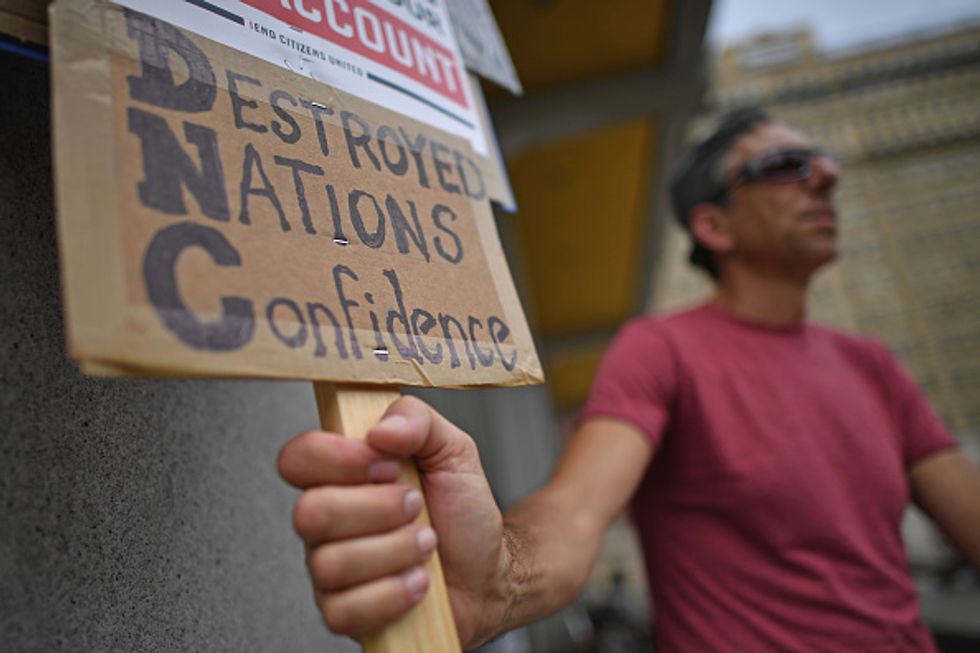 Demonstrators gather during the Democratic National Convention in Philadelphia. (Getty Images/Jeff J Mitchell)
"The DCCC can confirm that we have been the target of a cybersecurity incident," spokeswoman Meredith Kelly said in a statement. "Upon discovering the issue, we immediately took action and engaged with CrowdStrike, a leading forensic investigator, to assist us in addressing this incident."
But the latest breach of the DCCC bears similarities to the hack on the DNC, which resulted in the leak of damning emails ahead of the party's convention in Philadelphia this week, sources told Reuters and Fox News. The released emails created turmoil for the party because they purported to show DNC favoritism for eventual nominee Hillary Clinton over Vermont Sen. Bernie Sanders. As a result of the controversy, Debbie Wasserman Schultz, a Florida representative, announced her resignation as party chief Sunday.
According to Fox News, an analysis of the breach from cybersecurity firm FireEye suggested that the incident was conducted by a Russian hacking group that is aligned with the government. It appears, Fox News reported, that the hack was carried out by the group, "Tsar Team," which is also consistent with the DNC breach.
"We don't see the point any more in repeating yet again that this is silliness," Kremlin spokesman Dmitry Peskov told Reuters regarding the breach.
The DNC and DCCC share office space in Washington, D.C.