UPDATE 8:23 p.m. ET: SAN DIEGO (AP) — San Diego police have released the name of a suspect arrested in connection with the fatal shooting of one police officer and wounding of a second officer.
San Diego Police Chief Shelley Zimmerman told reporters Friday that 52-year-old Jesse Gomez was taken into custody and is in critical condition from a gunshot wound but expected to survive.
Police arrested a second man, 41-year-old Marcus Antonio Cassani, on an unrelated warrant. Zimmerman says police are investigating whether he was involved in the early morning police shootings.
Zimmerman says Cassani was arrested outside a house that SWAT had surrounded for hours. She gave no further details.
Original story below
SAN DIEGO (AP) -- One police officer died and another was wounded after being shot in a San Diego neighborhood, authorities said early Friday.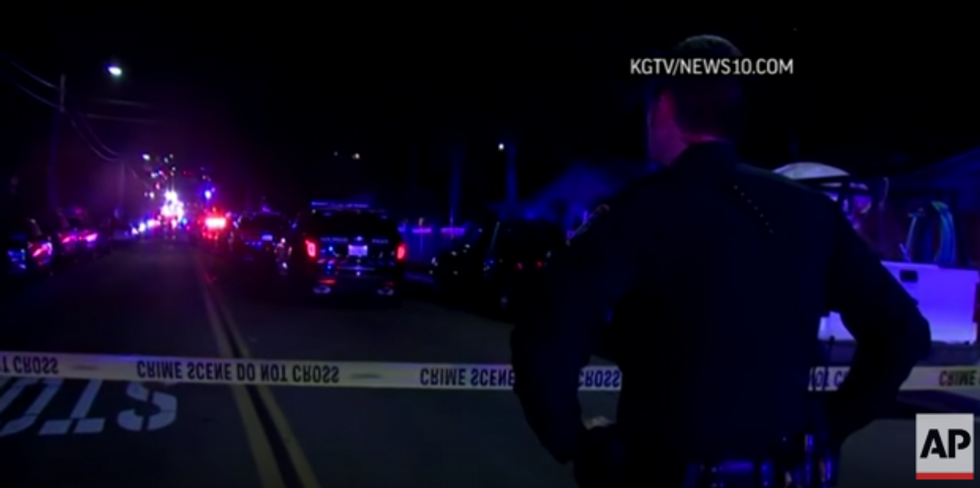 A police officer overlooks the scene after two San Diego police officers are shot. Screengrab via AP video.
Police Chief Shelley Zimmerman said in a Twitter post that she had left the hospital where the injured officer had come out of surgery and that he's expected to survive.
The names of the officers have not been released.
There was no immediate word on what touched off the violence, which occurred around 11 p.m. PDT Thursday in the southeastern part of town.
Police searched the area for suspects and urged residents to stay indoors.
Video footage showed officers out in force with numerous squad cars with emergency lights flashing lining a street, officers on foot, and a helicopter buzz overhead.
Police spokesmen did not immediately return calls for further comment, but the department said in a Twitter posting that one suspect was in custody and other possible suspects were being sought.
The shooting comes with law officers around the country on alert following the killing of officers in Dallas and Baton Rouge, Louisiana, this month.
—
Associated Press writer Bob Seavey contributed to this report from Phoenix.
This story has been updated.