Democratic presidential candidate Hillary Clinton's running mate Sen. Tim Kaine (D-Va.) disputed reports that he has changed his position on the Hyde amendment during an interview Friday on CNN.
Host Alisyn Camerota asked Kaine if he was "for or against" the Hyde amendment, which prohibits the use of taxpayer funds for elective abortion procedures.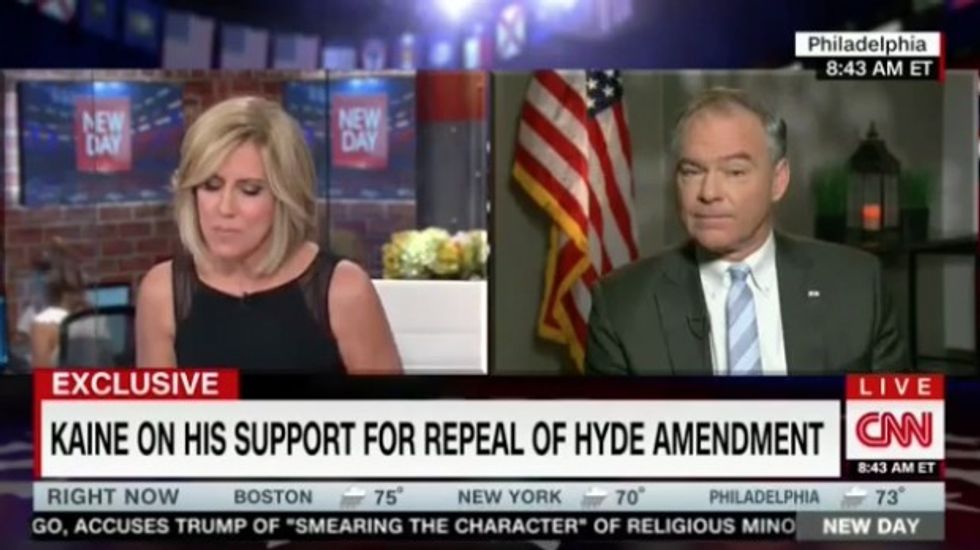 Image source: YouTube/CNN
"I have been for the Hyde amendment. I haven't changed my position on that," Kaine replied.
"You're still for the banning?" Camerota pressed.
"I have not changed my position on that," Kaine reiterated.
Clinton has called for the repeal of the Hyde amendment, and the Democratic Party included opposition to the amendment in its 2016 platform.
On Sunday, Clinton campaign manager Robby Mook said during an interview on CNN's "State of the Union" that Kaine "has said that he will stand with Secretary Clinton to defend a woman's right to choose, to repeal the Hyde amendment."
"So, you know, voters can be 100 percent confident that Tim Kaine is going to fight to protect a woman's right to choose," Mook said.
Mook's remarks led some to accuse the former Virginia governor of changing his position on the amendment in order to encourage Clinton to select him as her running mate.
Earlier this month — prior to being selected as Clinton's running mate — Kaine, a Catholic, told The Weekly Standard, "I have traditionally been a supporter of the Hyde amendment."
Marjorie Dannenfelser, president of the pro-life group Susan B. Anthony List, said in a statement that Kaine's "attempt at deception continues":
Hillary Clinton's plan to repeal Hyde is profoundly unpopular — even among Democrats. That's why Tim Kaine has flipped his position on taxpayer funding of abortion five times in the last month. Voters should not be fooled. We know how he would vote on this issue if it comes to a tie in the U.S. Senate. He will not stand up for the conscience rights of taxpayers. Kaine's charade on abortion is getting old and he's only been on the ticket for a few days.
OK @TimKaine, this is getting ridiculous. https://t.co/UYa87PmRoQ #ProLife pic.twitter.com/EiNeRv2GFM

— Susan B Anthony List (@SBAList) July 29, 2016
Pro-choice groups such as NARAL Pro-Choice America and Planned Parenthood have praised Clinton's selection of Kaine.
Watch Kaine's interview below:
—
Follow the author of this story on Twitter and Facebook: