Identical twins David and Jason Benham are former professional Minor League Baseball baseball players, best selling authors and businessmen known for speaking out in defense of their Christian faith. This week, David Benham, one-half of the Benham Brothers real estate team, posted a video to Facebook in which he lashes out against the Democratic Party's platform on abortion.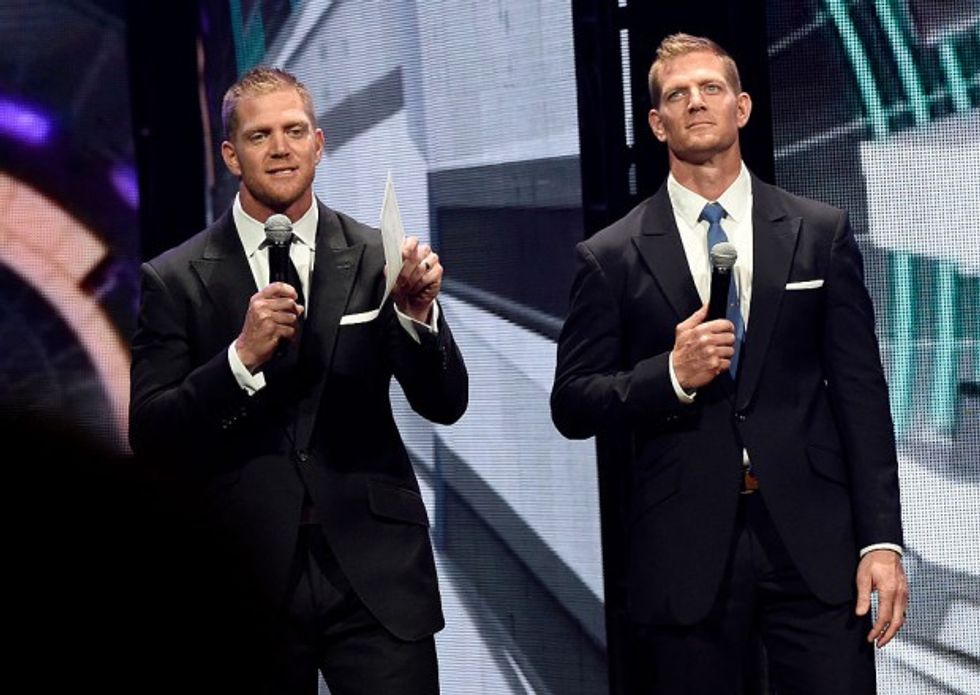 David Benham and Jason Benham speak onstage during the 3rd Annual KLOVE Fan Awards at the Grand Ole Opry House on May 31, 2015 in Nashville, Tennessee. (Rick Diamond/Getty Images for KLOVE)
In the video, released on the final day of the Democratic National Convention, Benham asserts that a Democrat like presidential nominee Hillary Clinton would seek to increase "violence against the unborn" if elected.
"Yes, they are pro-choice, but here's what they are doing now: They have actually increased what they want to do against the unborn," he explains. "They have increased the violence against the unborn."
Benham quotes the Bible verse Ephesians 5:11, which implores Christians to "have nothing to do with the fruitless deeds of darkness, but rather expose them."
If you call yourself a Christian, and you're voting Democrat, here's what you're voting for: The Democratic National Platform wants to repeal the Hyde Amendment, which prohibits my tax dollars from directly paying for abortion. They want to force your money and my money to directly pay for abortion.
Benham goes on to note that Democratic leaders are also seeking repeal the Helms Amendment, which prohibits U.S. foreign aid from funding abortions in other countries.
But it gets worse, he insists. Benham explains that Democrats have actively sought to "stand against harassment, violence and intimidating tactics of anyone who would talk to abortion clinic workers." And while he acknowledges that he finds nothing wrong with that policy "on the surface," Democrats have used it to bar those offering counseling and medical services to pregnant women.
The official Democratic Party platform document released July 21 promises to "address the discrimination and barriers that inhibit meaningful access to reproductive health care services, including those based on gender, sexuality, race, income, disability, and other factors."
Benham concludes the video by warning that if pro-choice Democrats get their way, they will certainly "target Christians faithfully helping mothers choose life."
"If you call yourself a Christian, and you think you're going to vote Democrat, that's what you're voting for," he says. "Don't associate with this kind of garbage."